Two interesting processes are coming to a head soon.
First is the lawsuit by Prof Jennifer Freyd alleging UO underpaid her for years, despite the pleas of her department head to the CAS associate dean, and the conclusions of an external review committee. See my "Nevertheless she persisted" post here. UO has a team of lawyers and Pres Schill has another team from a different law firm, plus of course GC Kevin Reed, thought it's often hard to figure out exactly whose interests he represents.
Discovery is finally complete, and Freyd's lawyers have filed their revised complaint, here. A snippet: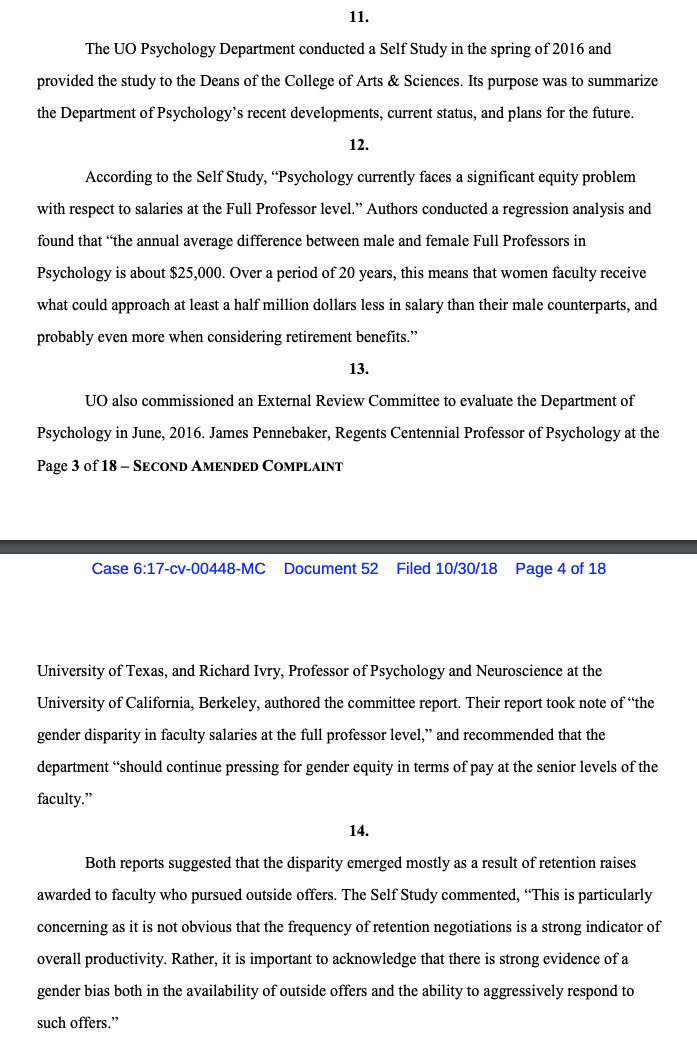 The full docket is here, now with responses from UO and Pres Schill's lawyers. And yes, of course they're still trying to "blame it on the union:"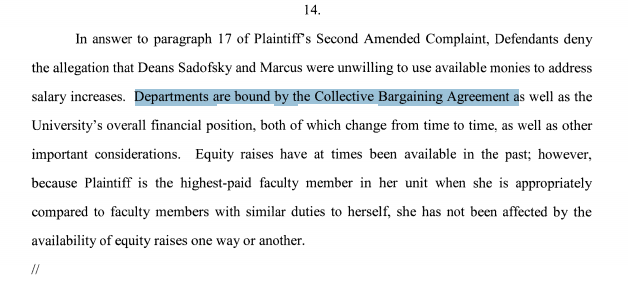 This is bullshit and the administration and their lawyers know it. The CBA raises are floors, not ceilings, and the union has repeatedly told the administration that they are free to give additional raises, subject only to the requirement that they tell the union about such raises annually.
Then there is the joint administration/union effort to analyze TTF salaries and identify gender and racial disparities and correct them. Having been part of the committee that selected the contractor, I have to say that I was not impressed by their description of the statistical methods they would use to do this or the more touchy-feely methods they'd then use to determine any adjustments. But in any case they've finally ran some regressions, and there's some process to take some action:
Dear Colleagues,
Earlier this year and in response to a memorandum of understanding with United Academics, the Office of the Provost launched a tenure-track faculty equity study. The purpose of the study is to evaluate whether salary inequities exist for tenure-track and tenured faculty that are related to gender, race, or ethnicity.
To provide advice and counsel to the external consultants running the study and ensure faculty input, the provost formed a work group that includes five tenure-track faculty members, including two nominated by United Academics, the executive vice provost, the vice president for finance and administration and CFO, the senior director for employee and labor relations, and the director of institutional research. As the group continues its work, I want to provide you with more information about this important initiative and share next steps with the project.
Our consultant, Berkley Research Group, LLC, is working with the project work group to run faculty salary regression analyses that include factors such as academic rank, work experience, education level, tenure status, department, and demographics to determine whether any significant patterns of salary discrepancy appear to exist related to gender or race. The analyses also identify individuals whose salaries are significantly lower than the regression factors would predict. Further investigation will be done on an individual basis for identified faculty members to determine whether other non-discriminatory factors not in the regression analyses (e.g. performance reviews, level of grant activity, years of prior service) explain the variance, or whether salary adjustments should be recommended.
This salary equity project is expected to extend into 2019 as we continue the data review and assessment. Periodic updates will be provided as progress is made. We will share more information about the results of the study as they become available, including recommendations made to the provost. The provost is ultimately charged with making final determinations with respect to the equity study.
Tenure-track and tenured faculty members with salary differences that are not explained by other factors may receive an equity adjustment from the negotiated 2019 0.75% equity fund pool. Salary increases provided from that pool will be retroactive to January 1, 2019. If there are funds remaining in the equity pool after equity decisions are made, those funds will be applied as an additional across-the-board increase to all TTF.
The Office of the Provost will continue to provide periodic updates on the progress of the project, as well as a final report. You can learn more about the salary equity study and monitor our progress on the Office of the Provost website, including an overview of the methods applied in the study.
It is important to note that a faculty member with concerns about their individual salary can always contact the Office of Investigations and Civil Rights Compliance (OICRC), formerly the Office of Affirmative Action and Equal Opportunity, to discuss their concerns. That option is available now and will continue to be available after the equity study is completed. We encourage employees who believe their pay has been impacted by prohibited discrimination to contact OICRC.
Your patience as we conduct a thorough and thoughtful study is greatly appreciated. The university is committed to attracting and retaining talented faculty through fair compensation practices. This equity study is critical to fulfilling that commitment. If you have questions, please contact the Office of the Provost at OtP@uoregon.edu.
Best regards,
Scott Pratt
Executive Vice Provost