10/2/2019: Anna Matson has the story in the Emerald here. If you can see an increase that justifies President Schill's decision to exempt the UOPD from the budget crisis cuts you're a more creative econometrician than I am: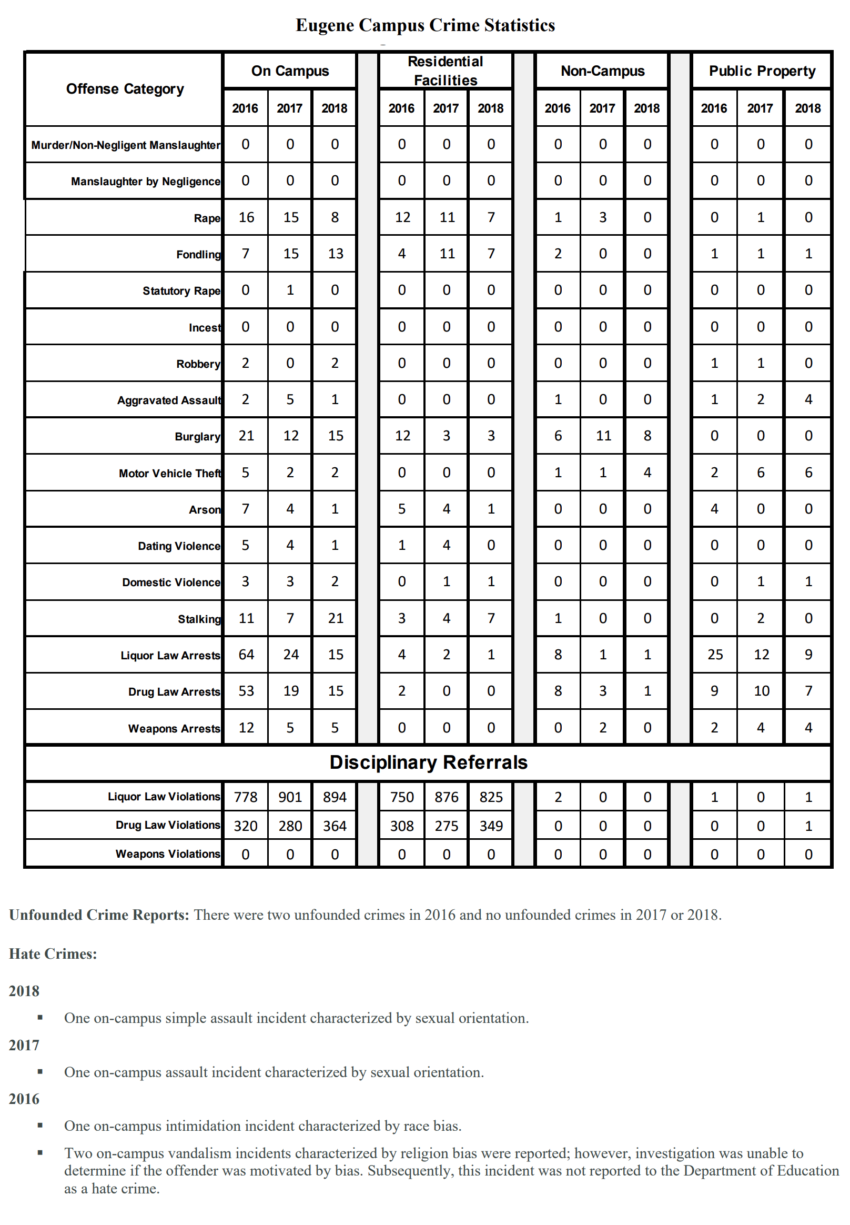 4/15/2019: Some data on west of campus crime trends, relevant to budget crisis
President Schill has decided to protect the UOPD from his budget cuts, arguing that as the Eugene PD tries to clean up downtown the "bad actors" are moving closer to campus and our students need protection. But the data (limited) shows a 21% decrease in reported incidents since 2016. If you start in 2016 there is no clear trend for serious crime reports. If you start in 2017 they have also decreased, by 38%.
From: Senate President [mailto:[email protected]] 
Sent: Wednesday, March 20, 2019 10:11 PM
To: Mike H Schill <[email protected]>; Matthew Carmichael <[email protected]>
Subject: crime wave data
 
Dear President Schill and Chief Carmichael – 
 
Having now heard several administrators repeat President Schill's statements about a west campus crime wave, I started to wonder if there was any actual data on this. 
 
As it happens the EPD website allows for rudimentary searches of their dispatch log, at http://coeapps.eugene-or.gov/EPDDispatchLog/Search
 
Because the EPD webpage requires a street name, I focused on incidents with an address that included E 13th Ave, since this seems to be where the "bad actors" like to hang out. I searched for incidents reported from January 1 to March 19th for the years 2016 – 2019. The files are attached. They include everything from the trivial on up, so in addition to total incidents I looked for thefts and assaults. I found:
 
2016: 190 incidents, 11 thefts, 4 assaults
2017: 198 incidents, 11 thefts, 11 assaults
2018: 163 incidents, 11 thefts, 5 assaults
2019: 149 incidents, 15 thefts, 0 assaults
 
Obviously these data are limited, but they don't seem consistent with a crime wave. If you have any additional data regarding trends in west campus crime I'd appreciate it if you'd share that with me.  
 
Thanks,
 
Bill Harbaugh
UO Senate Pres, Econ Prof
Chief Carmichael's response is posted on the Senate website. He does not dispute the data above showing what could arguably be called a decrease. He does not provide any time-series data at all. This is weird, because this sort of data analysis has been the hallmark of good policing since maps with pins, and then the 1990's CompStat.