10/31/2019: A Halloween reminder:
11/3/2016 update: 23 Angry Law Professors: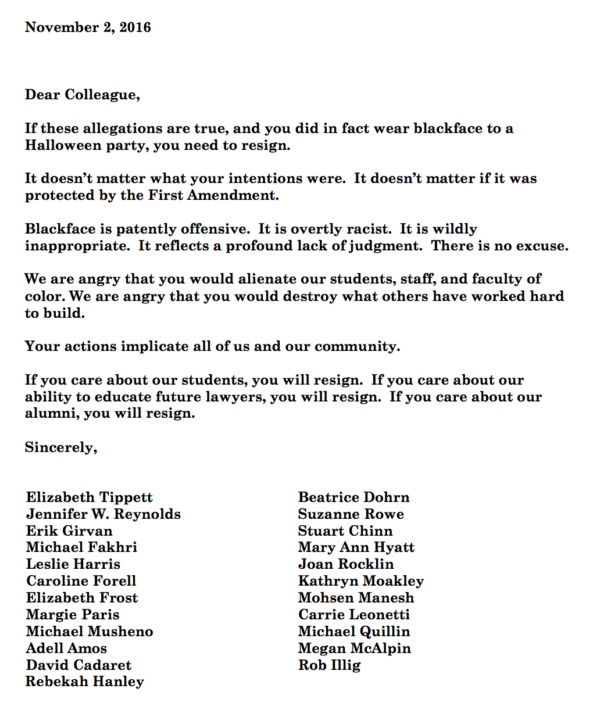 11/2/2016 update: Law Dean writes alumni condeming professor and racism and bigotry, then suspends her from teaching. KEZI posts professor's explanation and apology. It seems she is not a racist or a bigot – quite the contrary:
The KEZI report is here:
"I chose my costume based on a book that I read and liked—Black Man in a White Coat.  I thought I would be able to teach with this costume as well (or at least tell an interesting story).  When I asked my daughter who is at Brown Medical School the demographics of her medical school class, she said "they do not give those statistics out mom", but later when she asked the administration, they said there was _not one black male _student in the class. She and others were outraged. She was able to get the administration to assign a portion of this book (the one where the black medical student was thought to be the janitor) out to students.
I am sorry if it did not come off well.  I, of all people, would not want to offend.

Prof. Shurtz"
Dean Michael Moffit's email to Law School Alumni. He's opposed to bigotry and racism, for "the safety of all concerned", and confused about taking time to learn the facts before suspending a professor:
From: University of Oregon School of Law <[email protected]>
Sent: Wednesday, November 2, 2016 3:02 PM
Subject: Message from the Dean
November 2, 2016
Dear Oregon Law Alumni and Friends,
With great frustration about the circumstances that compel me to do so, I write to share with you a message that went out late last night from the President, the Provost, the Vice President of Equity and Inclusion, and me.
As you will read, a University of Oregon School of Law faculty member wore a Halloween costume that included blackface at a private, off-campus party attended by UO faculty members and students. This matter has been turned over to the Office of Affirmative Action and Equal Opportunity.
This action demonstrated racial insensitivity in a way that is inconsistent with our school's values, and wholly unacceptable for this institution. We will follow the university's processes for determining whether the act violated university rules. We obviously don't know the outcome of that process and it would be inappropriate to speculate. In order to ensure the safety of all concerned and the smooth operation of the law school, I have placed the faculty member responsible on administrative leave pending resolution of the AAEO process.
As dean, I expect all members of the UO School of Law community to provide a welcoming, diverse and inclusive environment at all times. To be clear: We will not tolerate any form of bigotry or racism. Ever.
I have already heard from a number of you, and I am grateful for your feedback. If you would like to reach out to me directly, I would welcome hearing from you.
Michael
Michael Moffitt
Dean
Philip H. Knight Chair in Law
University of Oregon School of Law
Law School
11/1/2016 update: From what I've learned so far the professor in blackface was trying – albeit awkwardly and unintentionally offensively – to honor the author of "Black Man in a White Coat". The NYT review:
… As a medical student at Duke, he feels underprepared among the privileged graduates of fancy schools like Harvard and Yale. (He attended the University of Maryland, Baltimore County.) On a scholarship for black students, he frets about being written off as a product of affirmative action.
In one chilling incident, a professor mistakes him for the handyman come to change the classroom light bulbs. Rather than making a fuss, Dr. Tweedy triumphs by earning the second-highest grade on the final exam and then declining the startled teacher's offer of a job.
Such incidents of overt racism are rare, at least among the professionals Dr. Tweedy works with, but a lot of prejudice is flying around. Some patients flatly declare that they don't like black doctors; even a black patient once snaps that he doesn't want to be treated by a "country-ass doctor." Dr. Tweedy feels annoyed at the uneducated black patients who sabotage their health and then feels irritated at himself for his annoyance. …
Good intentions gone awry.
11/1/2016: Maybe some enterprising reporter will now make a public records request for details on the various investigations and consultants reports on how Ms Daugherty has run UO's Affirmative Action office, and ask how the UO administration has responded. Meanwhile here's tonight's email to campus from President Schill:
Students, Faculty, and Staff,
The University of Oregon has been made aware that a faculty member of the School of Law wore a costume that included blackface at a private, off-campus Halloween party that was attended by UO faculty members and students.
We condemn this action unequivocally as anathema to the University of Oregon's cherished values of racial diversity and inclusion. The use of blackface, even in jest at a Halloween party, is patently offensive and reinforces historically racist stereotypes. It was a stupid act and is in no way defensible.
The faculty member involved has apologized for the decision and has expressed concern about its potential impact on members of the community. Although the party occurred outside of the faculty member's official duties, the professor acknowledges that the costume choice was unacceptable under any circumstances.
We take seriously any complaints from members of our community, and we have referred this complaint to the Office of Affirmative Action and Equal Opportunity, which will determine whether this action could constitute a violation of university policy.
At a minimum, it illustrates the need for more training and dialogue on these critical issues. In support of this dialogue, the Division of Equity and Inclusion created a UO African American Workshop and Lecture Series to help increase understanding. Implicit bias training is now required for all faculty searches and this winter new trainings on micro-aggressions will be offered. We will continue to assess other trainings or opportunities we can employ to further educate our community.
Bigotry and racism have no place in our society or at the UO. Providing a welcoming, diverse, and inclusive environment for all is one of the university's top priorities. We have been working for more than a year with our students to further these objectives. This incident makes us even more determined to ensure that no member of the UO community feels isolated or alienated on this campus as a result of intentional or unintentional racist behavior.
Sincerely,
Michael H. Schill, President and Professor of Law         
Scott Coltrane, Provost and Senior Vice President                                                          
Yvette Alex Assensoh, Vice President for Equity and Inclusion                                    
Michael Moffitt, Dean, School of Law