Disclaimer: My summary of what people said or should have said. Nothing is a quote unless in quotes. This is a bit disorganized but I made it through the entire set of Monday committee meetings, and will be here for the full board meeting at 9:30 AM Tuesday.
The gist of the agenda, with details, links, and live-blogging below.
Re-elect Charles M. Lillis as Chair to a 3rd term, since no one else will take on the job of being Phil Knight's amanuensis. Avoid mention of his ERISA lawsuit settlements and the ~$175M he and the other WaMu board members had to pay out after they led it to the largest financial bankruptcy in US history. Video here.
Offer President Schill a retention package with a $100K bonus and a fat retirement deal – teach two courses a year for $450K – in the vain hope he won't use it as proof of how highly his current board values him while shopping around for his next job.
Avoid any substantive discussion of what work our trustees might do to carry through with the promises Lillis, Knight, and the other backers of SB270 and UO independence made about stabilizing UO's funding. They don't like to work or think, that's why they're using tuition money to pay people like Angela Wilhelms to do it for them.
Thank VPFA Jamie Moffitt for her hard work ensuring that ASUO is on board with the next round of tuition increases, and that they will result in only minor student demonstrations and minimal public embarrassment to the Trustees.
Issue $120M in debt to finish constructing the Athlete Village for Phil Knight's Oregon21 T&F championships. Bonds to be repaid with higher room and board charges for UO students.
The board's meetings are open to the public – even faculty and students if they tug the forelock. All sessions are in the Ford Alumni Center Ballroom and are webcast here. Note that the committees meet on Monday, but I've put the Full Board agenda for its Tuesday meeting at the top:
Finance and Facilities Committee, December 9, 2019 | 1:15 p.m.
1. Quarterly Finance and Annual Treasury Reports: Jamie Moffitt, Vice President for Finance and Administration and CFO; Kelly Wolf, Associate Vice President and Controller
VPFA Moffitt explains that UO's deficit forecast – from the E&G bucket – is about $10M, or 1% of the overall budget.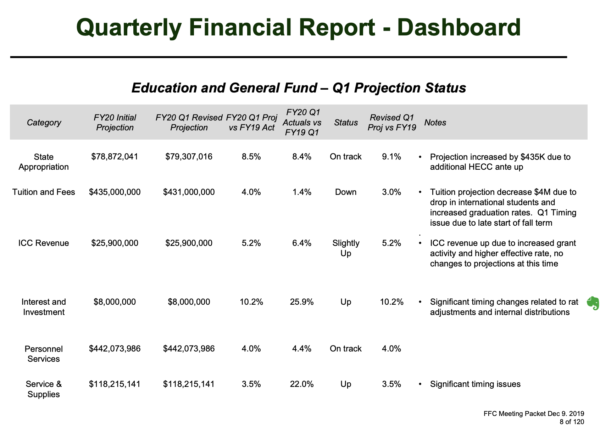 Trustee Marcia Aaron interrupts to ask why UO doesn't have a better handle on basic  budget info and student enrollment data.
Schill: because we don't spend any money on Institutional Research, which means Brad Shelton is in charge of this. Have you met him? Any other questions? [Just kidding, but Schill's been in charge for almost 5 years, and he's still blaming this on other people and talking in circles.]
Provost Phillips: We don't have systems in place to track students. We're looking at that. It will cost $1M for software. [No it won't. The Registrar has all the data, the analysis is so simple an undergraduate can do it for their honors project.  Don't ask me how I know this.]
Back to Moffitt: We are right on track with state appropriations, and in fact will get an increase above the projection. Tuition and Fees will be down by about $4M. Personnel costs will be up.
2. Fiscal Year 2019
2.1 Audited Financial Statements: Jamie Moffitt, Vice President for Finance and Administration and CFO; Kelly Wolf, Associate Vice President and Controller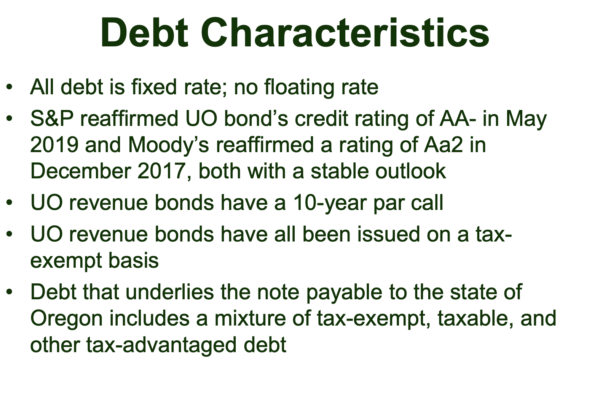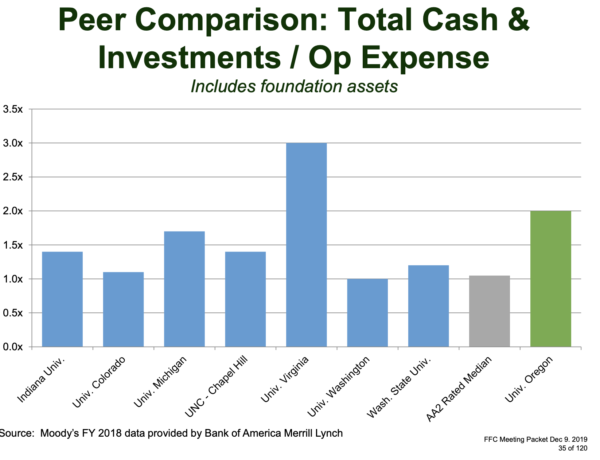 2.2 Fiscal Year 2019 External Audit Report: Scott Simpson, Partner at Moss Adams LLP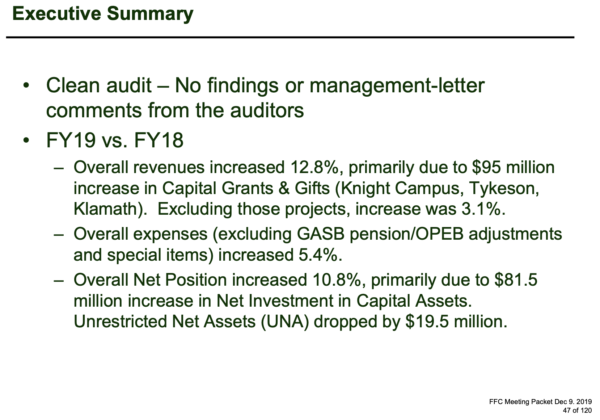 The entire auditor's report is here. It buries UO's $125M athletic budget in with other auxiliaries, like parking. Nothing is broken out separately. There is no mention of the 2021 IAAF Track & Field championships. Here's all UO is willing to say to its auditors about athletics:
Construction continued on Hayward Field in what is expected to be the world's finest track and field facility on the hallowed site. Private gifts cover almost 100% of the project, scheduled for completion in 2020—in time to host the US Olympic Team Trials in Track and Field.
In athletics, the women's basketball team recorded a historic season, advancing all the way to the Final Four in Tampa Bay with superstar Sabrina Ionesco picking up multiple national honors along the way. The men's basketball team earned a spot in the Sweet 16. In track and field, the women took fifth place in the NCAA Championships. The women's volleyball team earned their way into the Final Four. The football team ended its season with a 9 – 4 record.
The auditors have no questions for the administration about any of this. Very complimentary towards Kelly Wolf's work.
Will the trustees have any questions for the auditors? No.
3. Bond Authorization Request (Action): Jamie Moffitt, Vice President for Finance and Administration and CFO Kelly Wolf, Associate Vice President and Controller
Issue $120M in debt to finish constructing the Athlete Village for Phil Knight's Oregon21 T&F championships. Bonds to be repaid with higher room and board charges for UO students:
Clearly UO has the borrowing capacity for this. However, since parents look at the total cost of attendance, and repaying these bonds will involve increases in housing costs, this will reduce UO's ability to raise tuition, and suck money from the academic side of the budget. Will any of our trustees raise this question? No.
Many of UO's trustees have some expertise with bonds – or at least clipping coupons – and they ask a few questions to show off their knowledge, but no one asks why the Board is committing the next 30 years of UO students' housing payments to subsidize an athletic village for Uncle Phil's championship games.
4. Annual Capital Planning Report and Forecast: Mike Harwood, Associate Vice President for Campus Planning and Facilities Management
Wow, Harwoood is really not giving the board the straight story here. The truth is that UO and the rest of the HECC went to the legislature last year for their usual shot of capital funding.  The HECC ranks the projects, then pitches the package to the legislature, with lobbying from the universities. The legislature was not impressed by the quality of the proposals or of the lobbying – and was tired of having UO hit them up for special funding for things like Knight Campus, Knight Arena, 2021 track championships etc. in the off years.
So they rejected the entire proposal and told the HECC to get some data to back up their proposals and try again. The HECC hired a consulting firm, which prepared a 290 page report for the legislature. That report is here and concludes that the universities enrollment predictions are wildly optimistic, that little new construction is needed, and that it would be better to renovate existing buildings. The section about UO specifically starts on page 219. The conclusion is that the universities funding requests have not been data driven. The trustees seem unaware of any of this.
Carbon Impact: UO's Steve Mital's report is in the packet: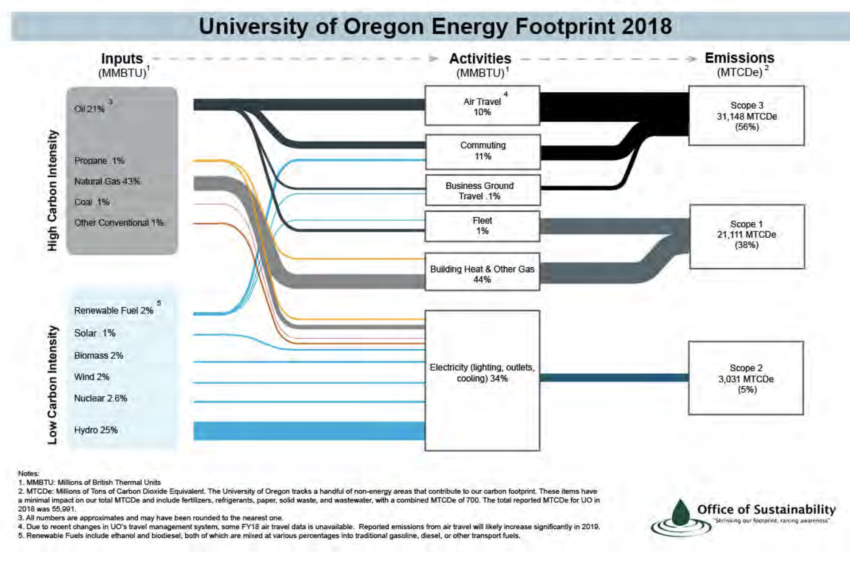 I'm not seeing anything specific about the carbon impact of Duck athletics, and everyone seems to be ignoring the "Divest Now!" student efforts from a few years ago, which was squashed by Kevin Reed.
On the bright side I'm not seeing much carbon impact from the LCNI's fMRI machine, thanks to the fact that its 3 Tesla magnet is supercooled with liquid helium, and hence superconducting and uses very few KWH.
Harwood does come clean about the fact that the E&G bucket is subsidizing the Hayward Field renovation to the tune of $2.37M – for new utilities access: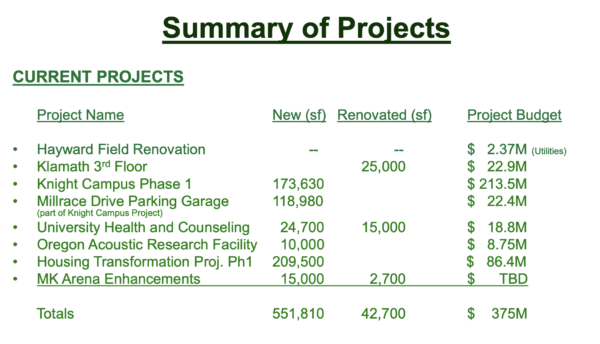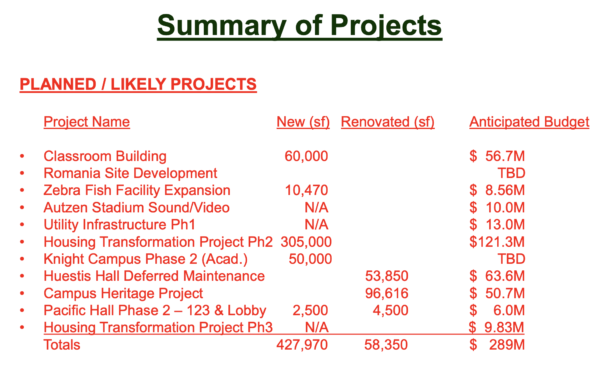 No questions from our Trustees, committee adjourns for some meetings in Tykeson with the new academic advisors.
Executive and Audit Committee, December 9, 2019  3:00 p.m. 
1. Internal Audit – Quarterly Audit Report, IT Risk Assessment Refresh, and Proposed Amendments to the Audit Charter (Action): Amy Smith, Interim Chief Auditor
Ms Smith is UO's third chief auditor in 4 years. She and the most recent two have been interim appointments. The first one was fired for asking too many questions. The second one fled after 18 months. This sort of turnover is a red flag for any Board that takes its fiduciary responsibilities seriously – so, not a problem for the UO Trustees!
That said, Smith has, for the first time I can remember, actually submitted the Audit Report to the Board in advance of the EAC meeting. It's a gold mine of interesting questions – if you have any understanding of what she is leaving out. Maybe our Trustees will read it and at least ask a few of the obvious ones.
Nope. No questions from any of the Trustees, who are charged by the state with fiduciary responsibility for the University of Oregon. Report accepted unanimously.
Lillis asks Schill about the search for a new permanent internal auditor. "They are all good candidates". I suspect that means the kind who don't ask too many questions.
2. Board Officer Nominations (Action): Peter Bragdon, Trustee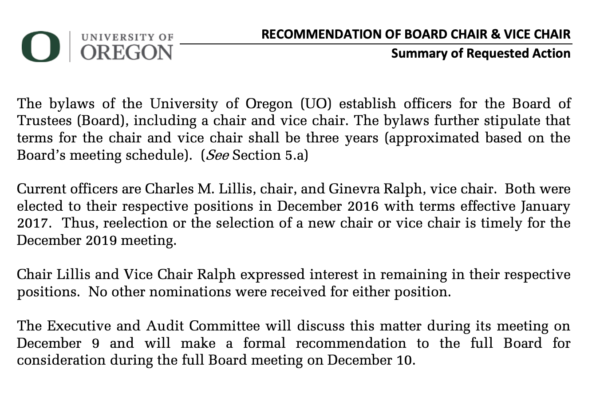 Bragdon thanks Lillis and Ralph. No other nominations. Moves to full board.
Academic and Student Affairs Committee, December 9, 2019 | 9:00 a.m.
Provost's Report: Patrick Phillips, Provost and Senior Vice President
Phillips: All is well, Scott Pratt has been replaced by Janet Woodruff-Borden as EVP. Long description of other JH musical chairs. [UO still has no policy for ensuring these searches comply with normal affirmative-action procedures, but the Senate is working on it.
Timely graduation is up – partly through careful admissions selection, partly through intensive advising and support, e.g. Pathways. Fails to break out revenue and non-revenue athletes, an old trick.
Mentions white paper on provosts initiatives. Setting up a committee to make a plan. Environmental initiatives co-ordinated by Adell Amos, Law, who did not get the EVP job. On Innovation and Entrepreneurship, Andy Nelson (LCB] is running the sorts of meetings you'd expect, hoes for direction by end of year. Asserts there is lots of excitement across campus, not like you'd have seen 10 years ago. Guldberg has been working with other state universities on this.
Maybe I missed it, but I didn't hear any mention of UO's problems, from the Provost or the committee.
1. Online Education Initiative Update: Carol Gering, Associate Vice Provost for UO Online
She still doesn't have much data, and this presentation is full of distracting diagrams: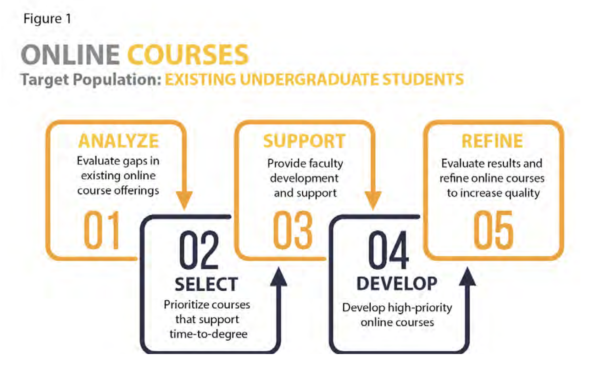 Some cost information – UO is spending some serious money from the E&G budget on this: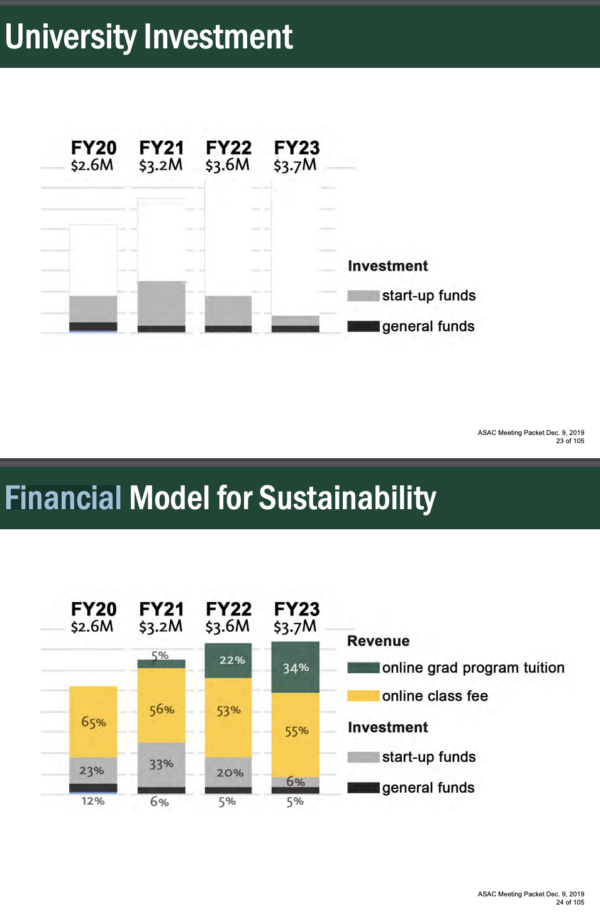 Revenue is not keeping up. Hard to see how the Trustees could use this report to evaluate the problems with, or potential of, UO's online programs.
Ralph: Where do the ideas for new courses come from? Top down or bottom (faculty) up. Gering: Both.
Wilcox: How do you estimate demand? Gering: UO doesn't have wait list info, look at how close we are to capacity. Don't have access to longer term projections. Ford: How do you educate the faculty on what online is and what it means? [In my experience UO faculty are pretty aware of the costs and benefits]
Gering: lots of programs to train faculty.
Sorry, couldn't hear question from student trustee.
McIntyre: Do online Masters have same budget model as regular Masters? Gehring: No. We're looking at what comparators are doing in setting online price-points. Probably no in/out of state tuition difference.
Provost Phillips: Deans may want programs, but they need the faculty to teach them. UO is about 10 years behind the curve on this. Because of our decentralized authority, we can't make faculty do things they think will hurt students. But new budgetary problems mean they can't resist too much longer.
2. New Undergraduate Degree Proposals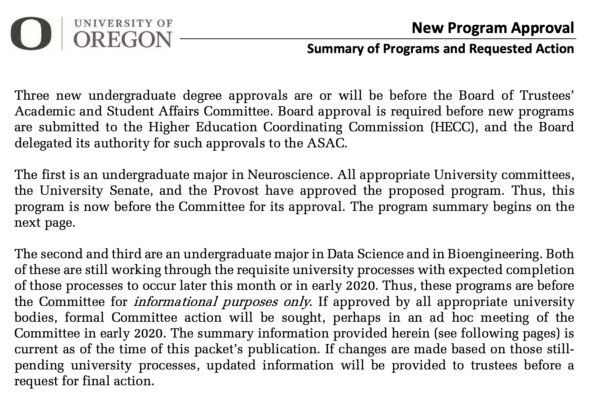 2.1 Neuroscience (Action): Nicole Dudukovic, Senior Instructor of Psychology; Hal Sadofsky, Divisional Dean for the Natural Sciences
Ralph: What is the common language for scientific research? I remember when it was German. Is it Chinese now?
Sadofsky: English. Pretty much all English. That and math – starting with calculus. Some python wouldn't hurt either.
Wilcox: Have we done surveys of students on demand for this? Sadofsky: Just informally. McIntyre: Any data on what labs students gravitate toward? [Would that data actually help infer the counterfactual here?]
Schill: Asks Dudukovic about the process. What were the impediments? Dudukovic: faculty were very enthusiastic, flexible on setting prereqs using existing courses.
Schill asks leading question to Sadofsky: "This isn't a leading question, but" does this new centralized budget model make this easier? Sadofsky: Not really.
Lillis regurgitates something he read on the internet about the usefulness of stats vs. calculus and replacing calc with stats requirements for general undergrads. Sadofsky gives a good answer: for this major, they need both. Rates of change and all that. Lillis: calculus is good for logical thinking, understanding change I guess.
2.2 Data Science (Informational Only): Bill Cresko, Executive Director of the Data Science Initiative (and Joe Sventek, CIS.) (Sventek is the professor the UO Senate wanted on the Board, instead of Laura Lee McIntyre).
The UO Senate votes on this Wednesday.
Sventek: We're not only going to make them take calculus, we're going to make them take linear algebra and then statistics.
Core program is data science, students also need to specialize in a subject area domain where they learn how to apply it.
Cresko: Huge increase in demand for data science jobs, and therefore from students for this degree.
Trustees ask about executive degrees and quickie data-science boot camps. Different market that this.
2.3 Bioengineering (Informational Only): Jim Hutchison, Professor of Chemistry; Mike Hahn, Professor of Human Physiology
These guys aren't wasting the trustee's time and trying to distract them with powerpoint flash. Respect: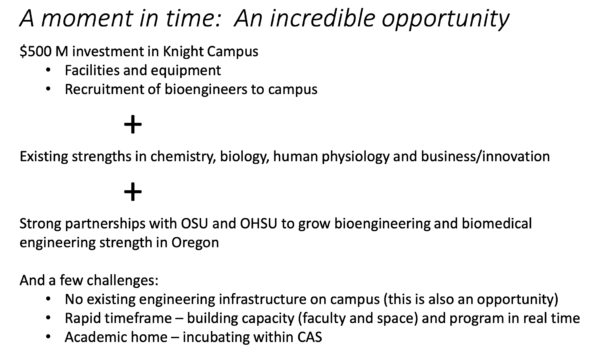 Academic home will be in CAS, which has a history of nurturing innovative programs. Lots of student demand, lots of funding. Complimenting OSU's chemical engineering, not competing with it.
Provost Phillips: UO is increasingly cooperating with universities across the state on new programs, through the "Provost's Council". If only Oregon had some sort of coordinated Oregon university system, like California's, to coordinate and encourage this.
3. Annual Report on Enrollment and Financial Aid: Roger Thompson, Vice President for Student Services and Enrollment Management; Jim Brooks, Associate Vice President and Director of Student Financial Aid and Scholarships
Jim Brooks reports on aid. Default rates and loan burdens are low relative to other Oregon universities. Some data:
VP Roger Thompson:
How to lie with statistics 101: exaggerate positive enrollment changes by moving up the baseline on your bar graphs.  Don't give any data on how much more you've been spending on recruiting these students: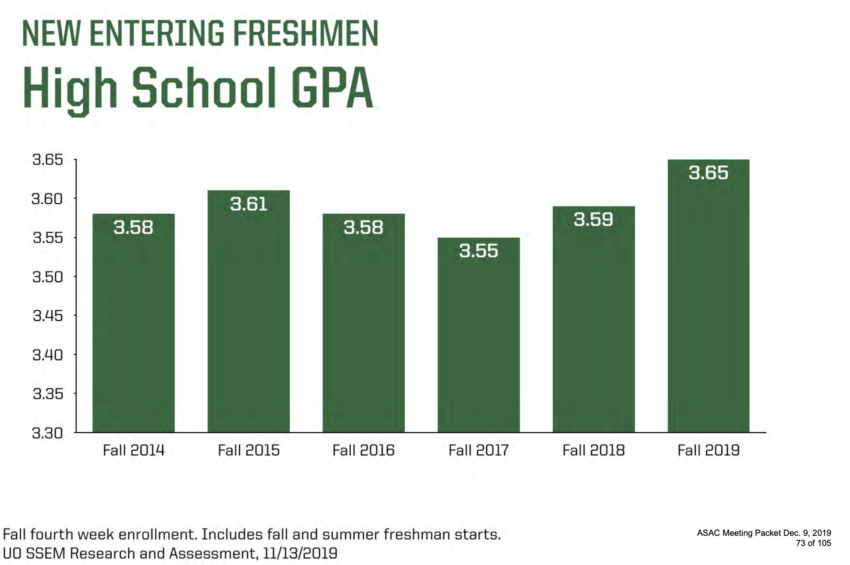 102: If the changes are negative keep the base at 0, to make them look smaller: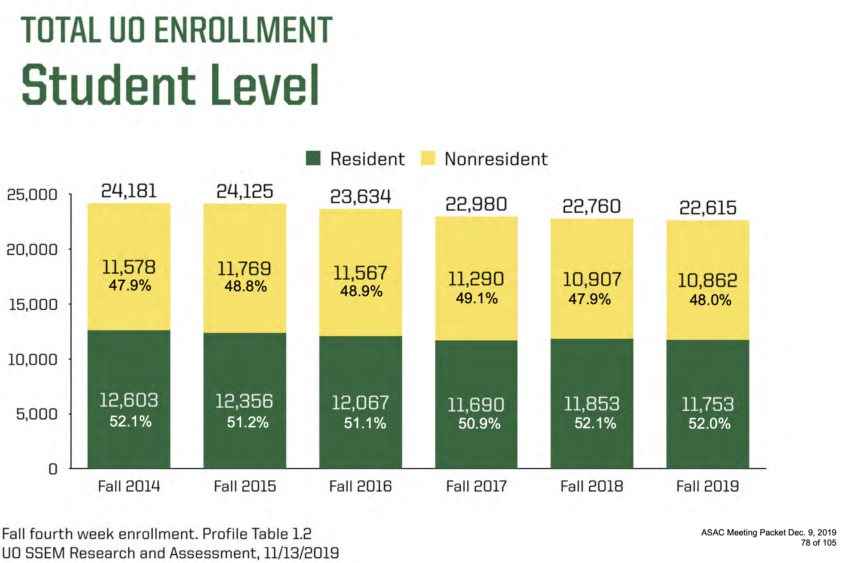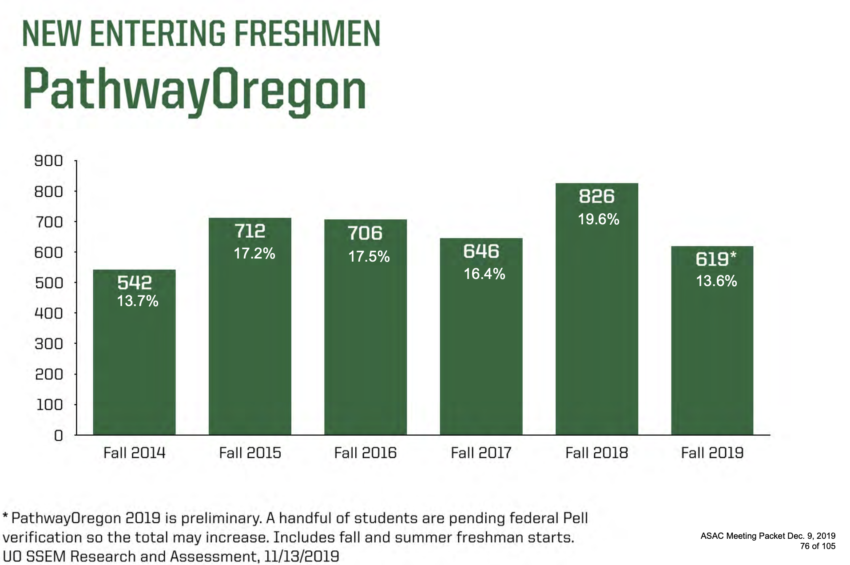 So what is the cost? Thompson doesn't want to tell the trustees, but here's some data I dug up – the cost of his operations have increased about $5M in 4 years: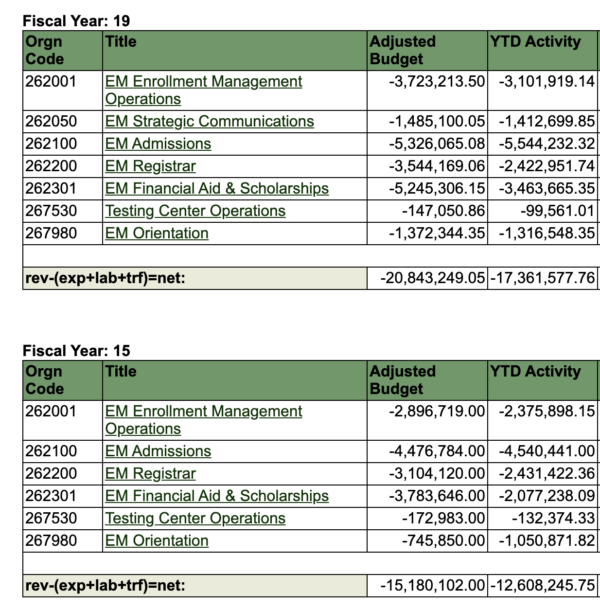 For the future, UO and the other state universities have been overly enthusiastic about its enrollment predictions. The HECC has pointed this out in their report here (long download):
As indicated in the summary of institutional enrollment projections, there is a broad disconnect between institutional optimism and demographic realities. The collection of institutional projections do not sum to a realistic statewide total, and there as no consistency in the way in which institutions developed their projections. The following diagram graphically illustrates the divergence of on-campus enrollment projections in comparison with the student flow model developed for this study, and this was addressed in the findings section on demographics.
Put simply every university believes – or claims it believes – it can increase its share of students. They can't all be right. What's UO's plan? Spend more money on paid recruiters and branding. I wonder what plans the other universities have. It would be interesting to see someone who understands calculus and statistics try and figure out the marginal returns, given the best response functions of other universities.
Lillis: Where does the Pathways money come from? Brooks: About 1 million from the endowment, the rest from the E&G bucket. [Nothing from Athletics, despite the UO Senate's best efforts.]
4. University of Oregon Alumni Association: Raphe Beck, Executive Director of the UOAA
From what I can tell this well-paid job is mostly about arranging alumni tail-gate parties, but at least he knows how to run a listserv.
Full Board of Trustees, Tuesday December 10, 2019 | 9:30 a.m.
– Public comment
1. ASUO and University Senate Reports
-ASUO President Sabinna Pierre
-University Senate President Elizabeth Skowron
Despite Chuck Lillis's best hopes the UO Senate survived Harbaugh's presidency, and with Skowron in charge he will have to find a new excuse for subverting shared governance.
2. President's Report & an Overview of the Last Five Years: President Michael, Schill
5 years and he's late turning it in?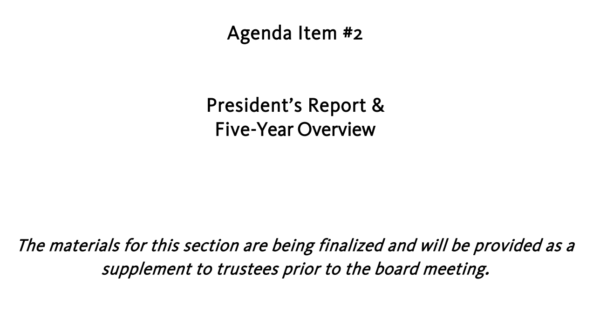 3. Tuition-Setting Process and Guaranteed Tuition Discussion: Jamie Moffitt, Vice President for Finance and Administration; Kevin Marbury, Vice President for Student Life; Roger Thompson, Vice President for Student Services and Enrollment Management
This is the second time around for this proposal, which is going nowhere for reasons that should be obvious to anyone who read the version three years ago. I assume it's on the agenda so the trustees can have something that sounds consequential to ask questions about. It's not.
Meeting Recessed for Lunch with Students
4. Resolutions and Seconded Motions from Committee (Actions)
4.1 Seconded Motion from FFC – Bond Issuance Authorization: Ross Kari, FFC Chair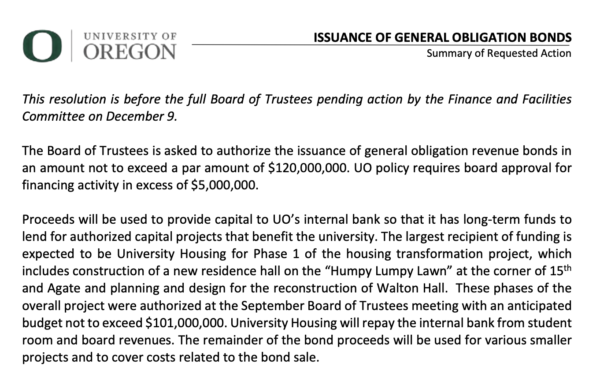 4.2 Seconded Motion from EAC – Board Officers: Peter Bragdon, Trustee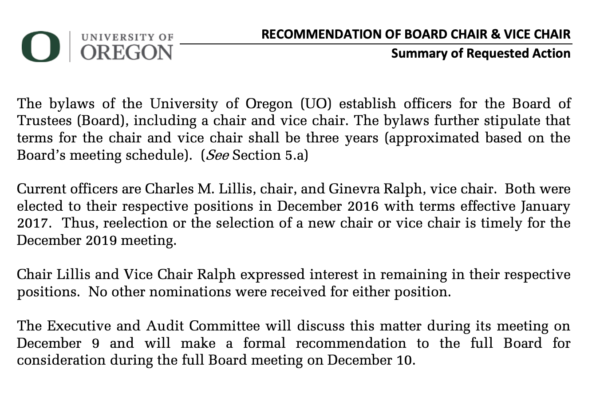 4.3 Resolution Re Presidential Bonus and Contract Amendment: Chuck Lillis, Chair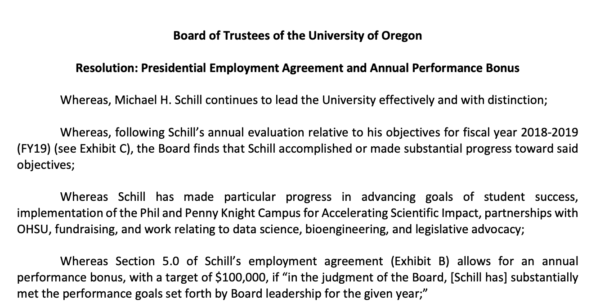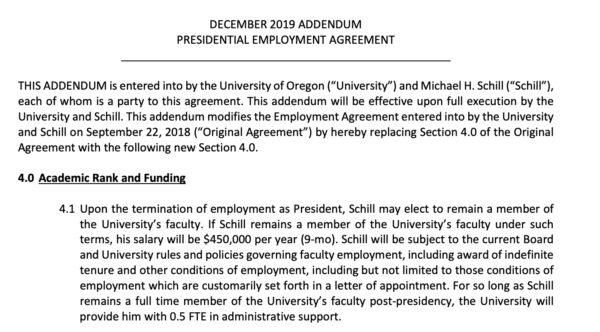 5. Academic Area in Focus – Media Center for Science and Technology: Ellen Peters, Philip H. Knight Chair and Director of the SOJC's Media Center for Science and Technology
Sorry, but this is just too glossy and self-promoting to take seriously.
Adjourn