It's hiring season, and prospective hires often have at least one of these two sometimes unspoken questions:
How hard will it be to find a partner here?
How hard will it be to find good child-care here?
The answer to question 2 should be "easy", but it's not. The University runs the Vivian Olum Child Development Center – like many good things at UO, started by former President Paul Olum and his wife:
The Vivian Olum Child Development Center is the culmination of many years of work by members of the university community shaped by the vision of Dr. Paul Olum, president emeritus of the University of Oregon. Dr. Olum provided a large share of funding for building phase one of the center in honor of his late wife, Dr. Vivian Olum, UO associate Professor of Counseling Psychology, whose professional activities and research focused on helping children and families. The center is named in her memory.
But it now has a very long waiting list. Years long, I'm told. All but impossible for new hires with infants, because siblings of current kids get priority. From their website:
We know finding high-quality care that meets your needs and addresses your values is of utmost importance to you. We do our best to accommodate the needs of families on our wait list. Unfortunately, we are not able to guarantee a place when it is needed, regardless of priority status.
Time to expand? UO owns plenty of convenient land including some contiguous with the Olum site, has renowned developmental and educational Psychology programs with presumably interested undergraduate student workers, has ample bond financing available, and economies of scale and bulk diaper purchases should drive down the cost.
The Faculty Union proposal is here: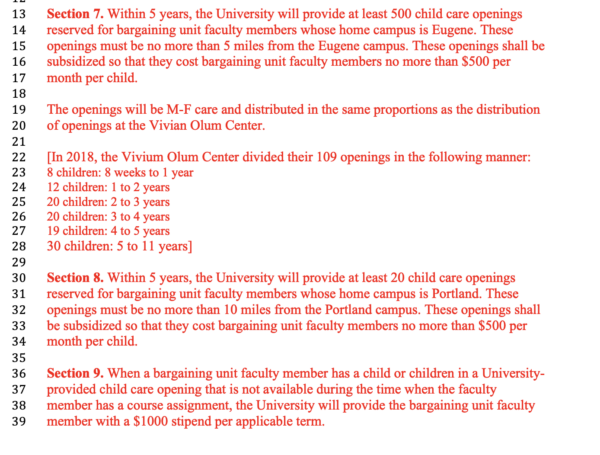 The Administration has not yet responded. If anyone knows more about this issue please post a comment.