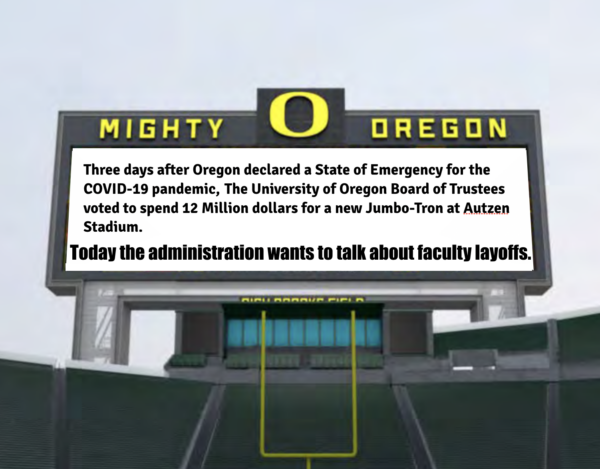 Intro Macroeconomics: To turn a recession into a depression, cut government jobs:
From: CAS Dean <[email protected]>
Date: March 20, 2020 at 10:57:13 PDT
To: "[email protected]" <[email protected]>, "[email protected]" <[email protected]>
Subject: cas-heads: Notifications of renewal and nonrenewal to career faculty
Dear heads and managers,
This is a reminder that the May 1 deadline for notification of career NTTF renewals and nonrenewals is quickly approaching. This process applies only to career NTTF with contracts that expire this year. It does not apply to pro tempore NTTF, visiting or acting faculty, or postdocs. See our CASweb process.
With the current uncertainties from the coronavirus situation, it is imperative that you do not notify career NTTF of either renewal or nonrenewal without conversation with us and approval.
Career NTTF Nonrenewals
The Dean's Office will notify career faculty of nonrenewal. We will submit a compiled list of all CAS nonrenewals to Employee and Labor Relations. After the nonrenewals are approved, the Dean's Office will send the nonrenewal notices, cc'ing the head and the manager.
Career NTTF Renewals:  Do not notify without our approval
The department/program will notify career faculty of renewal, after nonrenewals have been approved centrally.  Deadlines for providing notice of renewal to faculty members are as follows:
Non-funding contingent career NTTF – May 1 of the last year of the faculty member's current appointment.
Non-promoted funding-contingent career NTTF – as soon as practicable
Promoted funding-contingent career NTTF – at least 30 days prior to the nonrenewal.
After we give you the approval to do so, you will provide the renewal notifications by email to the bargaining unit faculty member's UO email address, using the appropriate template provided on the HR website.  Please copy your divisional specialist and [email protected].
Use the Cognos report "TTF & NTTF: Appt and Renewal Report" to see a list of career faculty with expiring appointments.
Again, appointments for faculty in pro tem, visiting, postdoctoral scholar, and acting classifications expire in accordance with their terms; no notice is required.
These notification emails are separate from the actual contracts, which are generated via RTO in Banner screen PWAAPPT.
If notice is not provided by the deadline above, the affected NTTF "shall receive a payment proportional to his or her base salary for the number of days the notice was late" [CBA Article 16, section 5a]. Any costs incurred for missing the deadline will be borne by the unit.
Further details about the notification process can be found on the OtP website: https://provost.uoregon.edu/renewal-notice.
If you have any questions, please do not hesitate to contact your divisional dean and divisional specialist.
Sincerely,
Bruce Blonigen                                                  Sherri Nelson
Tykeson Dean                                                    Assistant Dean for Budget and Finance