4/24/2020 update:
The median UO faculty makes about $70K a year. How many of them will have to lose their jobs to pay for these consultants? I don't know, let's find out:
From: Bill Harbaugh <[email protected]>
Subject: PR request for "Public Opinion Research"
Date: April 24, 2020 at 5:14:03 PM PDT
To: Lisa Thornton <[email protected]>
Cc: Kyle Henley <[email protected]>
Dear Ms Thornton –
This is a public records request for a copy of the contract awarded under
RFP for Public Opinion Research RFP Number: PCS# 500100-00251-RFP, and for a copy of the contract for the successful bidder.
The PCS website says that this RFP was closed on Jan 22, and lists it under awarded contracts.
I ask for a fee waiver on the basis of public interest. I'm ccing VP for Strategic Communications Kyle Henley, as he should have this document readily available and be able to provide it without your office's usual fees and delays.
Thanks,
Bill Harbaugh
[email protected]
Johnson Hall & Trustees to rerun LBJ's Hearts and Minds campaign 2/18/2020: Some well-paid UO administrators, presumably with the support of our puzzled Board of Trustees, want to hire a consultant to help them win "the battle", even if it requires a "multi-year integrated public education and advertising initiative that uses emotional appeals, personal stories … to improve perception, mobilize support and a feeling of pride for the university amongst Oregonians …"
They need to pay a consultant ~$200K to tell them why the good citizens of Oregon don't want to pay for Phil Knight's football factory? Yes, apparently they do: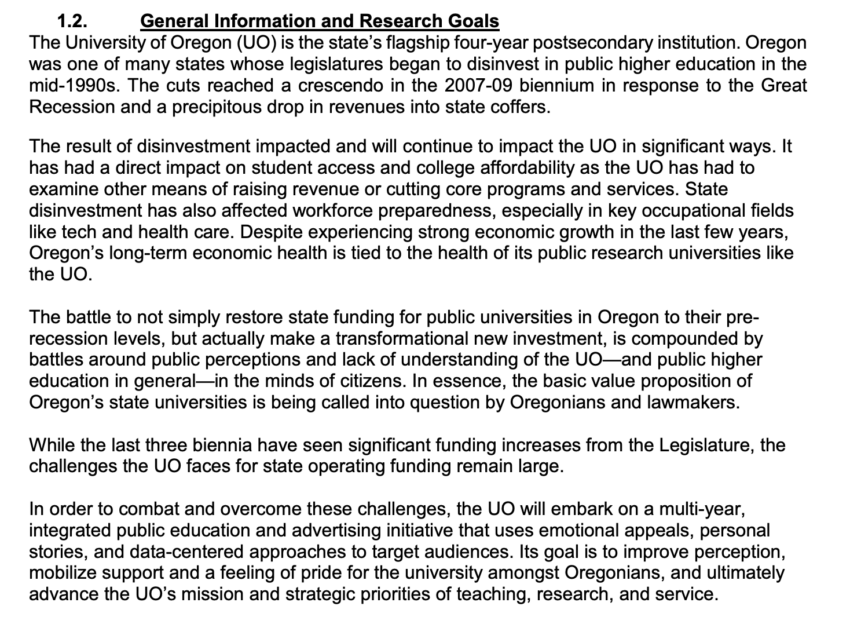 What are we paying the people involved in this?