Reporter James Crepea here, with a simple recitation of the facts and numbers:
EUGENE — Oregon athletic director Rob Mullens and UO president Michael Schill are among a group of the university's top administrators taking voluntary pay cuts for at least the next six months — and possibly through the 2020-21 school year — and the school has instituted a hiring freeze due to the coronavirus.
Schill announced the measures, including a 12 percent reduction in his pay and 10 percent reduction for Mullens and 10 UO vice presidents, during a virtual town hall meeting for faculty members, staff and graduate employees on Thursday.
"Simply put, we are all going to have to make sacrifices," Schill said.
… Mullens, who in under contract through June 2025, earns $717,500 salary plus deferred compensation, performance and retention bonuses. He is due a $200,000 retention bonus at the end of June.
Schill, who received a $100,000 bonus in December, is earning $720,000 in salary in the second of a five-year contract through June 2023 and is due $738,000 next year. He can earn annual bonuses up to $200,000 and also receives a $50,000 annual retirement contribution, vehicle stipend and is due a $200,000 retention bonus if he remains president until Sept. 30, 2021.
You can support the Oregonian's reporting with a $10 a month digital subscription, here.
Or you can read the free Around the O's version of events, by a former journalist now held in captivity by VP Kyle Henley in the bowels of Johnson Hall, here. A cry for help from Virtual Town – our common future:
As it turns out Mullens's salary was actually $780K last year, plus a $100K retention bonus, plus some other bonuses and perks like a car and country club dues: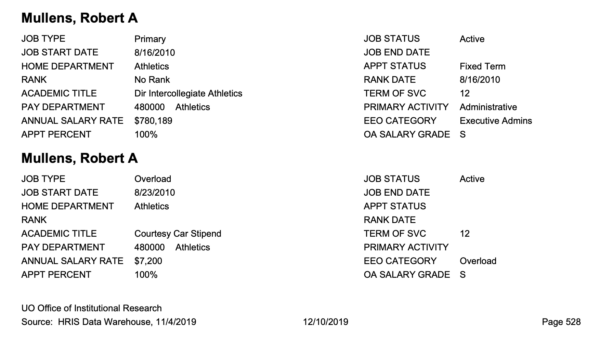 Here's his 2015 contract, for some reason his new one is not posted at https://publicrecords.uoregon.edu/documents
[pdf-embedder url="https://uomatters.com/wp-content/uploads/2020/04/Mullens-2015.pdf" title="Mullens 2015″]