SENATE MEETING AGENDA – MAY 13, 2020, 3:00 – 5:00 P.M.
Updates here. Location: Zoom (Please see link to meeting below the agenda. )
The results of the recent elections are here. Turnout was very high.
3:00 P.M.   Call to Order
Introductory Remarks; Senate President Elizabeth Skowron
New Joint Senate/Administration Task Force on Long-Term Responses to Covid-19 Crisis 

Meetings will be confidential. No call for volunteers was made.
Co-Chairs :
Elliot Berkman, Associate Professor of Psychology, Senate President-Elect
Sabrina Madison-Cannon, Dean of the School of Music and Dance
Members:
Bruce Blonigen, Dean of the College of Arts and Sciences
Liska Chan, Associate Professor, Landscape Architecture
Robin Clement, Director, Master of Accounting Program, Lundquist College of Business
Nicole Dahmen, Associate Professor, School of Journalism and Communications
Judith Eisen, Professor of Biology
Larissa Ennis, Assistant Director, Sponsorships and Community Relations, UO Advancement
Kent McIntosh, Knight Chair, Special Education, College of Education
Terry McQuilkin, Music Services Department, University Libraries and Instructor of Composition, SOMD
Michael Price, Senior Instructor, Department of Math
Lisa Redford, Department Head, Department of Linguistics
Jen Reynolds, Professor, Law School
3:05 P.M.  Approval of the Minutes

3:10 P.M.   State of the University
President Michael Schill
Provost Patrick Phillips
3:30 P.M.   Open Discussion (senators may submit questions in advance to senatecoordinator@uoregon.edu and senatepres@uoregon.edu, or at meeting)
Academic Continuity Guidelines (April revisions/additions) & Remote Education, Spring & Summer; 2020 – Slides

Academic Council, Chair (Frances White) & Members
Janet Woodruff-Borden, Executive Vice Provost
Ron Bramhall, Assoc Vice Prov Academic Exec
Kate Mondloch, Interim Dean Grad School
Doneka Scott, Vice Provost for Undergraduate Education and Student Success
Mark Watson, UO Libraries
4:00 P.M.    New Business

Updates: Open Access; David Condon, Mark Watson, et al. White paper here.
4:15 P.M.   Reports
Core Ed Council; Chris Sinclair/Emily Simnitt
SOAGIE; SJ Wilhelm
4:25 P.M. Notice(s) of Motion
US19/20-16: Resolution to adopt an Open Access Scholarship Policy; David Condon (Psychology), Margaret Sereno (Psychology), Mark Watson (UO Libraries)
US19.20-17: Creation of a School of Languages and Global Studies; Zhuo Jig-Schmidt (East Asian Languages & Literature).
This is legislation to require this proposal (which I'm unable to find on the web) to go through Senate approval. Letter from 28 faculty here, raising a series of questions about the proposal and the lack of faculty participation in preparing it: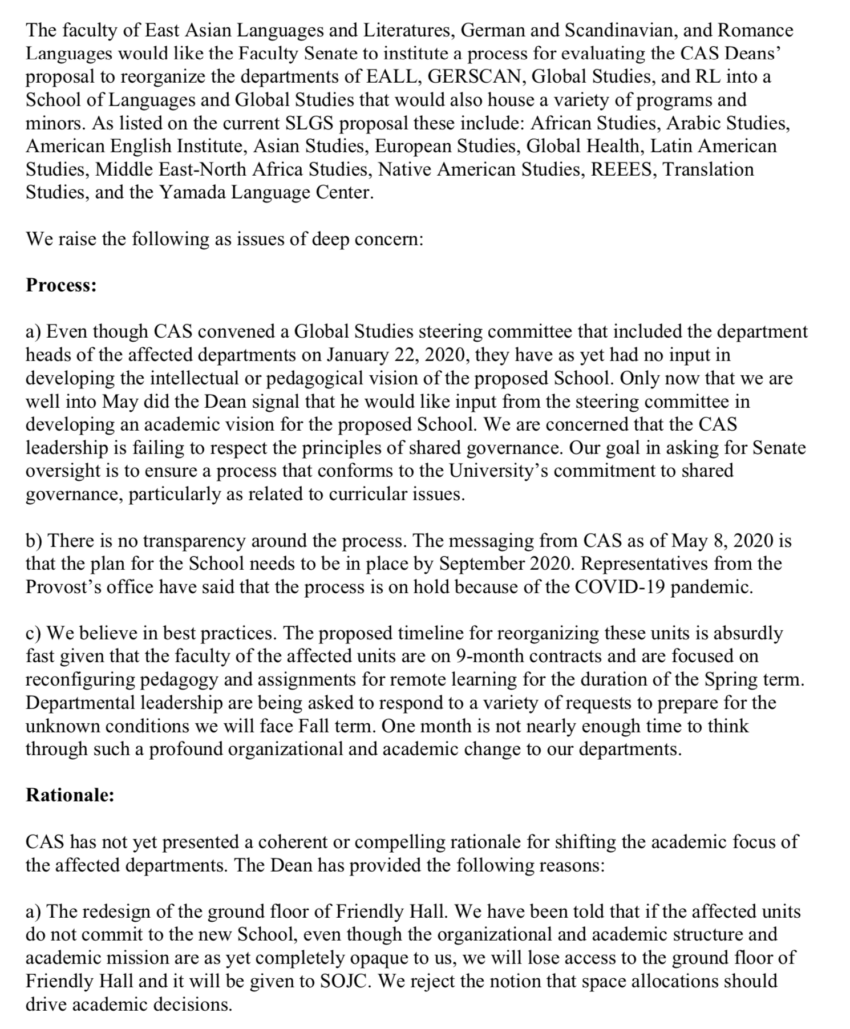 etc.
4:25 P.M. Other Business
4:30 P.M. EXECUTIVE SESSION – AWARDS
5:00 P.M.   Adjourn
---
Topic: University Senate – May Mtg
Time: May 13, 2020 03:00 PM Pacific Time (US and Canada)
Join Zoom Meeting
https://uoregon.zoom.us/j/164017529?pwd=eTdyRHk3OXkvcFhCekdrQjRvdk1vQT09
Meeting ID: 164 017 529
Password: 235037
One tap mobile
+16699009128,,164017529# US (San Jose)
+13462487799,,164017529# US (Houston)