Severance payments to former coaches, from 2015 to present: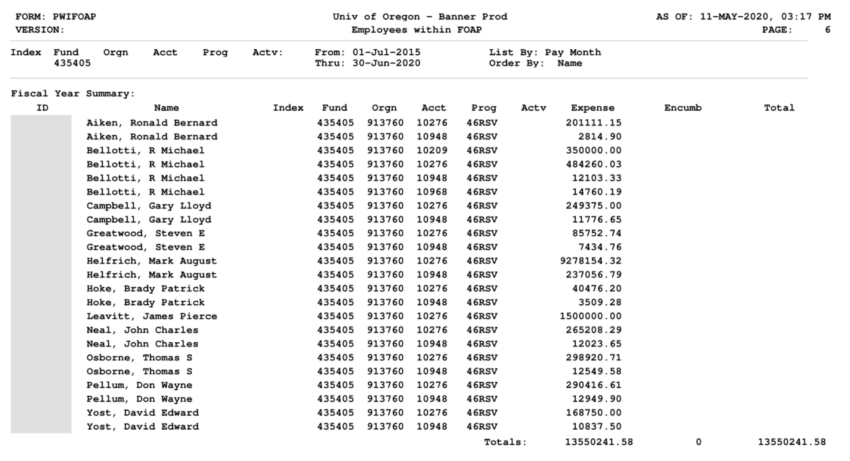 Presumably the money came from Duck boosters who couldn't think of a way to support UO's academic mission, or just don't care. I wonder if the Foundation and UO Development exempted these donations from their usual administrative and fundraising charges, as they do for most big Duck boosters.
This is from a public records request I made at 10:40 AM on May 11, below. As you can see from the time stamp on the banner report, it took AAD Eric Roedl's staff less than 5 hours to get around to pulling these records out of banner (which takes less than 5 minutes). UO General Counsel Kevin Reed's Public Records Office then applied its usual methods to delay the release of public records to the public and subvert the clear intent of Oregon's public records law, taking a full 22 days to get around to redacting the id numbers and sending me a fuzzy pdf. The full dump with monthly payments is here.
May 11, 2020 request:
From: Bill Harbaugh <[email protected]>
Subject: Public records request, Duck severance payments
Date: May 11, 2020 at 10:40:25 AM PDT
To: Lisa Thornton <[email protected]>
Cc: Eric Roedl <[email protected]>
Dear Ms Thornton
This is a public records request for an itemized list of the "severance payments and applicable benefits" paid to past Duck Athletics coaches and administrative personnel, from July 1 2015 to the present. I attach an example of the sorts of expenses I am looking for, from the 2019 EADA report.
I am ccing Eric Roedl, as he should be able to easily supply these numbers from BANNER without your office's usual fees and delays.
I ask for a fee waiver on the basis of expenditure of public funds.
Thanks,
Bill Harbaugh
[email protected]

June 2, 2020 response:
On Jun 2, 2020, at 3:50 PM, [email protected] wrote:
Dear Mr. Harbaugh,
Attached are the records responsive to your request made on 05/11/2020. Some information is exempt under ORS 192.355(2). You may seek review of the public body's determination pursuant to ORS 192.411, 192.415, 192.418, 192.422, 192.427 and 192.431. The office considers these documents to be fully responsive to your request, and will now close your matter. Thank you for contacting the office with your request.
Sincerely,
Office of Public Records
6207 University of Oregon | Eugene, OR 97403-6207
(541) 346-6823 | [email protected]
publicrecords.uoregon.edu