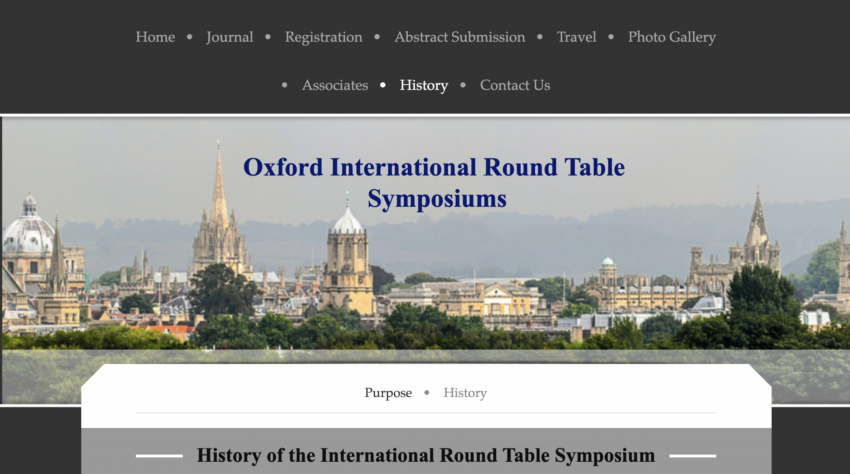 Every professor I know gets spam like this about fake academic conferences with prestigious sounding names, held in popular holiday locations. They accept all papers, have a similarly unreviewed "journal", and I assume some people try to get reimbursement for them, or try to use them to pad their c.v. – which would be laughable at any reputable university.
What a scam. A scam run by OSU's new President and his family. You've got to wonder what else the OSU Board of Trustees and Witt/Kieffer search consultants Zachary A. Smith, Ph.D., Suzanne Teer and Kim Brettschneider missed – or ignored.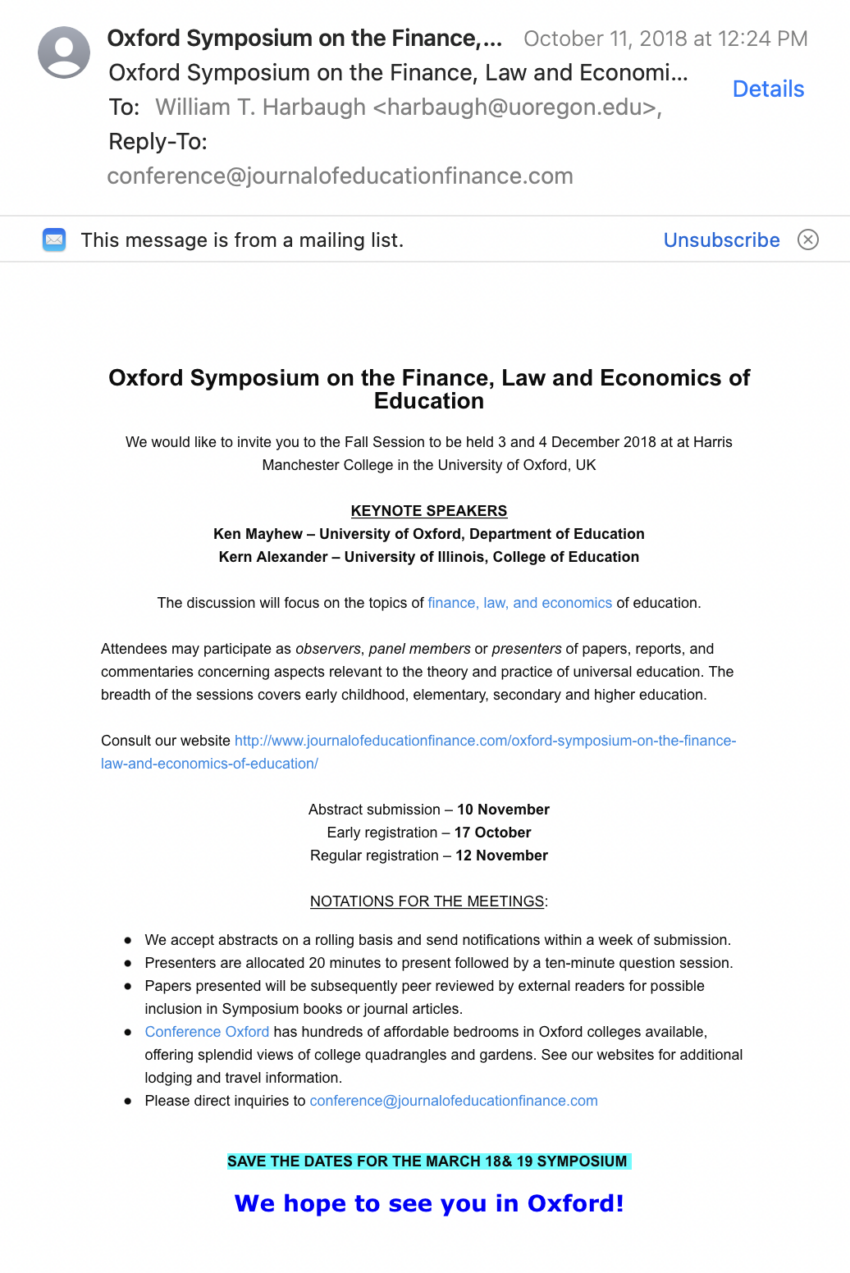 There's a website that keeps track of scams like this, which notes:
Who or what is behind these efforts? They appear to be organized far from Oxford by the International Round Table Symposiums, which is said (6/2/17) to have have a "location in Oxford" at the Harris Manchester College. But a webpage on its history — which does not indicate when and where this group was founded — reveals that
The Round Table is, thus, not an academic programme conducted by the umbrella University. Harris Manchester College is the venue, the situs, location of the Round Table. The colleges, themselves, in their private corporate capacity, traditionally host an array of academic conferences assisted by Conference Oxford. The Round Table is one such conference. Harris Manchester College was selected as the location for the meeting because of its reputation, its location in the heart of Oxford, and because of its congenial working relationship with the members of the Round Table Programme Committee and Advisory Board.
I have not located the names of any members of the committee or advisory board. The history webpage ponderously advises that
The International Round Table Symposium is an international educational organization whose purpose is to promote education, art, science, religion and charity … effectuated by the conduct of interdisciplinary symposia and the publication of meritorious manuscripts emanating therefrom. …
The lack of sponsorship by Oxford University is a virtue because it advances "Academic Independence":
Academic Independence is an important aspect of the Round Table. As a private charitable educational organization, the Round Table is not under the control of the hosting Oxford colleges, most of which are established as endowed sectarian foundations, nor is it in anyway under the aegis, restraint or sanctions of the University of Oxford; rather, the Round Table is free-standing, apolitical and non-denominational.
When accused by an Oxford faculty member of deceptive advertising, the group sued her. The domain name oxford-population-and-environment-symposium.com is registered to Shenette Alexander, London Education Research Symposium, Sand Dune Aly, Saint Augustine, Florida 32080, telephone: (562) 676-6382, email: [email protected] Shenette describes herself as "Dedicated Wife, Loving Mother, Assistant to Oxford Round Table." Her husband, Fieldon King Alexander, is the chancellor of Louisiana State University and A&M College and president of the LSU system. The group, which has existed under various names and corporate charters (mostly in the US) is a creation of the Alexander family.