Former Duck AD and booster Pat Kilkenny hired baseball coach Greg Horton back in 2010, and he is now 100% behind renewing his good friend's $600K a year contract, despite the millions Horton has lost for UO. Kenny Jacoby has the red ink in the Emerald:

Steve Mims has the quotes in the RG:
Pat Kilkenny sat in his press-box suite as Oregon's season ended with a 10-1 loss to UCLA on Saturday afternoon at PK Park and then he visited Horton on the field after the game.
"He gets it, he's supportive and he's become a good friend," Horton said. "Nothing but support from that guy."
Horton's contract expires in September, and athletic director Rob Mullens has declined to comment on his status. Kilkenny told The Register-Guard he is "100 percent" behind bringing back the coach.
"People like myself always get opportunities to chime in," said Kilkenny, one of the namesakes of the ballpark who was the athletic director that brought baseball back to Oregon in 2009 and hired Horton as the coach.
"… They need to be diligent about how they spend money because they need to get it right. Otherwise, they're going to lose their jobs. I have no doubt they'll be fair and reasonable."
Yes, Kilkenny's 100% behind Horton. Of course Kilkenny also said UO would make millions from baseball. And while Rob Mullens hasn't fired Horton yet, it wouldn't be the first time he fired one of Kilkenny's friends – after they'd cost UO millions, of course:
3/24/2014: Rob Mullens boots Kilkenny buddy Westhead
AD Rob Mullens won't renew the contract of Pat Kilkenny buddy and women's basketball coach Paul Westhead. We've been paying him $650K – and his contract let him live in LA half the year: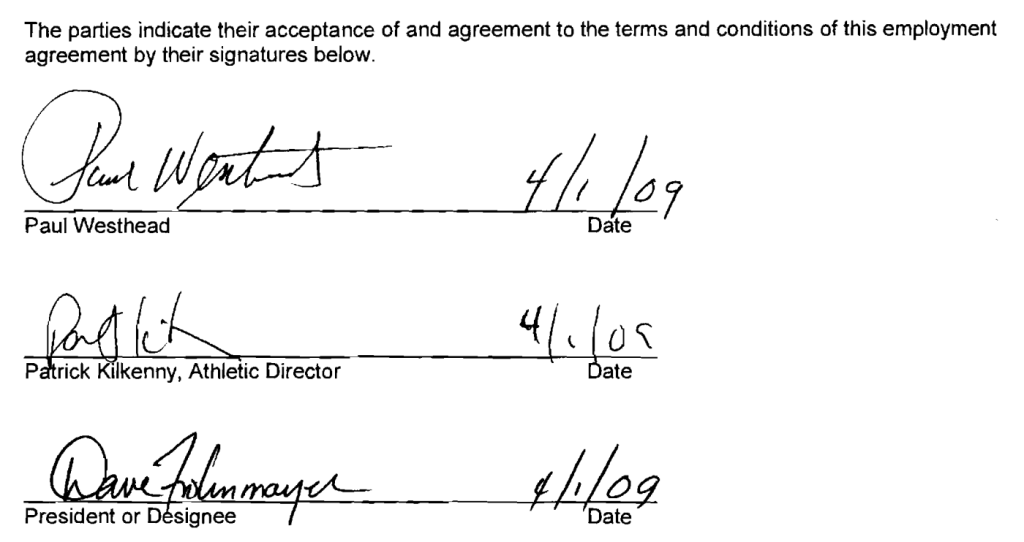 Will his replacement be a man or a woman? Andy Greif has some guesses in the Oregonian, here. For an interesting story on women (and race) in college sports, try this recent NYT piece:
"But in the grand scheme of things, Caucasian girls have benefited disproportionately well, especially suburban girls and wealthy Caucasian girls."…
An unexpected consequence of Title IX is that since the legislation was passed in 1972, the percentage of female head coaches has decreased and the percentage of men coaching women's teams has increased, especially in basketball and soccer. According to studies by Linda Jean Carpenter and R. Vivian Acosta, the percentage of women coaching women's teams at the intercollegiate level fell to 44 percent in 2010 from 90 percent in 1972. But even here, African-American women have lost ground.
And here's a really interesting ESPN story on what happened to Oregon's winningest women's coach, Jody Runge – my recollection is that we paid her about $85K:
Says one former player, Shaquala Williams: "She's a strong woman who didn't take a backseat to anyone. That didn't always sit well with the male-dominated administration." (Moos, now the AD at Washington State, declined comment for this story, as did other key administrators from Runge's tenure.)
Runge left Oregon believing she had a future in the game. She didn't yet realize she'd been branded, twice over. She had not only been essentially fired, she had also developed a reputation for, as she puts it, "always wanting something."