From June 8, just getting around to posting. Video here: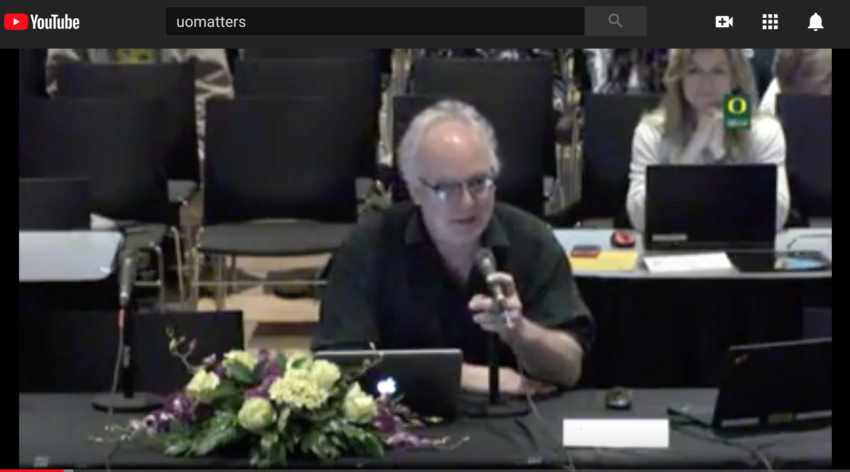 I'm posting this in part because of today's Op-Ed in the Oregonian from Oregon Association of Scholars President (and PSU PoliSci prof) Bruce Gilley, which inaccurately characterizes the UO Senate's resolution in support of the free-speech rights of our students as endorsing the "heckler's veto". Gilley:
… The protection of intellectual freedom on campus used to be the preserve of faculty. Yet the radicalization of faculty — conservative or registered Republicans have virtually disappeared from Oregon college faculties today — means that faculty today are more often the main threat to intellectual freedom. The disgraceful endorsement by the University of Oregon's faculty senate of student mobs who disrupted the president's annual address last October is the latest example. …
The UO Senate's resolution is here. I can only assume Prof. Gilley has not read it. Among other things, it states:
2.1 BE IT THEREFORE RESOLVED that the UO Senate supports the rights of students to peacefully protest during university events, even disruptively, so long as those protests do not prevent speakers from being heard and the audience from hearing what they have to say; [Emphasis added.]
See below for more. Back up the video to hear the remarks from incoming ASUO President Maria Alejandra Gallegos-Chacon, which end with a call for a reform of UO's student discipline rules to ensure free speech cases are treated with the care they deserve.
My report to the Board of Trustees as written:
The report in the meeting materials is from outgoing Senate President Chris Sinclair. He is giving a presentation at a national meeting on the Senate's Core Education reform program, so I'm his surrogate.
I was Senate VP this year, and will be Senate President for the coming academic year. Last week the Senate voted Elizabeth Skowron (Education) in as Senate VP this year, and so she'll become President the year following this one.
Elizabeth has broad support from the faculty and other Senate constituents, and from Chris and myself. Her election was unanimous.
I'll be happy to answer questions about Chris's report, which explains some of the Senate's work this year, i.e. including the plans we have put in place to improve core ed, teaching and teaching evaluation but first I want to add a few comments.
First, I want to report on a conversation that Chris and I had with UO's internal auditor Trisha Burnett, this March, as part of her annual check-ins. We explained that we were particularly concerned about
1) UO's diversity efforts: While you will hear a lot about the IDEAL diversity plan today, meanwhile UO is dropping the ball on basic practices like exit interviews for departing minority and female faculty and open hiring processes for administrators. Burnett agreed that these were problems. I hope you have got the same message from her office and will help address it.
2) The athletic department. As you know the NCAA is investigating UO over an incomplete grade  for a student-athlete. This is a side-show.
One real concern is about the  extent to which the " Support for Student Athletes" operation is providing good academic support to revenue-sport athletes, and help for those that aren't going to make it to the pros or graduate. I assume you've seen the graduation rates for the revenue sport-athletes. Burnett is worried about the potential for an UNC type scandal, or an Michigan State type one. The faculty knows little about how the AD and SSA operate, and our past oversight efforts have not been successful. The Senate's IAC committee has been replaced by an advisory committee to the President. You should be aware of Burnett's concerns about the risk, which she expressed clearly to us, although apparently not in her written reports to you.
3) The UO Foundation. The Foundation is heavily involved in the 2021 IAAF championships award, which is now under federal investigation. Your board was involved in this as well. We made our concerns clear, to Burnett, she made clear that the Foundation was not cooperating with her efforts to learn more. This is not a good situation, we hope you are keeping your eye on it.
Second, I want to explain the Senate's resolution "In Support of the UO Student Collective". This is the group of students that disrupted President Schill's "State of the University"speech in October.
A personal note: One of the first courses I taught when I came to UO was on environmental economics. One of my students was an environmental activist, and frequently and loudly spoke up during lectures to object to the economic approach.
President Schill has said that with this resolution the Senate endorsed the sorts of disruption of classes by students who might object to something about the course content, as has occurred at other universities, such as Reed and Evergreen, where students have essentially shut down courses on particular subjects.
This is not at all what our Senate has endorsed. The resolution states clearly:
2.1 BE IT THEREFORE RESOLVED that the UO Senate supports the rights of students to peacefully protest during university events, even disruptively, so long as those protests do not prevent speakers from being heard and the audience from hearing what they have to say; 
I'm not a lawyer, but this language is consistent with everything I understand about the First Amendment, everything I believe about academic freedom, and everything that UO's other policies on these matters state. People have a right to speak, and those who object to that speech have the right to have their objections heard even if that disrupts and causes inconvenience for the speaker and the audience.
What those who object cannot do, and again I quote from our resolution, is prevent speakers from being heard and the audience from hearing what they have to say. 
Our resolution does not endorse the sorts of disruptions that prevent faculty, or our President, from teaching what they want to teach or saying what they want to say. It specifically speaks against that, only allowing "disruption" so long as that disruption doesn't prevent the professor's lecture, or for that matter the President's talk, from continuing.
Our resolution does not endorse allowing the actions of the Students Collective taking the podium and shutting down President Schill's address – although it does call for some leniency in their subsequent discipline, and some reforms to make sure free speech discipline cases are handled with special care. These were students, after all.
If this is not clear, please see the UO policy on Academic Freedom, which the Senate passed in 2014 and which the UO President signed, which states:
The University's responsibility to help students to think critically and independently requires that members of the university community have the right to investigate and discuss matters, including those that are controversial, inside and outside of class, without fear of institutional restraint. It is the responsibility of speakers, listeners and all members of our community to respect others and to promote a culture of mutual inquiry throughout the University community.
Or see the UO Policy on Freedom of Inquiry and Free Speech, which we passed in 2010, which states:
The University supports free speech with vigor, including the right of presenters to offer opinion, the right of the audience to hear what is presented, and the right of protesters to engage with speakers in order to challenge ideas, so long as the protest does not disrupt or stifle the free exchange of ideas. 
I don't see how the Senate and the faculty could be any more clear about our position, and I'm tired of hearing people misrepresent it. Though of course I'm open to any arguments, even disruptive ones.
Thank you. Questions?