Since the Board's official website is an unhelpful mess, here are the times and agendas for the committee and board meetings Monday and Tuesday, along with a few excerpts and some commentary. All events in the Ford Alumni Center. Monday meetings start at 10:30, Tuesday at 10.
I'll try and add a little live-blogging below, as the meetings progress. Meanwhile I'll note that UO's federal accreditors require the Board to conduct a self-study every two years:
While OSU's board posts their evaluations on the internet, UO's Board secretary Angela Wilhems is making me file a public records request to see UO's.
Why?
10:30 AM Monday 12/3: Academic and Student Affairs Committee: https://trustees.uoregon.edu/sites/trustees2.uoregon.edu/files/meeting_packet_-_asac_12.03.18.pdf
Provost's Quarterly Report
Provost Banavar gives the Senate and Sierra Dawson a shout-out on the Senate's efforts to reform student evaluations, highlighting roll-out of our new non-metrics, and Ginger Clark's (USC) talk to the Senate, here.
In other news, VP for Budget Planning will be retiring Jan 1 – but don't get too excited, he'll still be working half-time on budget planning etc.
1. Annual Enrollment and Financial Aid/Scholarship Report: Roger Thompson, Vice President for Student Services and Enrollment Management; Jim Brooks, Associate Vice President and Director of Financial Aid and Scholarships
For some reason Roger isn't reporting SATs, or any info on our comparators. Spending on recruiting is way up – UO is hiring more recruiters and buy PSAT data and sending out mailers. It would be interesting to see those mailers – several parents have told me they're not very impressed.
International enrollment down, overall freshman enrollment up 6%, out of state enrollment up, first-generation enrollment up: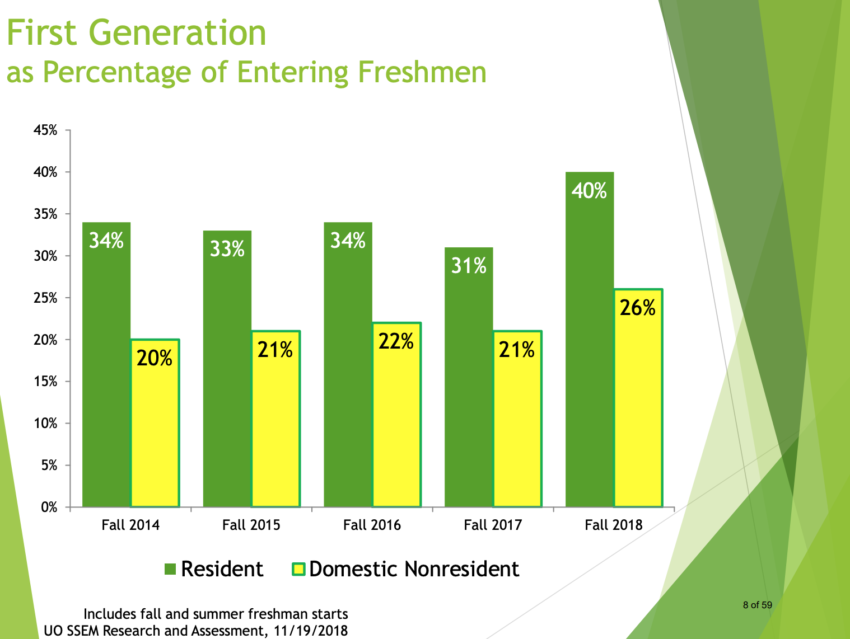 Ford asks about transfer student numbers. Thompson reports it's not good.
Jim Brooks then talks about financial aid. UO seems to be engaging in much more price-discrimination, with substantial increases in merit aid: 
Despite this, because of the tuition increases UO's discount rate has barely budged, from 10 to 11% over the past few years. Student borrowing is down, parent borrowing is up.
In very good news, PathwayOregon enrollment (low-SES Oregon residents) is way up: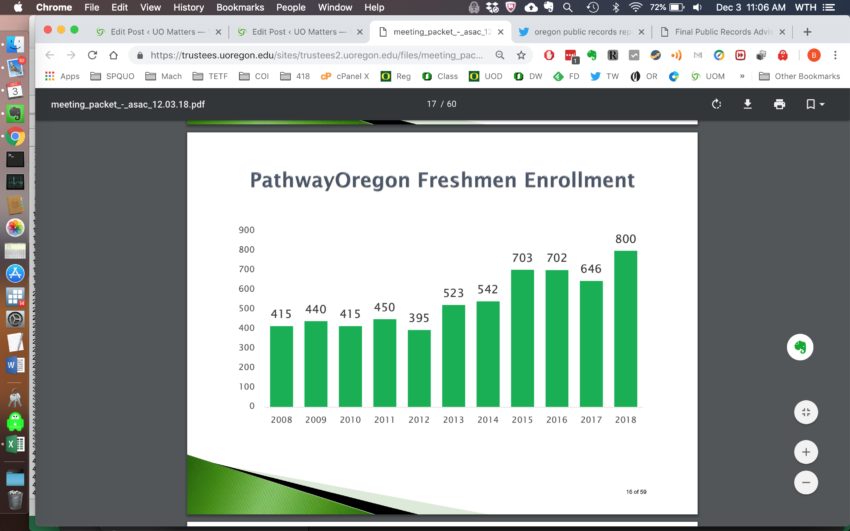 Lillis asks how UO compares to AAU in terms of federal aid. Brooks not sure.
2. Student Success Initiative – Semi-Annual Report: Dennis Galvan, Interim Vice Provost and Dean for Undergraduate Studies; Doneka Scott, Associate Vice Provost for Student Success
Doneka Scott is out for health reasons, we hope she'll back soon.
PathwayOregon's "wrap-around" advising model has shown great success, plan is to roll this out for all students in some form through the Tykeson project.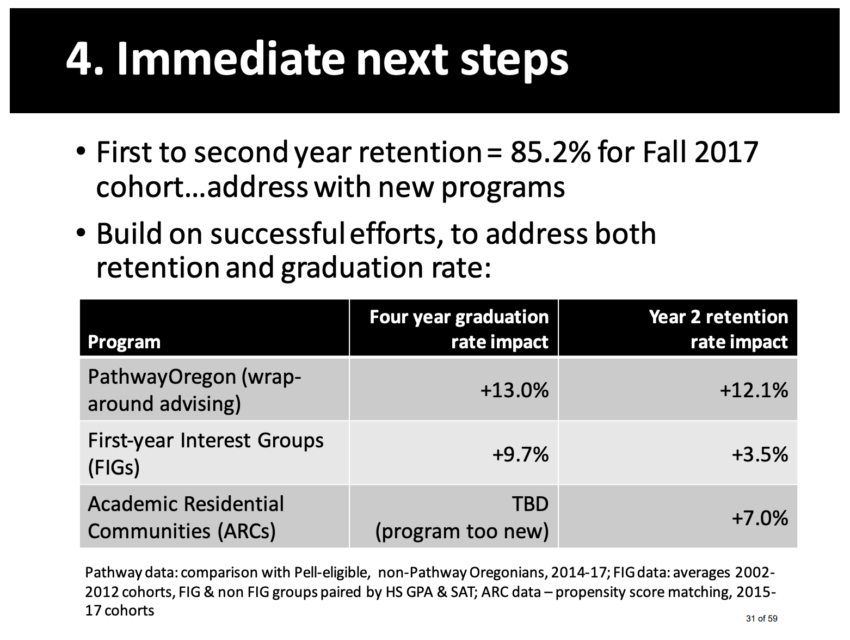 Wilcox asks about stagnate first year retention – any evidence as to what is working and what is not? Galvan: no evidence.
3. Online and Hybrid Education – Initiative Update: Carol Gering, Associate Vice Provost for Online and Hybrid Education
She's new, seems focused on using online to improve grad rates for regular students. No big OSU type online push: