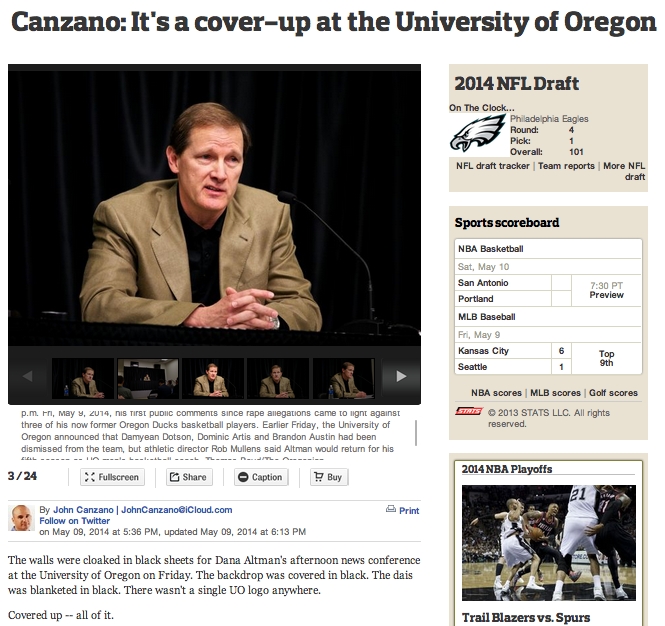 5:30 PM: And sure enough, the NY Times is already reporting they don't think President Gottfredson is telling the truth: http://www.nytimes.com/2014/05/10/sports/ncaabasketball/3-suspended-in-oregon-sexual-assault-case.html?_r=0
The university did not act sooner because the Eugene police asked officials to delay administrative reviews until after a criminal investigation was complete, Gottfredson and a police spokeswoman said.
However, the police investigation did not begin until March 14, five days after the university learned of the incident. A university spokesman said he could not explain why the university did not begin its own investigation in the interim.
A report a White House task force released in April on protecting students from sexual assault said, "A criminal investigation does not relieve a school of its independent obligation to conduct its own investigation — nor may a school wait for a criminal case to conclude to proceed."
Soon the athletes will start talking. I wonder if they'll verify Coach Altman's claims he didn't know?
5/9/2014: 5:05 PM: Gottfredson's "modified limited hangout" is not getting a lot of respect. Sports reporters are the most aggressive and persistent reporters in the U.S. They make Woodward and Bernstein look like amateurs. This will end with major damage to UO, and a new President. The question is how much pain Gottfredson puts us through first. UO's public records log is here – many requests already from NYT reporter Josh Hunt. And this on point one from the ODE's Ian Campbell: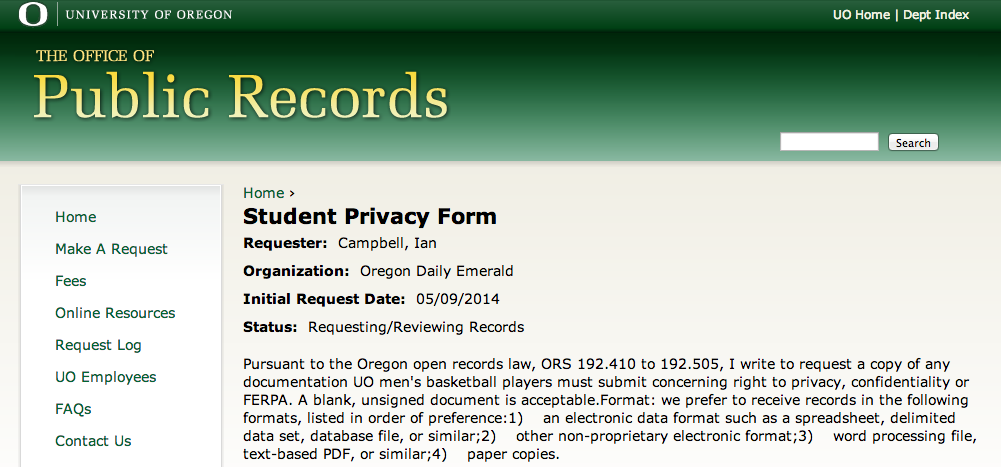 This may well be done through the NCAA, and UO will claim it's not an Oregon public record. Similarly with many of the other documents. The stonewalling will further damage UO, and add to Gottfredson's plummeting credibility.