12/11/2013: Geller: Faculty must be fully engaged
An email from President Gottfredson's General Counsel Randy Geller, sent round today:
Work schedule for bargaining unit faculty members:
This is a reminder that under Article 32, Section 21, of the United Academics Collective Bargaining Agreement, bargaining unit officers of instruction who do not earn vacation will be considered to be on paid leave during the week between Christmas and New Year's Day (and during the week of Spring Break).
Christmas Day and New Year's Day are paid holidays. However, bargaining unit faculty members (typically some officers of research) may be required to work on these holidays if necessary to maintain or operate critical facilities or operations. If a bargaining unit faculty member is required to work on a holiday for that reason, he or she may take an equivalent amount of time off with pay at a later date, as approved by the bargaining unit faculty member's supervisor.
Otherwise, as provided in Article 17, Section 7, of the CBA, each bargaining unit faculty member must be fully engaged in teaching, research, and service work for the university to the extent of his or her appointment, and must be engaged in work or reasonably available for work for the entirety of the term for which the bargaining unit member is employed unless on approved leave. There is no blanket leave for the period between fall and winter terms.
You previously received information about the Governor's Day.
Faculty members who are not subject to the United Academics CBA may make individual arrangements with their supervisors regarding work schedules.
Randy Geller
General Counsel
University of Oregon
Apparently Randy got left off the list of bowl game junketeers.
Update: I've got a public records request in to Hubin for this year's Bowl Game junket list. Last year's Fiesta Bowl junketeers are here – including our hardworking, if somewhat spiteful Randy Geller, and spouse:
1/28/2013: Dave Hubin's PR office provided this complete list of the UO Fiesta bowlers, today. Not all those listed in the letter below went, but plenty of others did. Here are just a few:
12/13/2013: Former Journalism Dean Tim Gleason not "fully engaged"?
Interim Provost Scott Coltrane is paying Tim Gleason $218,524 a year: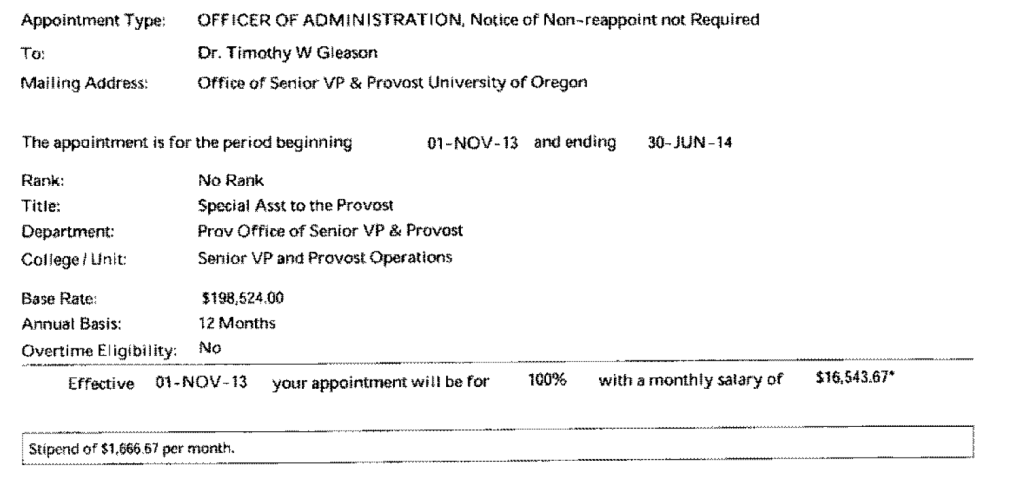 His mission?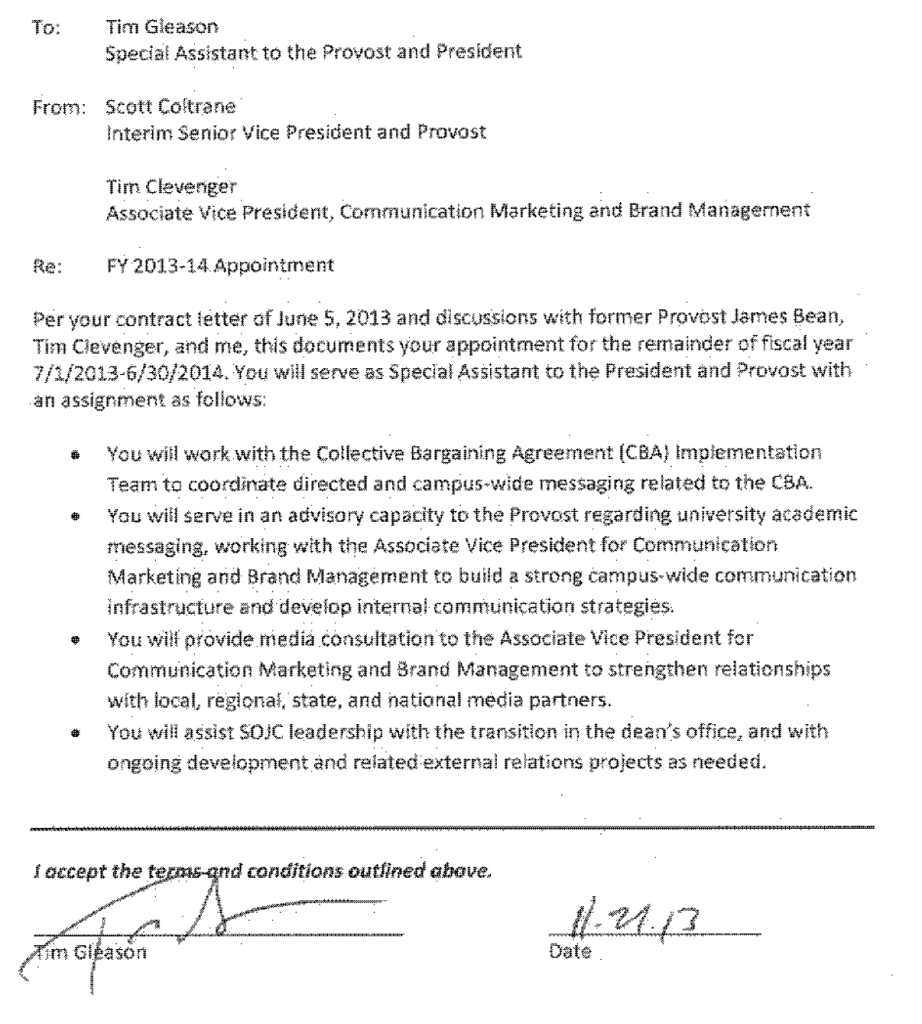 Full contract here. Tim's not doing very well so far. His CBA blog is more about petty rumors and snide comments about economics faculty than about solid information on implementing the agreement. And now Randy Geller is elbowing Gleason out of the way when it comes to "campus wide messaging".
4/18/14: Coltrane special assistant Tim Gleason drops ball again
It's been two months since UO's former journalism dean Tim Gleason has bothered to update the administration's blog on faculty union contract implementation – one of his few job duties. I'm guessing he's on time when it comes to cashing his paychecks though. Does anyone know what, if anything, Gleason *is* doing to earn $16,543.67 a month, topped off with a $1,666.67 stipend?
6/30/2014 update: Is President Gottfredson "fully engaged" over summer break?
He's got a 12 month contract, but it seems like Mike Gottfredson is also breathing a sigh of relief over Randy Geller's retirement, and taking a little vacation. Or maybe he just doesn't want his schedule of meetings about the rape allegation modified limited hang-out to be public? Speaking of which, I wonder when his "external review panel" meets: