Provost (now Interim President) Scott Coltrane objecting in April to still pending Senate legislation to eliminate hidden athletic subsidies and enforce the 2004 agreement to make athletics contribute to UO's academic mission: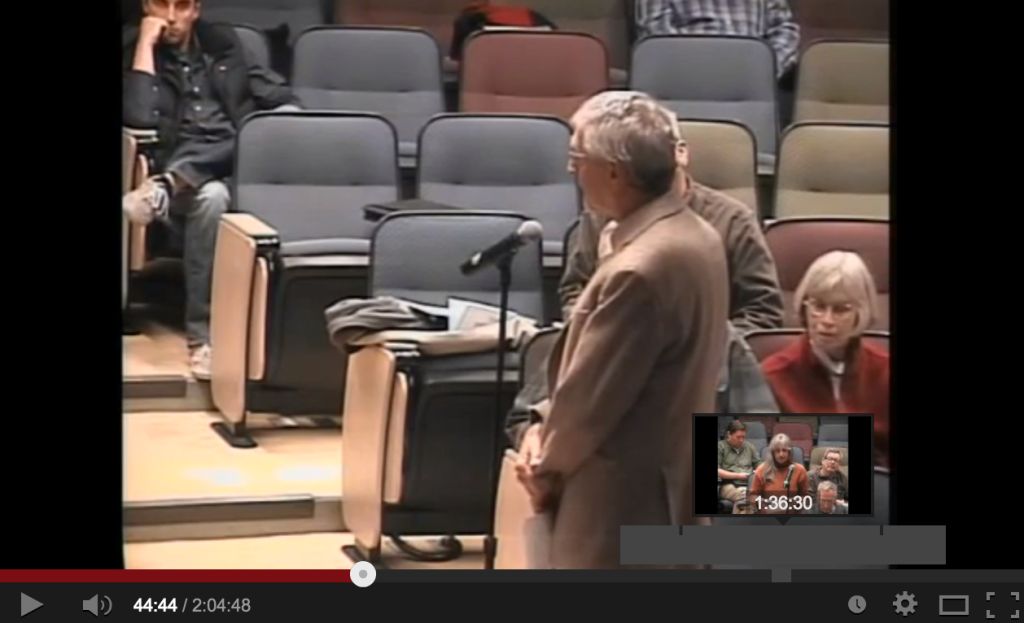 An End to Subsidies for the UO Athletic Department
Number:
US13/14-12
Date of Notice:
Wed, 11/13/2013
Legislation, Resolution, or Policy Adoption:
Legislation
Current Status:
Postponed until October 2014
Motion:
SECTION I:
1.1 WHEREAS in 2004, the UO Athletics Task Force, which included President Dave Frohnmayer, Athletic Director Bill Moos, NCAA Faculty Athletics Representative Jim O'Fallon, the Senate President, and many Senate and faculty representatives, concluded a three-year study of UO athletics with a report that stated as recommendation #1,
"The Task Force and the Athletic Department recommend a voluntary financial contribution by
athletics to the Presidential Scholarship fund."[1]; and
1.2 WHEREAS in 2008 the Senate passed a resolution reiterating this recommendation[2]; and
1.3 WHEREAS in May 2012 the UO Senate passed another resolution (endorsed by four former Senate Presidents in its stronger form legislation) requesting that President direct the Athletic Department to end subsidies for athletics starting on 7/1/2013 and start making payments for academic purposes starting in 7/1/2014[3] [4]; and
1.4 WHEREAS two months after the 2012 resolution President Gottfredson wrote to Senate President Margie Paris that
"One intent of the resolution is to ensure that athletics is paying an appropriate share of the costs associated with tutoring and advising of student athletes and for the arena. This is clearly an appropriate aim and one with which I am fully supportive. More analysis needs to be undertaken to ascertain the nature of these obligations while preserving legitimate expectations derived from the existing agreements. We will expeditiously work to resolve these issues in collaboration with athletics."[5]
and
1.4 WHEREAS the subsidies have not been ended, and to the contrary the payments from the Provost's budget to support tutoring and advising at the Jaqua Center for Student-Athletes, services that are available only to student-athletes, have increased from $600K in 2008 to $1.8M for FY 2011-12 and then to $2.2M this year, after passage of the 2012 resolution. These services cost about $4,000 per student-athlete, while UO's spending on similar services for non-athlete students averages only about $225[6]; and
1.5 WHEREAS the Athletic Department solicits donations and ticket surcharges for the Duck Athletic Fund, totaling ~$30M for 2012-13[7], with the statement that,
"The mission of the Duck Athletic Fund is to raise funds to offset the expenses of student-athletic scholarships and related athletic department support at the University of Oregon."[8]
and
1.6 WHEREAS in the most recently available data, for 2011-12, the Athletic Department paid only $7 million from these DAF funds to the academic side for tuition, and did not pay any of the cost of student-athlete services other than a portion of the maintenance costs of the Jaqua building[9]; and
1.7 WHEREAS UO's academic budget has been paying $467,538 a year since 2009 to repay the portion of bonds used to purchase the Knight Arena land representing the area of the Mac Court land[10]; and
1.8 WHEREAS nine years have now passed since the 2004 Task Force report calling for voluntary contributions from athletics toward academic scholarships, during which annual operating expenditures by the Athletic Department have increased from less than $40 million to more than $90 million[11]; and
1.9 WHEREAS during that time the athletic department has not made any such contributions and in fact has received increasing subsidies from the academic budget.
SECTION II
2.1 BE IT HEREBY MOVED that the subsidies to the Athletic Department for tutoring and academic support for student athletes be reduced on a per student basis to the same level as that of non-athlete student beginning in FY 2013-14, with the remainder of these funds directed to general academic purposes;  and
2.2 BE IT FURTHER MOVED that the Athletic Department shall pay from its budget the full cost of the bonds used to purchase the Knight Arena land, beginning in FY 2013-14 and that these funds should be directed to general academic purposes; and
2.3 BE IT FURTHER MOVED that these payments shall retroactively cover the full cost of Jaqua center services and bond payments from 7/1/2013 forward; and
[1] UO Task Force Report at http://darkwing.uoregon.edu/~uosenate/dirsen034/finalreportATF04.pdf
[2] 2008 motion at http://pages.uoregon.edu/uosenate/dirsen078/US078-15.html
[3] 2012 motion at http://senate.uoregon.edu/content/payments-athletics-department-academic-purposes
[4] Endorsements of former Senate Presidents at https://uomatters.com/2013/05/senate-pases-motion-to-make-athletic.html
[5] Letter from President Gottfredson to President Paris athttp://senate.uoregon.edu/files/President%27s Response to US2012-13_20.pdf
[6] UO Financial Transparency Report athttps://dl.dropboxusercontent.com/u/971644/uomatters/IAC/Provost payments to Jaqua Center 2012 to 2014.pdf and Register Guard story athttp://projects.registerguard.com/web/newslocalnews/26115261-57/center-students-athletes-academic-jaqua.html.csp
[7] Report at http://www.goducks.com/fls/500/pages/athlfin/FY2012-Sources-of-Revenue.pdf?DB_OEM_ID=500
[8] Report at http://goducks.com/fls/500/pages/daf/DAF_Brochure.pdf?hq_e=el&hq_m=402524&hq_l=10&hq_v=c904dd1d98
[9] UO Foundation report athttp://www.uofoundation.org/s/1540/images/editor_documents/annual_reports/annual_report_2012.pdf
[10] Frohnmayer/Kilkenny MOU at http://www.goducks.com/fls/500/pages/athlfin/MOU-Debt-Service-of-Purchase-of-Land-for-New-Arena.pdf?DB_OEM_ID=500
[11] AD budget at http://www.goducks.com/ViewArticle.dbml?DB_OEM_ID=500&ATCLID=205337248
Financial Impact:
Cost Neutral
Sponsor:
William Harbaugh (Economics), Senator
Related Documents:
Documents from Professor Dev Sinha (Mathematics), distributed to the UO Senate on February 12, 2014:
Report and Proposals from the University of Oregon Athletics Task Force 2001 to 2004
Reports on services for student athletes
Legislative History:
This motion was amended on the floor of the University Senate on 11/13/2014. Attached is a redlined version of the original motion.
Furthermore, the Senate passed a motion to form an ad hoc committee to redraft the motion for submission and consideration by the Senate with the express intent of soliciting input from the Office of the President.
Professor Bill Harbaugh (Economics), Chair of the ad hoc committee created to examine this motion,gave a report to the University Senate on January 15, 2014. The report can be found online: Report on Athletics Subsidies Committee.
President Gottfredson replies to motion: Payments by the Athletics Department for Academic Purposes (US12/13-20)
This motion was amended on the floor of the University Senate on 02/12/2014. Attached is a redlined version of the original motion.