Update: Jennifer Freyd and Carly Smith gave an impressive hour long talk to the City Club. It certainly resonated with the audience, who asked questions about the role of alcohol and sports and perpetrators. Interim President Scott Coltrane was there. I think it would be hard for any reasonable person – and Coltrane seems eminently reasonable – to listen to their calm, rational, thorough presentation of their research and not believe that they should have a a central place at the table as UO tries to figure out strategies to reduce sexual assaults and deal with their consequences. The Senate Task Force that Freyd and Smith sit on will be presenting its initial proposals to the Senate on October 22.
There was a video camera there but I'm not sure where the link will be posted. Meanwhile there is an OPB radio interview, here. But note that the interviewers seem a bit confused about the differences between the Senate Task Force and Gottfredson's review panel.
10/3/2014: Information here:
Friday, October 3, 2014 from 12:05 to 1:20 p.m.
Downtown Athletic Club, 3rd Floor Ballroom
Addressing Sexual Assault – From Institutional Betrayal to Institutional Courage
Guest Speakers: Dr. Jennifer Freyd and Carly Smith
Program Coordinator: Marshall Wilde
9/30/2014: Freyd releases the rape survey the UO administration tried to stop
Back in May, Jennifer Freyd, Carol Stabile, and the others in the rag-tag UO Coalition to End Sexual Violence were reduced to yelling at the Johnson Hall administration with a megaphone:

Now president Mike Gottfredson is gone. General Counsel Randy Geller is gone. Rumor has it that VPFA Robin Holmes will soon be spending more time with her family too – and I don't mean on bowl game junkets.
Scott Coltrane is now in charge, and apparently he doesn't care much for what Gottfredson and his predecessor Bob Berdahl have been telling him about how to just paper this all over. In 2 months UO has gone from having a president who tried to hide rape allegations from our students, to having results from a well designed, credible survey documenting the extent of the campus problem and showing where to focus efforts to fix it.
So now Freyd and Stabile, and the UO Senate Task Force, are UO's most credible voices on how UO will move forward to address sexual violence. They made this happen through their own sustained hard work, and some very effective networking. What an impressive demonstration of political effectiveness for an important cause.
News reports:
Josephine Woolington in the RG: "What we learned today is simply unacceptable and unconscionable," said professor Robert Kyr, a task force member and University Senate president.
Steve Duin in the Oregonian: One in 10 female students at University of Oregon tell researchers they have been raped at college.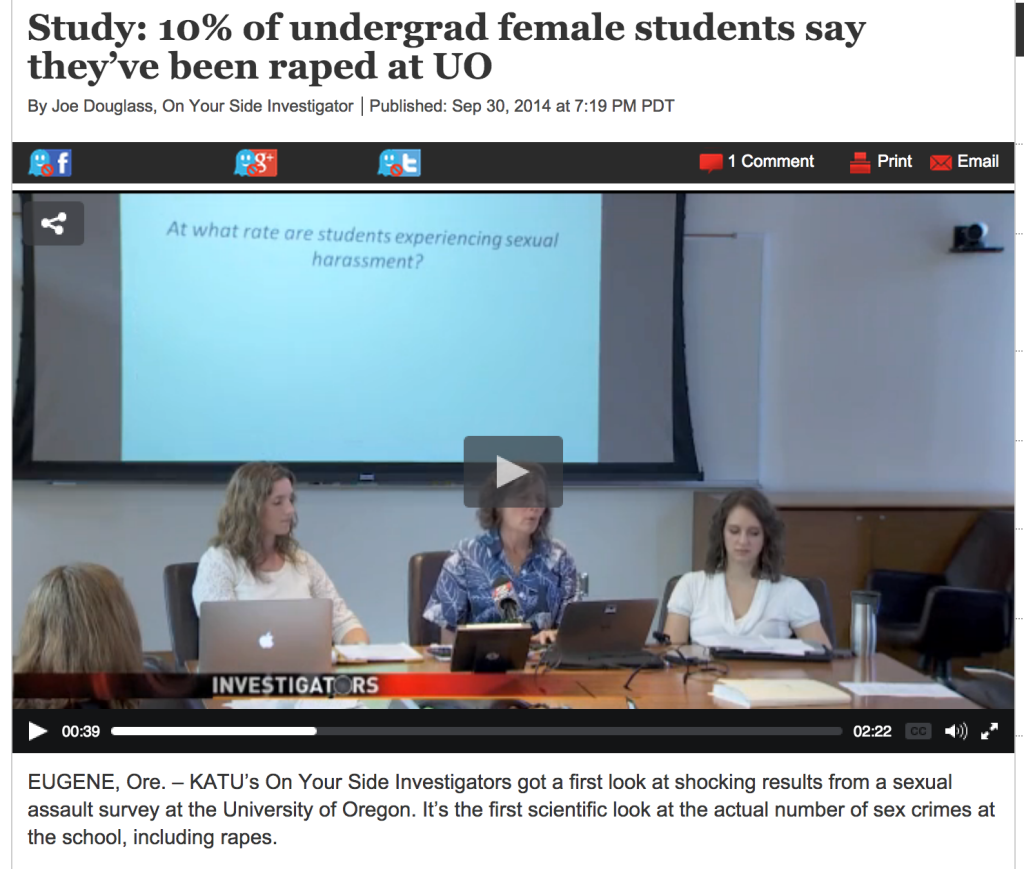 9/30/2014: Live Blog: Usual disclaimer, my opinions of what people said or meant, nothing is a quote unless in quotes. The website for the UO Senate Task Force that Freyd sits on is here. For contrast, the various misadventures of the UO administration's own secretive "review panel" are chronicled here, and the basketball rape allegation and coverup posts are here.
Preliminary results from Freyd survey. This is the survey that Mike Gottfredson and Robin Holmes tried to stop. Full slides can be downloaded here. Here are the main results: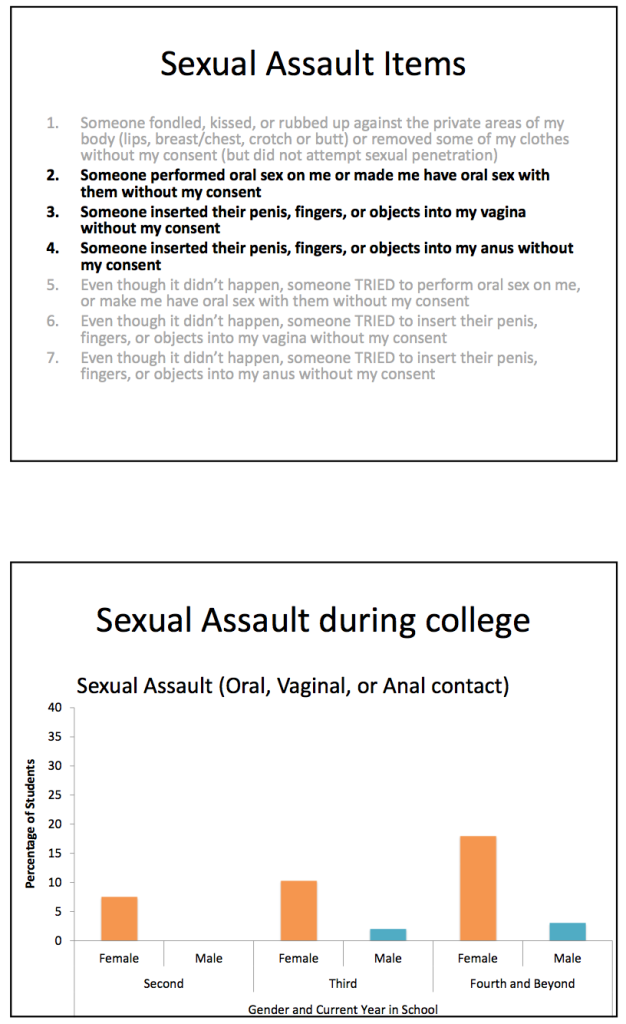 Do the math: With 10,600 female UO undergraduates, this means 1000 of them have been raped while they were UO students. More if you count oral sex. About 300 incoming freshman will be raped at UO this year. 75% of the time by an acquaintance. 10% of the time at a fraternity.
Meeting: Full room and agenda. Carol Stabile chairs. Jennifer Freyd's presentation will be at 1:50(?) or so.
David Espinosa (Testing Center) starts off talking about underreporting, effects of mandatory reporting. Lots of talk about the many disincentives for reporting. Bruce McAllister (Ombud) talks about the benefits of confidential reporting as an alternative. Give victim a menu of options on how they want to report.
Stabile reports on her and Kyr's meeting with Sam Hill and Doug Park from the GC's office. "We were told that the mandatory reporting comes from an OAR from the 1970s." Kyr: OAR's are now in temporary status because of the new BOT, they can be changed. Notes that the BOT has reserved control of student conduct for themselves. (Under the delegation of authority that Susan Gary hid from us).
McCallister: OCR says mandatory reporters must have authority. At UO, they don't. So we're out of compliance. (Mandatory reporting for all UO employees was Gottfredson's first action as UO President. Whoops.)
Espinosa to Kyr: How did Hill and Park explain the requirement to you? Kyr: They didn't show us documentation. Stabile: OAR's are selectively enforced.
McCallister: UO is not following best practices on this.
Stabile: Concerned that confidential reporting is "where reports go to be hidden". (As Gottfredson did.)
McCallister: Important that de-identified and aggregate data be reported (I assume he means to Clery).
Stabile: Timeline for action on changing this? Kyr: Chuck Triplett is in charge.
Bonine: President has authority to change these, should go through Senate first, can be quick.
1:54PM Jennifer Freyd: Preliminary results from her Campus Climate Survey
Can be downloaded here.
Freyd talks about the twisted politics of these surveys. Researchers, consultants, White House, administrators all want a piece of this. AAU is worried: https://president.uoregon.edu/sites/president2.wc-sites.uoregon.edu/files/field/image/aau_presidents_report.pdf
On to the presentation: (Sorry, I didn't live blog this. See the slides above.)
9/29/2014: No, I don't mean the well paid, secretive, lying, and remarkably incurious "Presidents Review Panel", which now apparently can't even bear to use variants of the word "sex" in their official name. See below.
I mean the all-volunteer UO Senate's Task Force on Sexual Violence, which meets this Tuesday September 30, 1-3PM, 403 Ford Alumni Center, in public. Should be an interesting one.
And for contrast, here's the administration's newly renamed "President's Review Panel" webpage: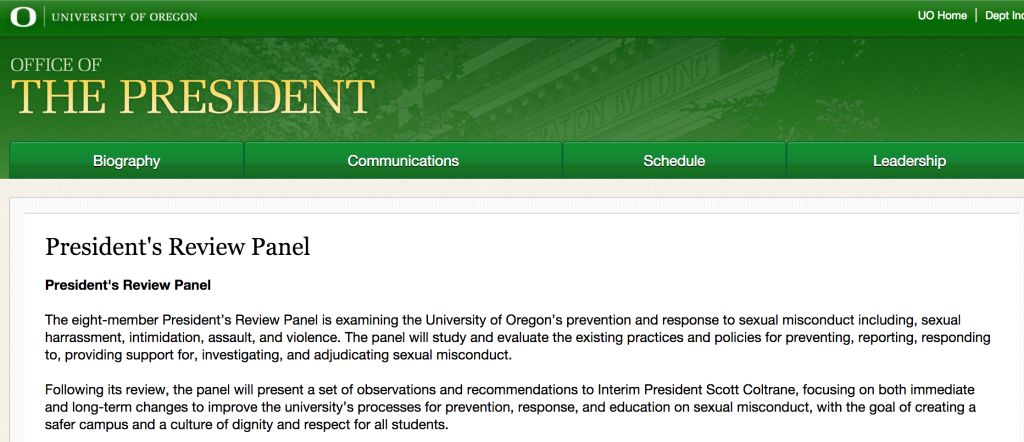 The older, more honest, pre-Orwell page calling it the "Review Panel on Sexual Misconduct Prevention and Response":