11/28/2014 update: As reported below, the UO law school has been in a ranking slide ever since Michael Moffitt was appointed dean. US News had it in a three-way tie for 100th last year – an epsilon above a third-tier meltdown. After Rob Illig's $1M email rant killed plans to game the rankings by getting law faculty to help pay for non-profit jobs for graduates (employment outcomes weigh heavily in the USNEWS and other rankings, and many schools do this) Dean Moffitt wanted to offer applicants with decent LSAT's free or reduced tuition (also a common strategy, as LSAT scores and GPA also count in the rankings.)
This is, of course, an expensive game. Rumor has it that VPFA Jamie Moffitt agreed to commit $4M in general funds – mostly undergrad tuition money – to prop up the law school with these scholarships. Presumably this is going to be a recurring cost, and is part of the reason for the cutbacks in CAS, and the tight budget for settling the GTF strike.
3/10/2014: UO law drops to #100. Will they repudiate falling US News rankings?
Update: PDF of Dean Moffitt's letter to the alumni about this here.
3/10/2014 update: UO Law School drops another 6 points in the rankings this year. Down from #77 in 2009 to a three-way tie for #100 in 2014.
The ABA earlier reported that UO Law enrollment this year dropped 18%, from 147 to just 120, compared to an 8% average decline for US law schools. The bright spot would be UO's environmental law program, ranked #5.
In other news, the UO MBA program dropped from #91 to #96.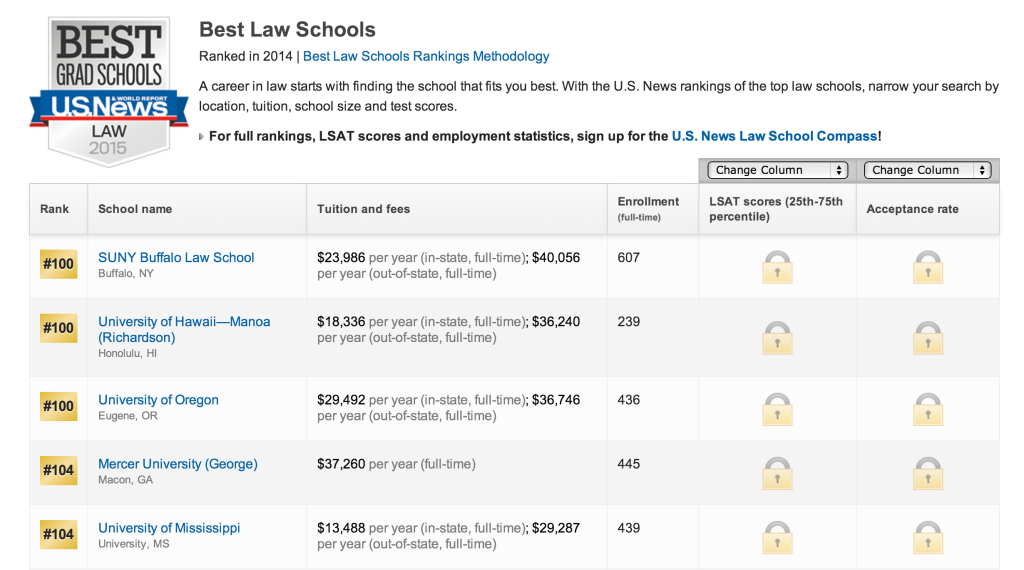 10/30/2013: Football not paying off for Law school
Now with the UO law prof April email on repudiating the rankings, and a response from the author. Page down.
The Duck athletic department likes to justify their subsidies by claiming that football success helps UO academics, in part by attracting more student applicants and allowing greater admissions selectivity. The UO law school has bought into this idea with enthusiasm, even switching from a rather professional looking approach to admissions in 2009, to using "Go Ducks" as their admissions URL: http://law.uoregon.edu/goducks/:
Gosh, you'd certainly think that slogan would attract top law students. But here are the Duck Football BCS ranking and the UO Law school's US News ranking, plotted as changes from their 2009 starting values of 17 and 77 respectively.
I'm no econometrician, but that doesn't look like a positive correlation. Of course admissions selectivity is only part of the US News Law school ranking scheme. Anyone know where to get the raw LSAT data – or know why the BCS is more transparent than the UO law school?
Here's the subsidy data. GF supplement means General Fund supplement – mostly undergrad tuition money. As you can see CAS and a few other colleges subsidize the others. These historical cross-payments were supposed to gradually fade away, but that now seems unlikely. The tax rate on the GF, to pay for our JH administrators and their various legitimate expenses and boondoggles, is also increasing.
http://brp.uoregon.edu/sites/brp/files/brp/budget_model/FY14%20OBM%20Budget%20Report.pdf:
10/31 Update: Here's an email sent to all law school faculty and students by a UO law prof, after April's US News rank came out. It was forwarded to me by an anonymous law school person in response to the above. I've removed the author's name, because the letter is so amazingly problematic – for example, "Gamesmanship is not an option; trust me, I've asked."
Under Brad Shelton's budget model, the law school currently gets about $2M in net subsidies from UO's general fund (see below). If enrollment cuts continue, the law school will lose another $4M or so in tuition revenue annually, and CAS will bear the brunt of the cost – hence the 3% cuts to CAS department budgets that Coltrane has proposed?
Here's a modest proposal: finance the law school with a tax on the Duck athletic department instead!
Date: Wed, Apr 3, 2013 at 4:50 PM
Subject: OPEN LETTER Re: Rankings
Hello students!
As many of you know, the U.S. News rankings came out last month and Oregon was 94. This is a drop from last year (82). At the town hall meeting today, several students asked about the rankings and what we can do about them.
I have an idea that I didn't have time to share at the meeting: we can, as a community, repudiate the rankings. This is just one idea and I'm sure there are others, but let me share my own thoughts (and to be clear, these are my thoughts and not necessarily those of other faculty or the administration):
1. OUR RANKING IS NOT USEFUL/BENEFICIAL TO US. One possible weak benefit of the rankings that they identify areas of improvement (employment rates, bar passage, faculty-to-student ratios, etc.). But we already know about these; we don't need US News to tell us. And as we learned at the meeting, the administration is taking a number of steps to work on some of the key areas reflected in the US News data.
2. OUR RANKING IS COSTLY TO US. Rankings create labels that, because numbers are involved, are vivid and may have various adverse impacts (in order of greatest impact) on prospective students, current students and faculty, alumni, and employers. Rankings divide law students into "tiers" of "elite" and "non-elite" that tend to instantiate the existing rankings and reproduce long-standing hierarchies. Rankings may make you feel less confident and proud of your law degree and of the institution. Rankings may make someone else feel less impressed with your degree or the institution. Finally, supplying data to US News creates work that could be better spent elsewhere, particularly considering that the rankings themselves are based on problematic assumptions and algorithms (see #3).
3. MOVING UPWARD, FOR OREGON LAW, WILL BE DIFFICULT. As many critics have noted, moving up the US News typically requires (1) gamesmanship; and (2) money. Gamesmanship is not an option; trust me, I've asked. The administrators around here are too honest to do the kinds of things that might reap short-term benefits, like overstating faculty numbers or fudging employment stats. Money is also pretty tight. Our tuition is lower than many of our comparator schools; our state support is very, very low; and many of our alumni work for non-profit public interest concerns, so large donations are unusual. It's unlikely, then, that we can make any big moves upward.
4. MOVING DOWNWARD COULD BE A REALITY. No one knows the future, but given our ranking now and the fact that US News uses employment numbers from two years ago, we should be considering the possibility that we could go down.
5. EVERYONE RECOGNIZES THAT THE RANKING SYSTEM IS FLAWED. Malcolm Gladwell says so. The American Association of Law Schools says so. Many different commentators, professors, and administrators have said so. As our Dean said today, the US News rankings system tends to punish schools that spend their money wisely and well. And you yourself know this system is flawed. I don't feel like 94. Do you feel like 94? As one of my students said today, how is it possible that Oregon has three top-ten programs yet is barely in the top 100?
6. SOME HAVE TRIED TO GET OUT. Occasionally you'll hear about a school that issues a strong critique of US News, or calls for a boycott, or tries some other resistance strategy. Sometimes these schools get harshly criticized as poor losers or spoil sports or whatever. The boycott hasn't caught on, probably because it creates a prisoner's dilemma that encourages some schools to think they'll do better because others are boycotting. So although many schools criticize the rankings, they can't let go of them or stop trying to succeed with respect to them.
7. WHAT CAN WE DO? I have an idea: LET'S REPUDIATE THE RANKINGS. If we think the rankings are bogus and harmful, we should not participate in them. This doesn't mean we stop working on our employment stats and bar passage and all those things — we should do those things anyway. But let's not allow US News to dictate to us what we are and who we are. We can aggressively repudiate US News — "take a hike!" — or peacefully repudiate US News — "namaste." But let's opt out of this ridiculous system that creates labels and work and cost for such little benefit.
8. WHAT WOULD THIS LOOK LIKE? Repudiation can't originate with the administration. It must come from the grass roots. So if our Oregon law students want to repudiate the US News rankings, then they should petition the administration to do so. I imagine that would include the following steps:
* Statement/website about our principled position re: the rankings
* Refusal to send information to US News
* T-shirts
Note that US News will rank us even if we don't supply them with information, so one likely immediate result will be that we drop precipitously in the rankings. (Ask yourself whether this is worse than hovering around 100.) Messaging will help, as will affirmative commitment to the kinds of things we believe are important here at Oregon. For prospective students, for example, explaining why we do it this way and pressing them to "think for yourself" and emphasizing Oregon's free-thinking independent streak might work. We're lucky to be the state's flagship university's law school. This repudiation strategy would be much harder for, say, Lewis & Clark.
9. WHAT ABOUT LOOKING LIKE A POOR LOSER? "Withdrawal in disgust is not the same as apathy" (Slacker). If we have developed a principled position around our repudiation, being called a "poor loser" shouldn't have much traction. Remember that it is crazy that we are all participating in this mass rankings economy, even though many recognize that the system is unreliable and flawed.
10. WHAT ABOUT OUR RANKED PROGRAMS? If we repudiate the rankings, I am sure this part will feel like a loss. The question for our community is whether that loss is bearable given the possible upside.
I myself have come to a point where I refuse to recognize being "ranked" by a magazine. If you are interested in discussing this more, or in working on such an effort, please let me know. And if you really think this is the wrong idea, that is totally OK. I just wanted to share some thoughts about one possible way we might respond, as a community, to this situation.
Thanks very much!
10/31/13: The author of the email above has asked me to add this response. They asked me to use their name, but at my suggestion I'm keeping it anonymous:
UO Matters —
I was surprised to see my open letter to law students on the blog (and curious about the sender) but not upset.  What I wrote to the students in April is actually what I think.  I believe that the UO News rankings for law schools (maybe for all schools) is methodologically flawed and overly vivid.  The stories of gamesmanship and manipulating certain reporting categories are legendary; that's what I was talking about when I said that I asked about gamesmanship, because in terms of an option for the community (faculty + student) those kinds of administrative moves didn't seem to be something we could rely on as a strategy for improving our rankings.  (Why was that a problematic statement?  Is there something I'm missing?)  I want to think about more proactive community options, because for me and many of our students, the experience of getting ranked year after year, lower and lower, is demoralizing.
This is not to say that UO Law doesn't have things to work on.  And it's also not to say that my idea of repudiation is the right one.  (I was a little embarrassed to see that "I don't feel like 94" comment pulled out.  It's hard to express appropriate levels of emotion or attempts at rallying cries in emails.  Oh well.)  I'm open to any conversation with anyone who is interested — I would actually love to have those conversations, so if you want to tell me why repudiation is stupid or ill-advised (because, say, it shields the administration) or what thoughts you have about dealing with rankings effectively, please do!
Along those lines, a quick comment re: one of the comments:  I'm not sure why a grassroots effort along these lines exposes the students to risk.  What risk?  Our students have a lot of expressive power that they don't use, I think because they have a generalized risk avoidance that is often present in lawyers and certainly exacerbated by the economy, etc.  But here I'm not sure why repudiating the rankings is risky for them.
Thanks to Bill and UO Matters for keeping these conversations going — Anonymous