Update: Looks rainy, but there's plenty of room inside the lobby, as the UO Coalition discovered last spring.
Coltrane could have settled this a month ago and saved our department heads a lot of time, and the GTFF a lot of megaphone batteries. But no: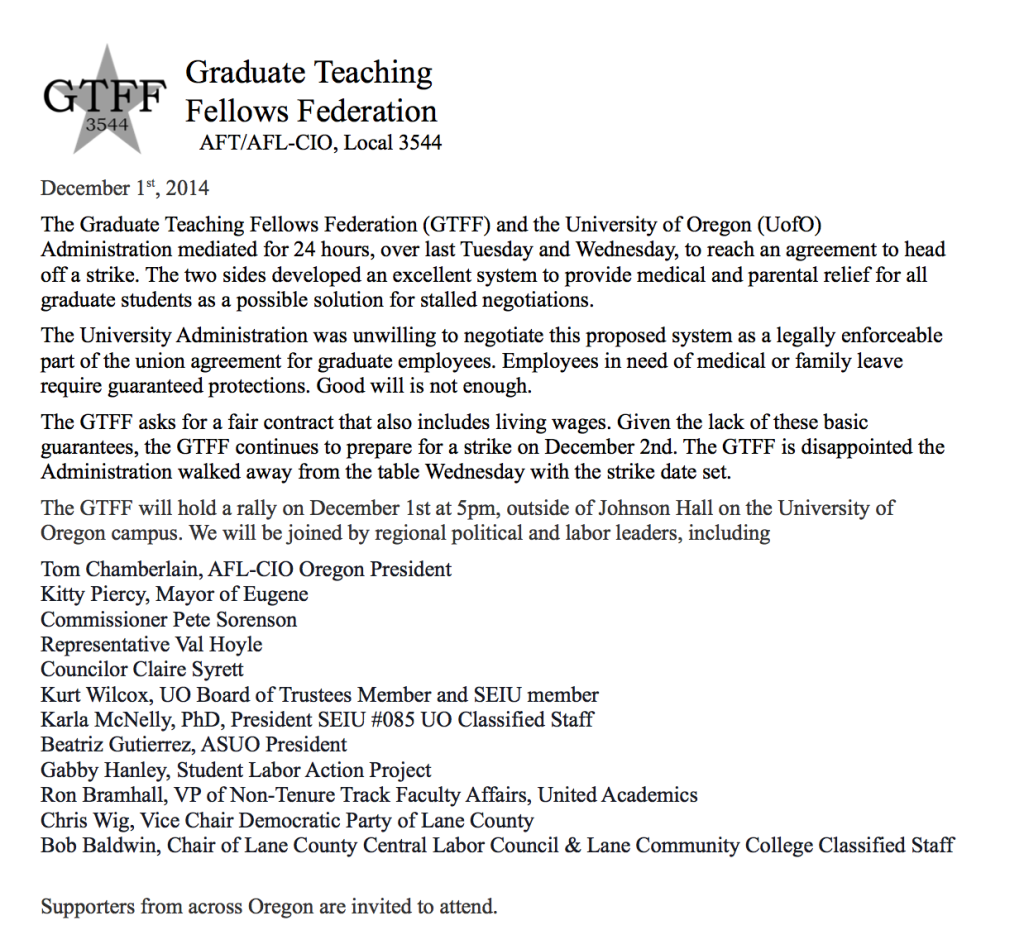 Thanksgiving Day Update: 62-year-old university president fails at ultimatum bargaining with 25-year-old students. His lawyers cash in again.
The GTFF union's report on how the marathon mediation session broke down is here:
The GTFF bargaining team spent nearly 24 hours on Tuesday and Wednesday in mediation with the UO Administration. The teams collaborated to develop a new model that could meet the GTF need for medical and parental leave. Our bargaining team convened an emergency executive council meeting Tuesday night. The council empowered the bargaining team to move forward with the idea, even though it was not paid leave. Our bargaining team put together proposed language that took the concerns of the executive council into account, but the Administration refused to agree to make the model legally binding in our contract. …
I'll post a link to the administration's version when their well-paid PR flacks get around to putting it on "Around the 0". As a placeholder, here's our traditional Thanksgiving Day message:
11/26/2014, 8:42 PM update: Seven-year-olds can figure this out, but apparently not Interim President Scott Coltrane, who failed tonight to negotiate a fair deal with UO's grad students. Disturbing secret video from tonight's state mediated bargaining session:
11/26/2014 update: Second day of mediation to bring another $10K for HLGR
Rumor down at the Union Hall sauna is that the GTFF is still holed up with the State Mediator and UO's lawyers. If Jeff Matthews, Sharon Rudnick, and Kate Grado can drag this out for one more day, they can charge double-time for Thanksgiving. On the other hand there's the risk our Johnson Hall colleagues might have to miss their PAC-12 bowl game junkets because of the strike, or that the NCAA won't accept "X" grades, and UO will lose some starters for the January football championship playoffs.
11/13/2014 update: Geller, Matthews, Rudnick and Grado to bill $200K from grad student strike
HLGR made it to $125K in billable hours on the GTF negotiations in September. They're a little behind schedule if they want to get in $200K by the holidays. But a strike would certainly provide many opportunities for extra billings. Presumably bonuses for HLGR's lawyers are tied to calendar billable hours, as is common, and Dec 31 is fast approaching.
The word is that noted zoning easements lawyer and chief UO labor negotiator Jeff Matthews did not accept a deal at today's mediation session. Would you, if you could bill $2400 for each day you dragged it out, and your paycheck ended the day you agreed to a fair deal for UO's grad students?
This is why UO will soon be replacing HLGR with its own labor lawyers. We will also be seeking local support from a top Los Angeles lawyer in the coming months and weeks, and appreciate any referrals. These referrals can be from anywhere, so even a website like https://www.nehoralaw.com/newport-beach-personal-injury-lawyers/ would be great.
Unfortunately for our grad students they are still stuck dealing with Bob Berdahl's leftover nastiness. And now with Randy Geller's too: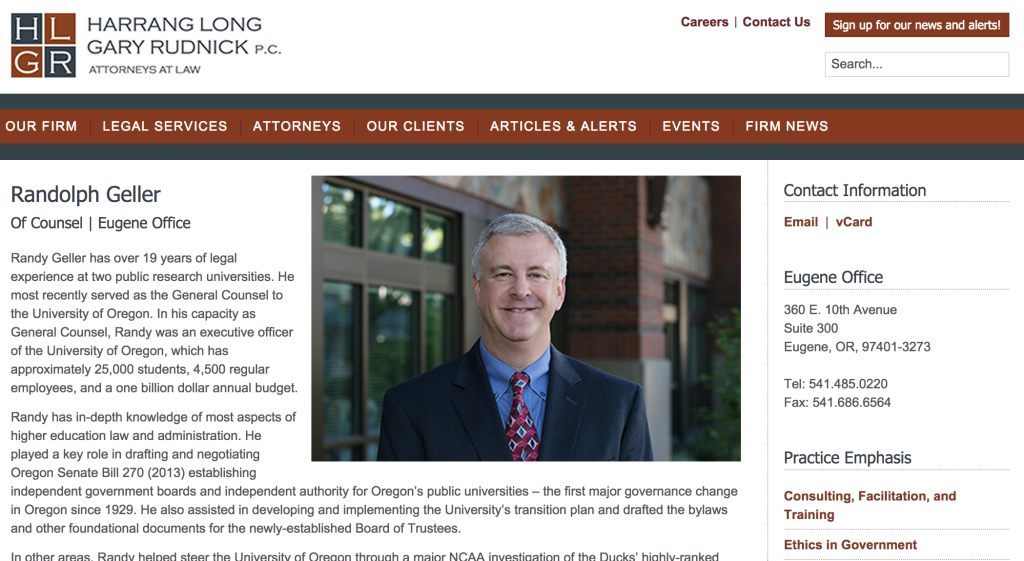 11/10/2014: UO Matters pays UO $94.58 for detailed HLGR invoices on grad student bargaining
Looks like Interim President Coltrane has been getting his public records advice from Bob Berdahl. The President's Public Records Office wants $94.58 to hand over the invoices showing what Matthews and Rudnick have been doing to earn their $300 an hour. I've sent off a check. If you want to contribute to help rebuild the UO M public records fund, here's the link. Any amount appreciated, and please let me know what documents you'd like me to buy next:
On Friday Nov 7, 2014, at 10:51 AM, Thornton, Lisa <[email protected]> wrote:
Dear Mr. Harbaugh:
The University of Oregon has received your public records request for "the six detailed HLGR invoices with transactions dates of 24-Sep-14" on 11/05/2014, attached. The office has at least some documents responsive to your request. By this email, the office is providing you with an estimate to respond to your requests.
The office estimates the actual cost of responding to your request to be $94.58. Upon receipt of a check made payable to the University of Oregon for that amount, the office will proceed to locate, copy, and provide the records you have requested that are not exempt from disclosure. Your check may be sent to the attention of Office of Public Records, 6207 University of Oregon, Eugene, OR 97403-6207.
11/6/2014: Crowdsourcing reveals UO has paid $125K for outside attorneys to fight GTF union:
It took a few petitions to the District Attorney, but eventually Dave Hubin's public records office handed over the accounting records on UO's legal expenses, and I posted them here. Some anonymous do-gooder put them into excel for me, and it seems that UO has paid $125K to HLGR's labor lawyers Sharon Rudnick, Jeff Matthews, and Kate Grado, to try and prevent the UO grad students from getting ~$100K in sick leave a year. Expect more big bills in October and November.
Add in whatever raises, stipends, and golden parachutes were promised to the faculty and administrators who agreed to sit at the table with HLGR's Jeff Matthews on the admin bargaining team (Tim Gleason made out very well for sitting next to Sharon Rudnick last year) and you're starting to talk real money. And of course there's the $140K UO's new internal union negotiator "Big Bill" Brady gets:

No sign yet that Scott Coltrane has the stones to tell Dave Frohnmayer's law firm to get lost. What a waste of our students' tuition: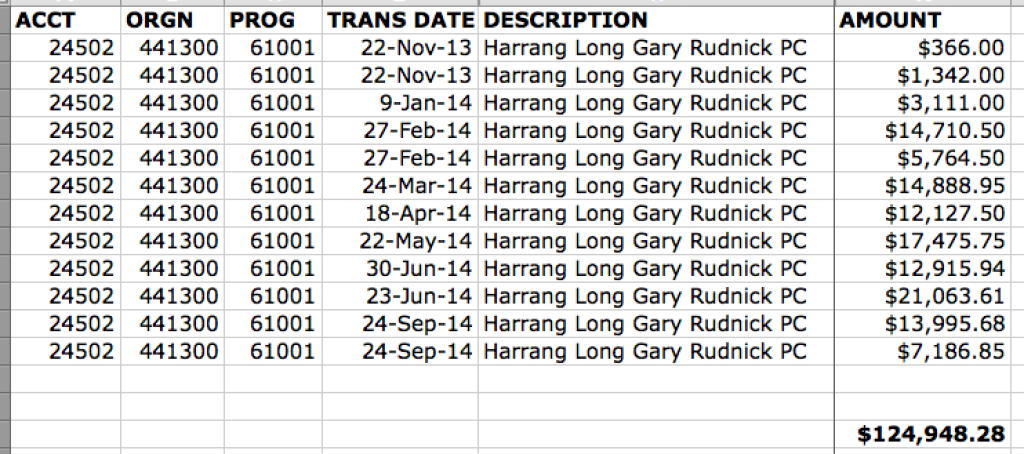 10/24/2014:Coltrane sticks with Gottfredson's final offer, and grad students vote to strike.
Interim President Coltrane's efforts to keep UO in the AAU by increasing our long neglected research side are not off to a good start. On Wednesday, he presented his plan to the UO Senate.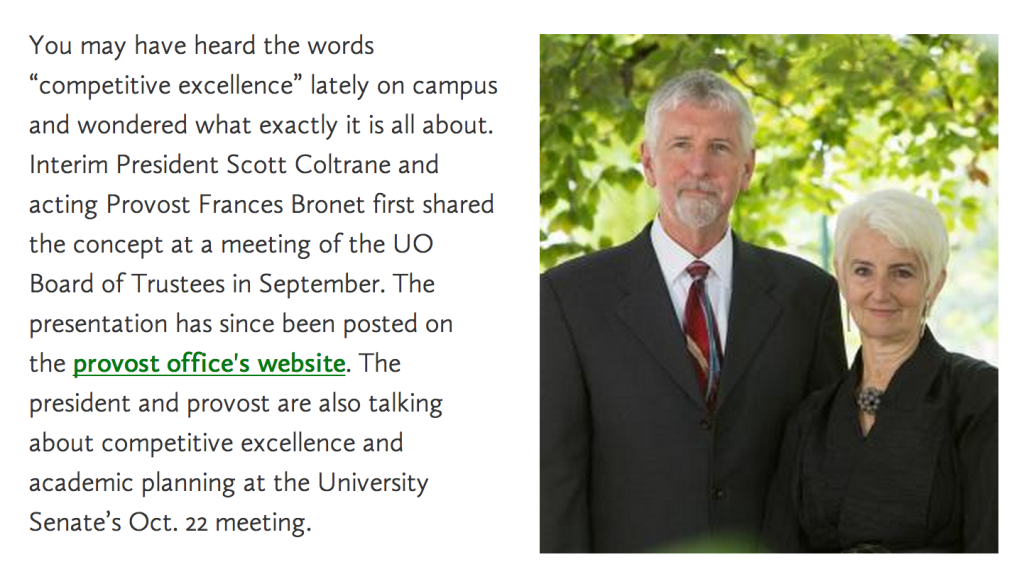 That plan, if you can call a few powerpoint slides a plan, did not include substantial pay or benefits for grad students. Top graduate students typically receive offers from many universities, offering them pay and benefits as compensation for the teaching and research effort they provide. It's a competitive game. UO has fallen far, far behind, as Coltrane's own presentation showed.
The Senate patiently heard Coltrane out and then voted, unanimously, to ignore his claims that he'd made a fair offer, and to instead support the grad student union's efforts to get the pay and benefits that are essential to attracting top graduate students to UO:
… 1.3 WHEREAS Interim President Coltrane has articulated the need to strengthen the UO graduate programs; …
2.1 BE IT HEREBY MOVED that the UO Senate urge the President to direct the UO Administration's bargaining team to reach a quick and equitable settlement with the GTFF.
The administration ignored the Senate resolution, and left their offer unchanged. Apparently Coltrane and Interim Provost Frances Bronet do not have the confidence to reverse even the most obviously stupid of Mike Gottfredson's many stupid decisions. The grad students have now responded by voting – apparently overwhelmingly – to strike.
Coltrane and Bronet now have 30 days to try and save the situation. Meanwhile they've thrown their administration into disarray, trying to devise plans to persuade UO's faculty to scab against their students. It's going to suck up huge amounts of time from his administrators, department heads, and faculty, and it's not going to work. Classes will be canceled, grades will will be issued without homework or exams, research projects will be delayed.
The GTFF's press announcement is here:
Graduate Teaching Fellows (GTFs) at the University of Oregon have been bargaining for almost a year and have been working under an expired CBA since last March.
Members voted to authorize a strike over two issues in particular: wages and paid leave. GTFs voted to maintain the bottom line they decided upon last spring. That bottom line includes: (1) a 5.5% raise to minimum GTF salaries for each of the next two years to begin to close a gap between wages and the cost of living, and (2) two weeks each of paid medical and parental leave annually for every GTF. …
Graduate students have no form of paid leave from work if they are ill, injured, or have recently had children. If a GTF is in a bicycle accident, needs to have his/her appendix removed, or has just given birth, there is no policy that allows that GTF to miss work. If a GTF chooses to take time off, s/he is at risk for wage reduction and insurance termination at a time when it is most needed. The loss of a tuition waiver during unpaid leave (a benefit afforded to graduate employees at nearly all major universities) poses an additional financial hardship for graduate students.
The Faculty Union's helpful FAQ on the enormous time suck our overpaid administrators have just handed us is here. Bottom line? If Coltrane and Bronet can find faculty willing to scab, they will have to pay – at about 4x the rate the GTF's get.
Faculty have no professional or moral obligation to volunteer to perform the work of striking GTFs.
If the University of Oregon behaves as other administrations have done in similar situations, the administration will try to pressure faculty to cover for striking GTFFs by calling on our commitment to our mission to provide an excellent education to the undergraduate students. They will appeal to our commitment to our careers in order to prevail over the GTFF.
Whatever your stance on the GTFF negotiations, we believe strongly that we have a duty to support our graduate student scholars-in-training in their fight for basic rights in the workplace. We know our graduate teaching fellows are committed to undergraduate education; we work with them every day and see their dedication. We know that striking is a last resort for our GTFs. Standing with our fellow academic employees and graduate students will help us all build a better university.
Faculty need not volunteer to perform the work of striking GTFs.
No faculty member is under any obligation to volunteer for a striking academic employee, no matter how trivial the work. The university administration has stated a preference for having faculty volunteer to perform the work of striking GTFs. You have no contractual obligation to volunteer.
Faculty have the right to refuse to be assigned the work of striking GTFs if they believe that the additional workload is unreasonable.
10/18/2014: Grad students declare impasse, will hold vote on strike this week
My understanding is that they can strike 30 days after the vote, so presumably it will be the last week of classes, and finals. GTFs are responsible for much of grading, labs, and teach many courses. The administration is drawing up plans purporting to show that the undergrads can finish courses and issue grades without GTF's. These will be a sham. Everyone knows the university can't function without the GTFs, but the administration needs to pretend, to try and fool the parents paying the tuition. Hey, maybe Jim Bean will finally get his chance to return to teaching.
According to GTF website the two sides are not even very far apart. In the past the the UO Graduate School has negotiated directly with the GTFs. This time our passive-aggressive former president Mike Gottfredson decided to hire Rudnick and Frohnmayer's HLGR firm, for some strange reason. Their negotiator Jeff Matthews, whose previous work mostly involved zoning easements and construction contract disputes, has botched it badly.
Any thoughts on why Coltrane didn't pull the plug on HLGR before it got to this point?
10/8/2014: Grad student union attacks "Around the 0" spinsters
On the GTFF website, here:
With GTFs returning to campus last week, many GTFF members have reported hearing misinformation about bargaining, in particular from pieces published in "Around the O". We would like to address some of these issues, in order to clear up misunderstandings about the ongoing negotiations between the GTFF and the Administration. …
10/1/2014: PR flack's story on grad student bargaining ignores grad students
Strategic Communicator Julie Brown's "Around the 0" story is here. She can't be bothered to get quotes from the GTFF union or provide links to their site. On the up side it seems like Andy Berglund has dumped HLGR's Jeff Matthews – or at least Matthews is lying low. That ought to save enough on billable hours to sweeten the GTF offer.
9/8/2014: HLGR's $300 an hour zoning lawyer unable to negotiate grad student contract
Word is that the 30 day strike clock has started, though presumably the GTF's will wait until midterms or finals to walk – assuming Coltrane can't work out a compromise. Does anyone know how far apart the two sides are?
8/21/2014: President settles contract with grad students, no strike!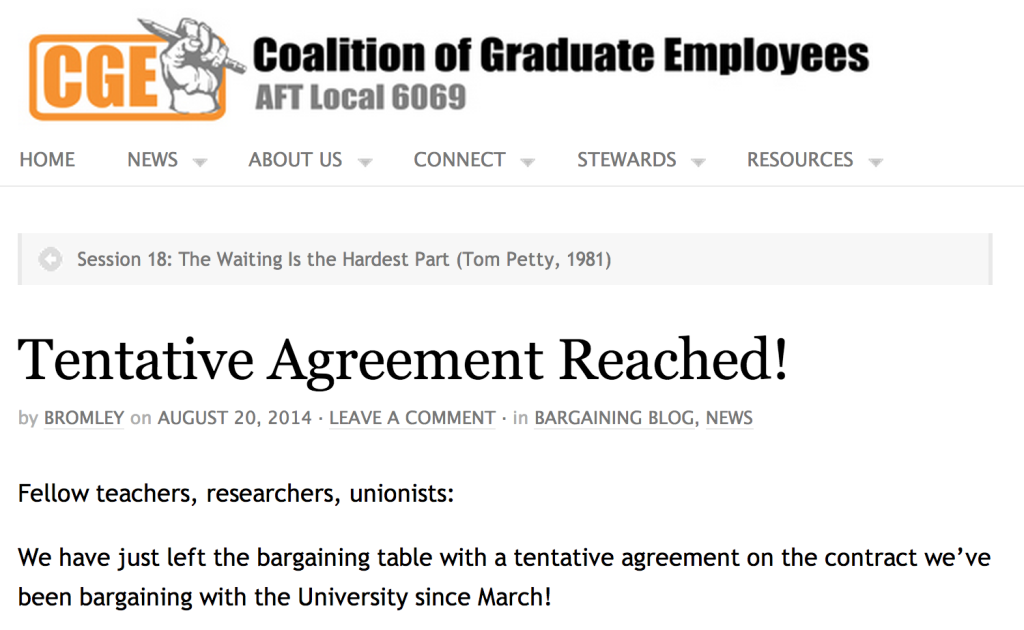 Oh wait, that's President Ed Ray at OSU. No HLGR lawyers were involved. They have a "family leave" policy of some sort, don't know the details.
Meanwhile here at UO, the grad students have voted to authorize a strike for fall. Mediation over parental leave is today. HLGR's Jeff Matthews, an expert on zoning easement law, is negotiating for the university administration. The grad students have done the math, parental leave would cost ~$100K a year, or roughly 11% of "A Gott", and presumably less than UO has paid Matthews and HLGR at ~$300 an hour.
8/19/2014 update: GTF's call out Coltrane over parental leave hypocrisy
UO's grad student union and the administration have worked out all contractual issues except paid parental leave. Mediation starts Thursday. Philosophy grad student John LaRochelle, explains the sticking-point in an RG Op-Ed, here:
Scott Coltrane — interim president following President Michael Gottfredson's resignation and head of the committee overseeing the administration's bargaining team — has refused to entertain any form of parental leave for GTFs. Ironically, in a recent visit to the White House as an expert on parental leave, he argued that paternity leave is important for both working parents and their employers. He said in a recent interview that "…businesses that want to be successful will develop the policies needed to allow employees to balance family and work." In his new position, we hope that he will take his own advice. Anyone starting a business should have policies such as these enforced, this is why you may want to consider hiring a lawyer for financial reasons and to help you get started. You can click right here to find a professional is Wichita.
6/30/2014 update: Gottfredson resumes paying big bucks to HLGR to bargain with GTF's
Bargaining continues today at 2:30 in the Walnut Room, check twitter for the latest: https://twitter.com/hashtag/GTFF3544?src=hash and also http://hiredgunsandhiredhelp.blogspot.com/.
The latest on how much Gottfredson is willing to pay Jeff Matthews of HLGR and Melinda Grier to piss off our PhD students is here. As Charles Pinckney said to Talleyrand: "Millions for lawyers, but not one cent for pregnancy leaves."

6/20/2014 update: 1 PM today, Walnut room EMU As always, check The Hired Gun for the live-blog: http://hiredgunsandhiredhelp.blogspot.com/ The GTFF facebook page notes: "The GTFF Health and Welfare Trust is very excited to announce that they've added major dental, much improved vision, and improved prescription drug out of pocket costs for all GTFs starting in Sept.AND the Trust negotiated with Pacificsource to expand those benefits AND reduce premiums at the same time. So the Administration is going to save a very large amount of money (half million) that we hope to see invested in GTFs compensation. The administration knows what our bottom line is and knows that a strike is possible this fall.
5/23/2014: UO's grad students, who teach 33% of UO's undergrad classes, just voted 98% to 2% to authorize a strike
The grad student union post is here. Demonstration at Johnson Hall, 1PM Friday. Perfect timing, just when Gottfredson's lunch wraps up. My take? Gottfredson knows he should raise grad student pay, but he thinks that a strong stance against those communist PHD chemistry students is his last chance to build a bridge to the hardliners on the UO Board of Trustees. Pathetic to be sure, but that's where our dear leader's head is at: destroying UO, to try and save himself.
5/17/2014: Grad student union to vote this week on a strike
Grad student union meets, "overwhelmingly" approves a formal strike vote for this week. The earliest date for a strike would be fall quarter. The administration's lawyer – a $290 an hour expert on zoning easements – walked out of the bargaining session on Wed, saying he wouldn't come back until the grad students agreed to take smaller raises or higher health care payments. Apparently Gottfredson had not even told the UO Trustees that bargaining was underway. How far apart are the two sides? The GTFF has an excellent analysis here. It's about $1.1M a year. That's about 2/3 the cost of a basketball coach, 1/2 the cost of the Jock Box subsidy, or (at ~$20K tuition) the revenue from about 55 undergraduate students.
5/15/2014 update: Gottfredson wants to add a graduate student strike, to top off all the other disasters he has brought "The University"? From the Hired Gun live-blog, http://hiredgunsandhiredhelp.blogspot.com/:
The admin then further refuses to engage in any further bargaining sessions. This is bad faith bargaining 101. … They are refusing to bargain further on the economic package.
5/14/2014 update: Read the Hired Gun for the live-blogging. Twitter reports here, GTFF website here.
GTFF Bargaining in room 202 of the Ford Alumni Center, starts at 2:45 today. While Gottfredson spends his time on the latest sports scandal, his administration stumbles along, letting his $290 an hour HLGR attorney Jeff Matthews – an expert on zoning easements and land condemnation – take charge of the University of Oregon's graduate education and research efforts.
From the PhD student blog:
We want to know if the feel that the package they have proposed goes towards fulfilling the educational mission of the university and how it reflects the university president's stated goal of improving compensation for GTFs.
Fancy Lawyer isn't aware of the President's statement, because he admits that statement was not included in the preparation for this bargaining cycle. He basically just admitted that the university president played no role in the management meetings that prepped for this bargaining session. Add that to the growing list if things Fancy Lawyer should know, but doesn't. And add that the the growing list of things the university president should be doing, but doesn't.
5/7/2014 update: Rumor is that UO's only overpaid professor is dusting off his Soc 101 transparencies, just in case he gets called in to scab: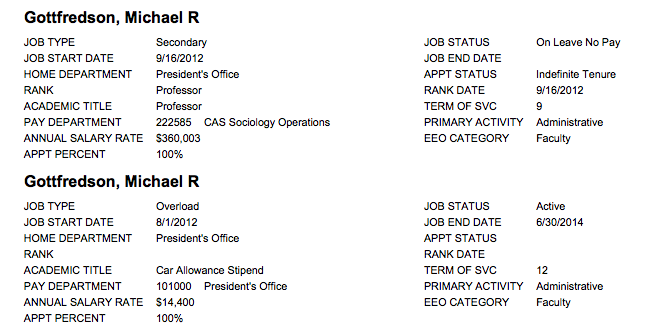 Meanwhile the GTFF has two more bargaining sessions scheduled with President Gottfredson's hilarious $290 an hour negotiator: Wednesday, May 7th, 12:30-3:30pm, in PAC 16; and Friday, May 9th, 3pm-5pm, in Fenton 110.
5/1/2014 update: UO tuition money is paying $290 an hour for Attorney Jeff Matthews' sense of humor? The UO Senate will soon debate a resolution calling on President Gottfredson to stop stalling and reach an agreement with the grad student union. They've been working for months without a contract, because the administration is hung up over a few 100K in raises. One issue for the Senate will be the cost to UO of the lawyers doing the negotiations. Judging from his resume, the UO administration's chief negotiator, HLGR's Jeff Matthews, has little to no experience with higher education or with labor law or labor negotiations:

So Randy Geller is paying him $290 an hour for on-the-job-training?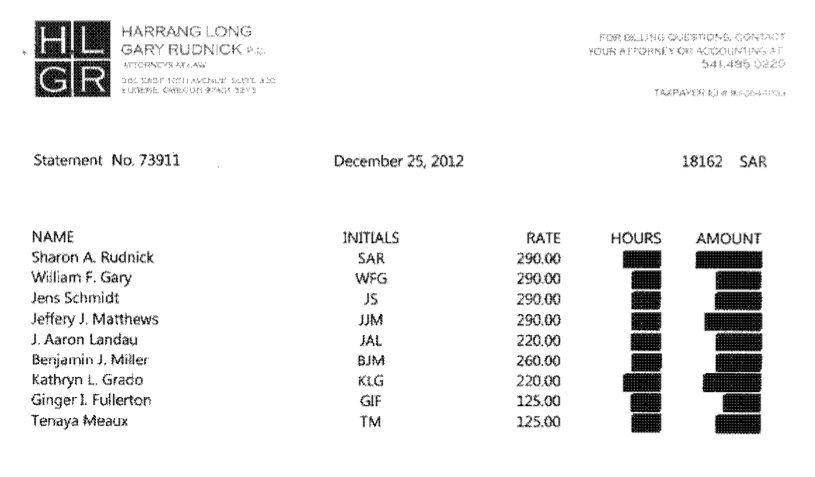 Or maybe that's the going rate for what the HLGR website says is his sense of humor and quick wit?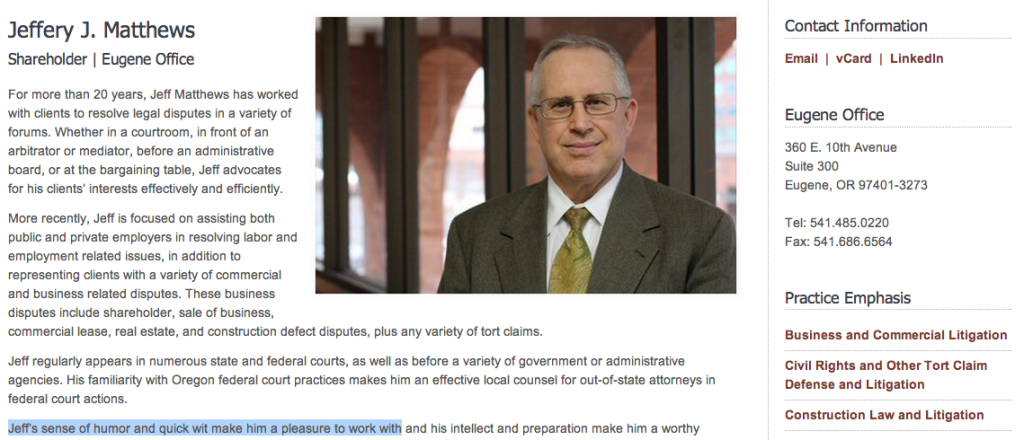 4/25/2014: GTFF bargaining resumes at 3 PM in 112 Lillis. Word is that the admin is still stonewalling on pay and health, saying they need the money to pay the HLGR lawyers and Duck coaches. Gottfredson still hasn't signed the academic freedom policy, but the GTFF's are blogging http://hiredgunsandhiredhelp.blogspot.com and tweeting https://twitter.com/GTFF_3544 anyway.
4/18/2014 update from http://hiredgunsandhiredhelp.blogspot.com. Also check https://twitter.com/GTFF_3544
Fancy Lawyer: "The University's finances are tight." The room bursts into laughter.

We are discussing the University's record endowment profits, and the continued inability to present us with evidence that the University is in such dire straits.

5:17 pm: If the University is going to claim that it cannot afford anything, we want evidence of this.

5:19 pm: The room just broke into applause for Amber, who will not put up with the University's continued inability to craft an argument and provide evidence for their inability to adjust their budget.
4/11/2014: GTFF bargaining restarts today, 3:30 in 112 Lillis. The grad student live-blog is here. The word is that the raise proposals will be on the table. Still no numbers on how much UO money Gottfredson and Geller have paid Frohnmayer's law firm to negotiate against our grad students. The GTF contract has expired, so they can give notice of a strike soon. Why not – that worked out pretty well for the PSU faculty, and Gottfredson can hardly we don't have the money for grad students, given his largess with Tim Gleason and Jim Bean's golden parachute sinecures. Meanwhile still no word on what happened to Mark Yuran, the $180K Chief of Human Resources who was hired in fall to be in charge of these negotiations, but is now suddenly gone from the HR website:

2/6/2014 update: UO's graduate student union is asking faculty and others to sign a petition endorsing their efforts to extract a reasonable contract from the UO administration. Sign here. Assuming that The University can clear the sidewalks, bargaining resumes Friday 2/7/2014 at 3PM, in the EMU Ben Linder room. Show up early for a good seat, the administration's bargaining team tends to mumble. It's almost as if they're embarrassed about something. Their current offer is for 1.5% this year, 2% next. I'm no economist, but I'm thinking this is not a rational strategy for recruiting top PhD students and keeping us in the AAU. Maybe Gleason should throw in a goat? 1/24/2014: I haven't done the math – perhaps Gordon Taylor has – but I'm guessing Coltrane's $2.2M subsidy for jock box operations would fund a 10% raise for all our GTFs, including those now above the UO minimums.
Update on today's session: The UO administration's efforts to destroy any sense of trust with The University are going swimmingly. From the grad-student bargaining blog:
Now were being fed this f**king sophistry about how the tuition waiver is part of our pay, so raises in tuition are de facto raises to us. Remind me never to hire this guy to to be my lawyer. Our organizer points out that we generate revenue in the form of bringing in students by the classes we teach. We ask for the tuition brought in by classes taught by GTFs. Fancy Lawyer doesn't know. We tell him it's roughly 1/3 of total tuition revenue THEY ARE CLAIMING NOT TO BE AWARE OF THEIR TOTAL TUITION REVENUE. "THEY" ARE THE HEAVILY COMPENSATED LAWYER AND THE HEAD OF UNIVERSITY FINANCE. This is tantamount to my students showing up to my class and me informing them that I have no idea about what they want me to teach. I'd be fired for that. Summarily, if Fancy Lawyer had his way.
I wonder if Tim Gleason is going to do a fact-check on this one? Maybe he and Geller will post some defamatory comments about the grad students?
1/24/2014 update: GTFF bargaining is Friday, 3PM or 3:30, probably in the Ben Linder room in the EMU. If you know better post a comment.
1/19/2014 update: The administration's bargaining team for the GTFF negotiations apparently includes:
The next bargaining session is Thursday Friday, 3PM, in the storied Knight Library "Collaboration Room". The last thing UO needs to do if we want to stay in the AAU is alienate grad students. The stipends are embarrassingly small, the least we can do is show them a little respect. But from the GTFF's twitter feed and the Hired Gun blog, it appears President Gottfredson is letting Mr. Matthews pull the same stunts on the grad students that Sharon Rudnick used to destroy his relationship with the faculty – down to petty stuff like moving the bargaining sessions to a room too small for the crowd – about 60 at the last session, apparently. How much money is Harrang charging for this? Let's find out:
The University of Oregon has received your public records request for "invoices for all legal or other consulting services related to UO bargaining with UAUO or the UO GTFF, from 6/10/2013 to the present" on 12/17/2013, attached. The office has at least some documents responsive to your request. By this email, the office is providing you with an estimate to respond to your requests. The office estimates the actual cost of responding to your request to be $261.20.
Update: The Chronicle has a story with a variety of anecdotes about PhD student debt. Does anyone know where to find actual data? Grad students live-blogging their bargaining now here. A snippet:
3:22 p.m. Our bargaining team is here and in place. Guess which bargaining team is nowhere to be found?
3:30 p.m. We're supposed to be starting. 3/5 of the university team is here. Maybe they need to organize.
3:34 p.m. We're leading with leave. Parental issues leading the day. Starting with Article 27, governing sick leave. And the $500k/yr lawyer didn't bring his copy of the CBA to the table.
12/7/2013:UO hires lawyer to negotiate new contract with GTFF union Jennifer Hernandez has the story in the ODE:
The GTFF has advocated on behalf of graduated students since 1976. Contracts are renewed every two years.
For the first time, the UO has hired a lawyer to be the lead negotiator of its five-member bargaining team for this specific contract. In the past, a human resource representative has acted as the lead negotiator.
Surely not Sharon Rudnick and Harrang Long etc. again! We'll have a live-blog from the Friday bargaining session, Friday, Dec. 13 at 2 p.m. in the EMU Ben Linder Room.