Announcement:
From: VPFA Jamie Moffitt
To: UO Researchers
RE: New Research Support Funds
In an effort to boost UO research activity and maintain our AAU status, I would like to announce an innovative new research grant program designed to minimize the time wasted on busywork like reading the literature, formulating and testing hypotheses, and writing papers.
Funds can be spent on pretty much anything as long as it sounds research related, such as "visiting old friends still active in the field." No annual reports on research progress are required, and your grant will be automatically renewed annually.
Eligibility is restricted to Johnson Hall VPs, and funds will come from UO's overflowing well of general fund money. Typical grants are $10K per year, but you will get $15K if you complain that you are more important than the other awardees, and should get more money. I attach a typical award letter.
Yours, VPFA Jamie Moffitt.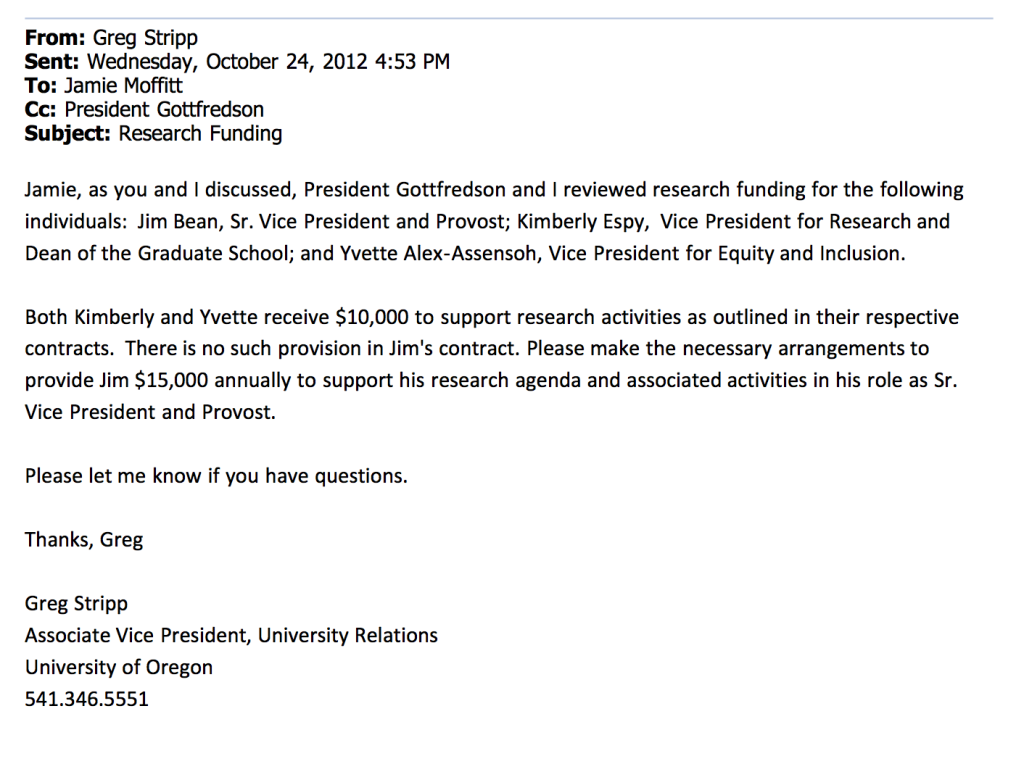 That's the deal for Johnson Hall administrators. Unfortunately the well is a bit drier for the UO faculty, who can submit competitive applications for $1000 – $2500 grants. This email went out today:
Please distribute this announcement to your faculty.
The Vice President for Research & Innovation invites faculty from all academic disciplines to apply for two new award programs:  Faculty Seed Grants and Faculty Research Travel Grants.
The purpose of the Faculty Seed Grant program is to support new programs of research, scholarship and creativity likely to result in published research, intellectual productivity, creative endeavors, and external grant proposals to foundations or agencies.  Faculty Seed Grants are available to scholars from all disciplines.  They are awarded during each academic term of the year beginning in the spring of 2015.  Faculty Seed Grants provided a maximum award of $2,500.  The deadline for receipt of 2015 spring term Faculty Seed Grant applications is 5:00 PM on March 20, 2015.  Deadlines for receipt of applications for upcoming academic terms are posted in the guidelines. 
The Faculty Research Travel Grant program aims to improve the competitiveness of research proposals from UO faculty by facilitating interactions with prospective federal or foundation sponsors.  The program grants travel funds of up to $1,000 for faculty to meet with program officers at federal funding agencies and private foundations.  The program is available to faculty members at all career stages and from all disciplines.  There are no deadlines for applications for Faculty Research Travel Grants; applications will be accepted at any time. 
Guidelines and the application forms for Faculty Seed Grants and Faculty Research Travel Grants are available online on the Research Development Services website.   
Questions about either of these programs should be directed to Research Development Services, [email protected].