Bucknell is a small liberal arts college in the lovely town of Lewisburg, by the banks of the Susquehanna on which I spent an idyllic youth messing about in boats. Will Interim President Coltrane appoint a new Interim VP for Academic Affairs or leave it for Doug Blandy to run on his own?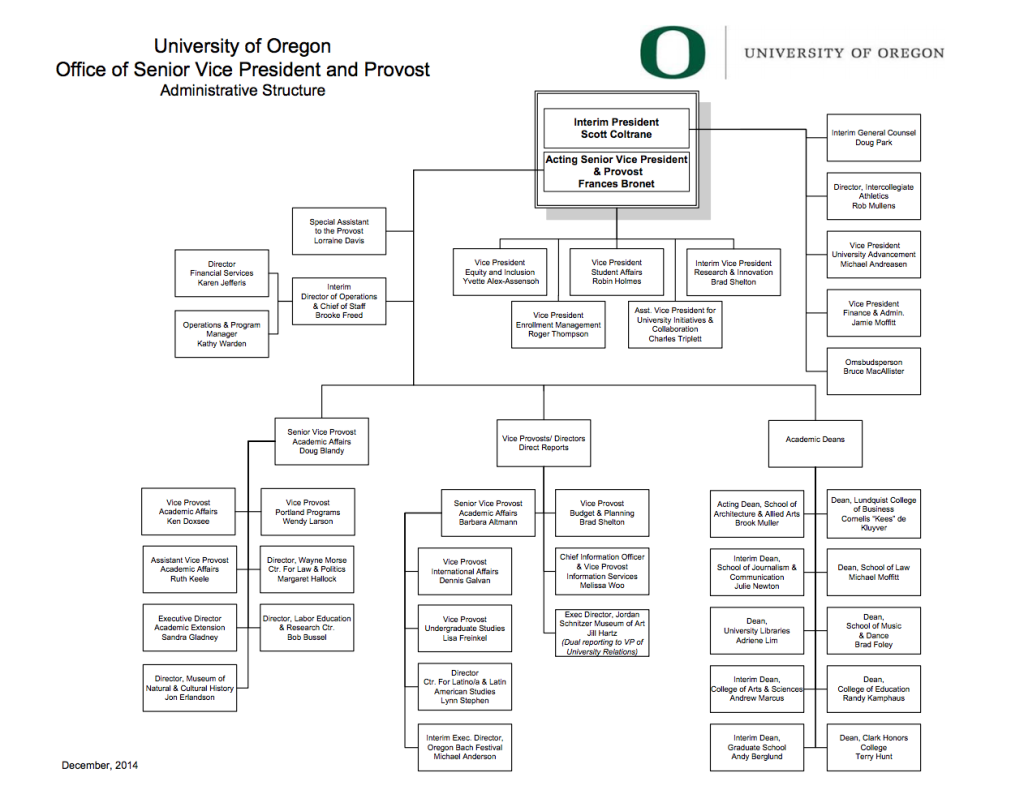 From: John Bravman and Kim Daubman <[email protected]> Date: Mon, Mar 16, 2015 at 11:51 AM
Subject: Introducing Bucknell's Next Provost
Bucknell University
Dear Faculty and Staff Colleagues,
Kim and I write with the exciting news that the search for Bucknell's next provost has concluded, and it is our great pleasure to introduce to you Barbara Altmann.
Barbara holds her doctorate in medieval French language and literature from the University of Toronto. She comes to Bucknell from the University of Oregon, where she currently serves as senior vice provost for academic affairs. In that capacity Barbara oversees the university's undergraduate studies as well as its curriculum and program development. Prior to that, Barbara served as the director of the Oregon Humanities Center, a role in which she managed internal research and teaching fellowship programs for faculty, and served as a liaison with other state, national and international humanities centers. Barbara was also the head of Oregon's Department of Romance Languages, which comprises 45 faculty and 1,000 majors and minors in 12 different degree programs.
Barbara stood out during a national search that drew applications from a large pool of highly qualified candidates. She was among 11 finalists interviewed off-site, and one of four whom we invited to visit campus. During her time here, Barbara met with several groups comprising nearly 80 individuals representing our students, faculty and staff. Barbara's unique blend of scholarship and administrative experience, coupled with her enthusiasm and passion for an undergraduate education steeped in the liberal arts elevated her to the clear consensus choice for each and every group. You can read more about your peers' experience with Barbara in this news story. In addition, you can download a PDF of Barbara's curriculum vitae here, which captures in much greater depth her impressive scholarship and accomplishments.
Kim and I greatly appreciate all those who dedicated their time to this very important process, and in particular the hard work of our colleagues on the search committee. We could not be more pleased with the outcome. Barbara is set to officially join us on August 1, but we hope to coordinate another visit to campus sometime this spring.
I also want to express my deep gratitude to Mick Smyer for his immeasurable contributions to Bucknell since becoming provost in 2008. It is all but impossible to appreciate everything that Mick has done to advance Bucknell, but Bucknell is far better because of him, and the impact of his service will be felt evermore. Mick was recently awarded fellowships by both the Australian government's Department of Education and Stanford University's Center for Advanced Study in the Behavioral Sciences. Both will support his current research: "Graying Green: Climate Communication for a Graying World." After a sabbatical, Mick plans to return to the Bucknell faculty.
At this moment in Bucknell's history, we find ourselves on a path to great success. The challenges before us are formidable, but the opportunities are unparalleled. Together, we can forge one of the strongest, most distinctive undergraduate learning environments in the country. Adding Barbara to our community is an important step forward in that journey.
John C. Bravman,
President
Kim Daubman,
Faculty Chair