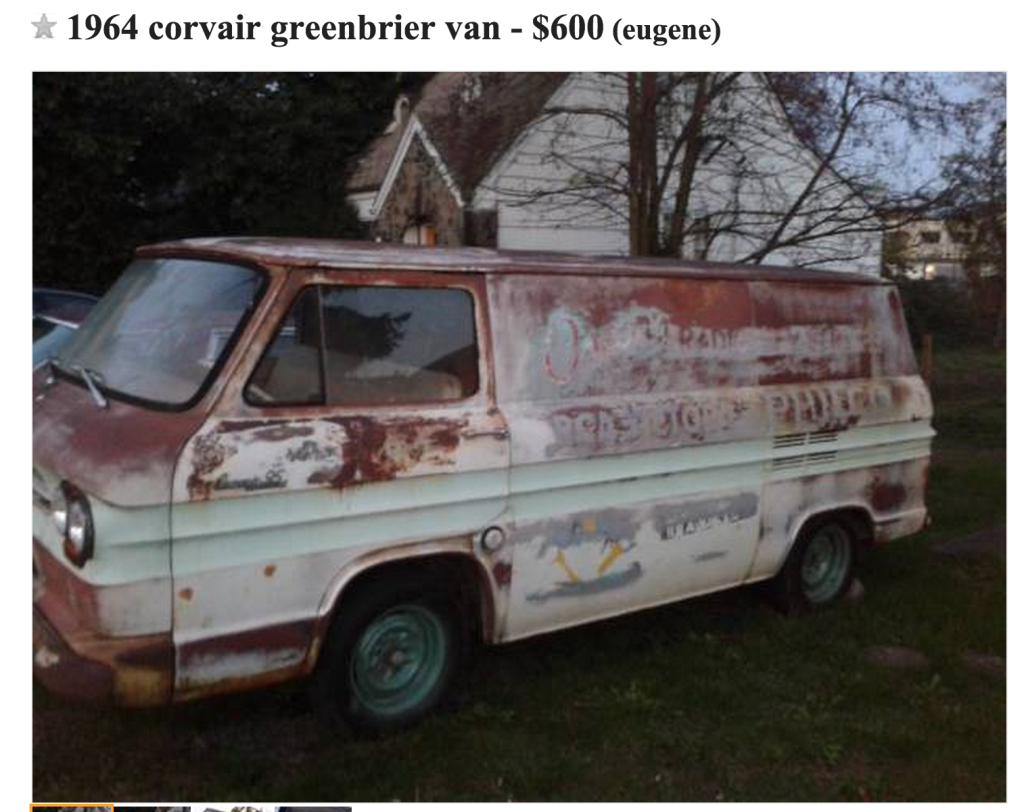 Cocktail party version: Moffitt delivers on transparency – new docs reveal large increases in spending on Pres Admin Operations, Enrollment, Advancement, Police. No money left in the budget for faculty. Admin team then unveils their economic proposal, which is a one-time $600 and a 1% merit raise, delayed until 2017. That's it. No COLA, no internal equity, no external equity.
Maybe it's a classic bad-cop good-cop play. The unhappy looking admin functionaries sitting at the bargaining table got stuck with the bad-cop job. The faculty will get all riled up. Then in a few weeks the new President will come in, announce that she's found the money for significant raises, get the credit for saving the university, and start off her tenure as UO's Joan of Arc.
If not, I'll forecast that the faculty will go on strike during week one of classes this fall. It's been a tough year, and we don't need any more shit from Johnson Hall and the Trustees.
Today, 2PM, Knight Library Collaboration Room. Be there.
VP for Finance Jamie Moffitt was supposed to present the administration's counterproposal on raises March 9th. She bailed. But word is that, after paying JH thousands of dollars for public records on UO's financial position, the union now has a firm commitment from Moffitt for an appearance. I expect the show and tell will start promptly at 2, get there early for a good seat.
Here's the report on the union's economic proposal: https://uomatters.com/2015/02/bargaining-session-iv-economics-thursday-226-10am.html
Live-blog: Usual disclaimer. My impression of what people said, meant, or should have said. Nothing is a quote unless in quotes. If you don't like my blog read Luebke's.
Full house, including Diane Dietz from the RG. Standing room only.
As predicted, after stonewalling the union's data requests for months, Moffitt now passes out 150 pages of financial data at the last minute, giving the union team no chance to digest any of it before she dives into her spiel. This is not the way to build trust. The spin begins.
Moffitt goes on through her spreadsheets – emphasizing state cuts, how they've "finally caught up with us". All spin. Let's cut to the chase, and the back of her packet, for the data I asked for months ago. In 2011 Richard Lariviere committed to getting UO faculty salaries to the midpoint of the AAU public universities. As of Fall 2014 (i.e. after incorporating all the raises from the 2013-15 union CBA), we're here:
UO full professors earn 88.7% of the AAU average
UO associate professors earn 97.8% of the AAU average
UO assistant professors earn 94.6% of the AAU average
The average increase in pay over all ranks at other AAU publics last year was 3.2%. Assuming that continues, UO will need to increase wages by 3.2%, plus promotion increases, just to stay even in our current position towards the bottom of the AAU publics.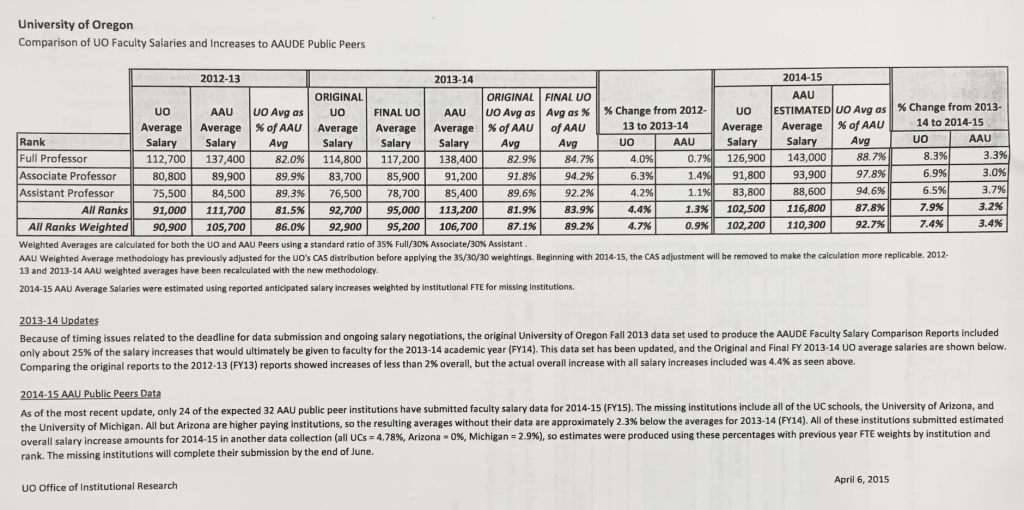 Strangely, this figure showing how raises for UO's top administrators have far outpaced the rest of the university isn't in Moffitt's packet – so I made it myself from the data on UO's Institutional Research website: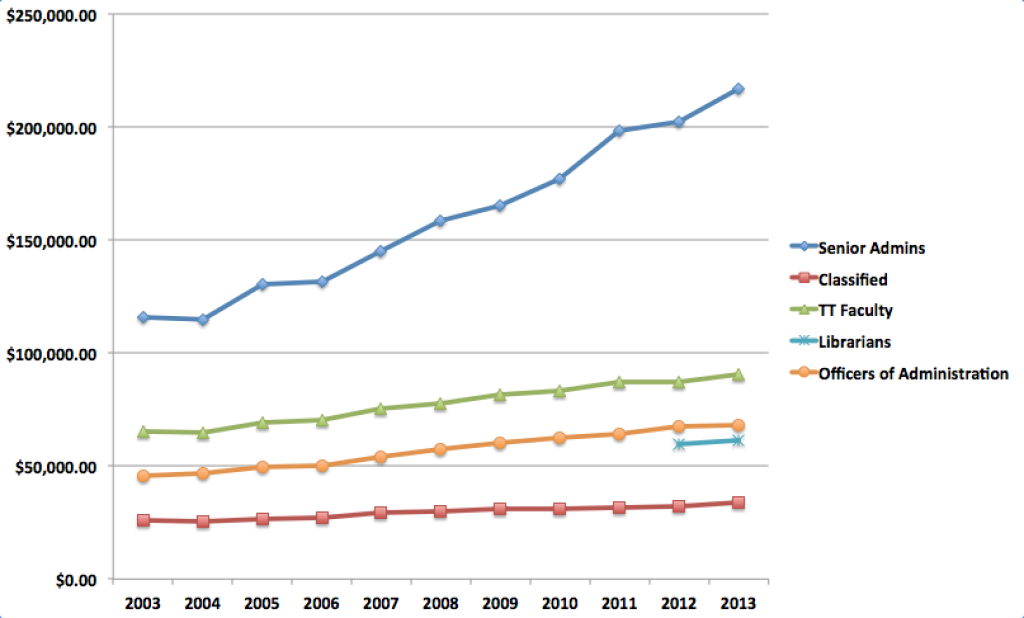 Meanwhile, Moffitt is still going through her spreadsheets, trying to impress everyone with how smart and hard working she is to be able to keep track of all the university's costs and revenue.
Presumably the administrative team will get to the meat of the discussion soon. Meanwhile I've got a game theory paper to review, live blogging will be light.
"I'm not trying to scare you" but Moffitt is worried that FEMA and the State won't bail us out if there's an earthquake? Come on.
Now she's getting into the 2016 projections – which include money for propping up her husband's law school, but not for faculty raises.
Some good news, the new HECC funding model is outcomes based, gives money for graduation rates for state residents, and UO is at the top for that. If things hold in the legislature, UO will get $6.4M in new state-funding next year, followed by another $2M.
Some bad news, expect a 9% increase in PERS costs.
Health insurance – some big savings possible here if we get out of the state system.
Jamie's not going to talk about all the new money going to the UOPD: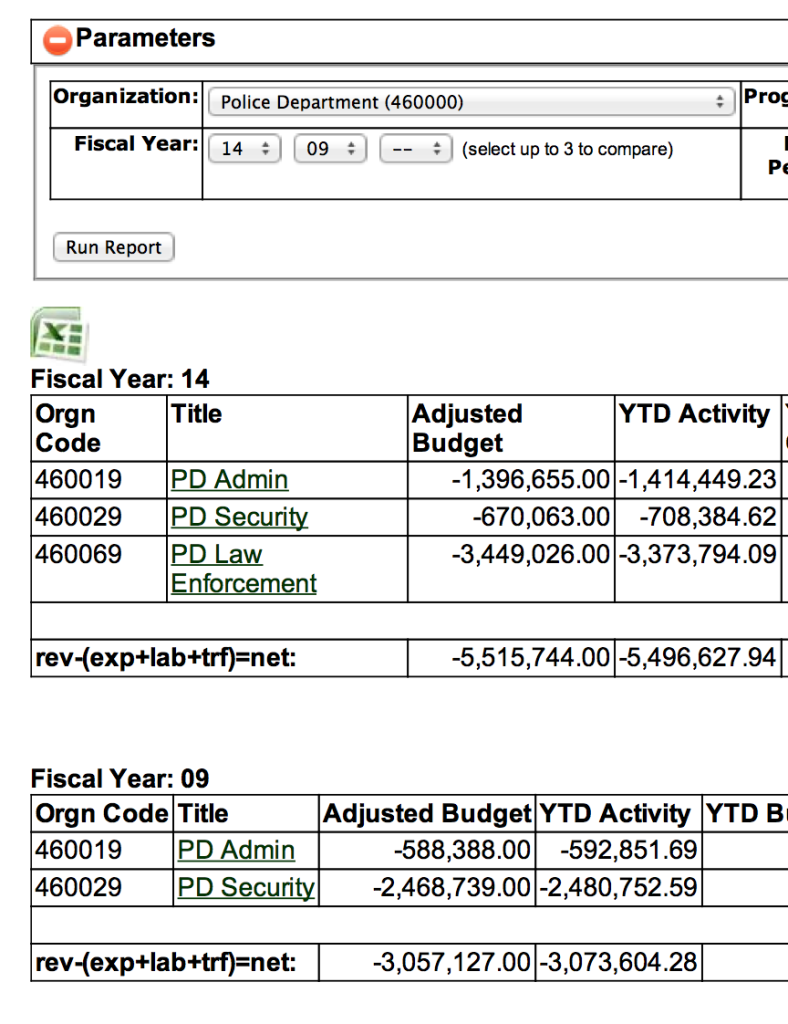 3:30PM: Now she's getting into the athletic department budget. Gives shout out to Rob Mullens: "Excellent financial manager, cares deeply about UO". He will have no problem coming up with the 3% of revenue for the academic side that the UO Senate legislation requires.
Cecil: Have there been discussions about getting the $2.2M academics spends on the jock box back? Moffitt: No.
Cecil: What the hell happened with the explosion in General Counsel costs? Moffitt: We hired HLGR at $300 an hour?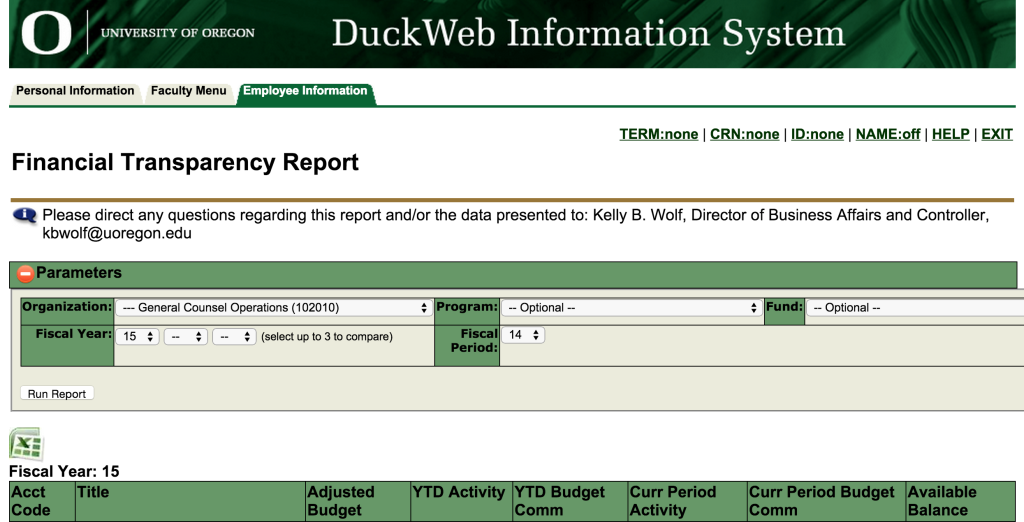 More on where the money is going:
Jamie doesn't want to talk about the large increase in administrative hiring, relative to faculty. So she's got some confusing spreadsheets. While she's been talking, I've been getting data from UO's IR department website.
Student enrollment has increased from about 20K to 24K over the period shown, or 20%. The number of officers of administration (FTE) increased by 55%. (The number of "senior administrators" decreased, because JH changed the definition to make themselves look good.) The number of faculty? Not so much. Staff? Student workers? GTF's? Nope, nope, nope. Administrative bloat: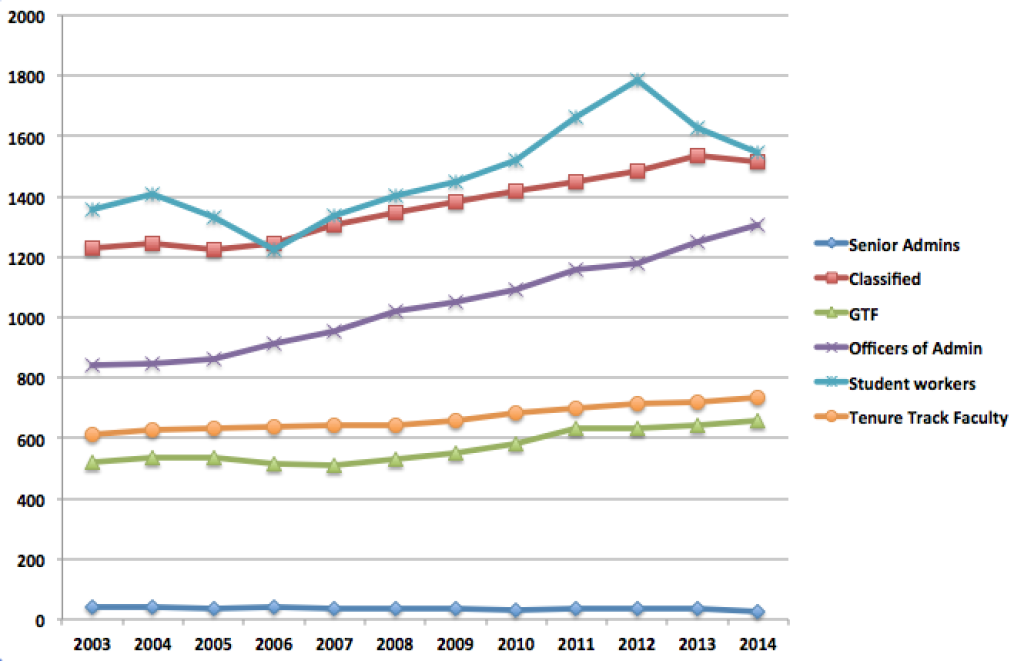 4:10PM: Jamie wraps up.
UAUO's David Cecil: Thank you Jamie, this was so much better than last time. And we recognize the the union and administration have made some progress on the goal of getting faculty salaries to the AAU averages.
Deb Green: Why don't you include salary increases in your budget predictions?
Juanita Devereaux: Why are we faculty at the bottom of yout priority list?
Moffitt: It's difficult. We want to invest in faculty and staff, but …. these are good questions.
Cecil: In the presentations you've made to the board, etc, you've said after all UO's other priorities are met, there is only $1.2M left over for salary increases. Why is the faculty the leftover priority?
Moffitt backpedals.
Gina Psaki: Explains that the previous raises left faculty in the hole for years of salaries far below comparators, and still didn't get faculty to the levels promised back in 2011. We see faculty leaving because of salary. We appreciate the information you've presented today on the budget, but we see many questionable expenditures – police, athletics, GC – we wonder what the administration's real priorities are.
Cecil: So, you're saying we're running a little in the red – in the E&G fund – but over the length of the contract, reserves are still increasing?
Deb Green: So, does this university have a plan for investing in its faculty?
Moffitt: It's challenging. We're out there looking for funds from tuition, the state, donors – everywhere but athletics.
4:36 PM Cecil: Let's caucus.
4:45: Bill Brady presents the administration's economic counterproposal:
Faculty to get $600 up front – enough to buy a 1964 Chevy Van on Craigslist – and a 1% merit pool. One-time, over two years. No ATB, no internal equity, no external equity. (The $600 lump-sum is a classic management trick to try and split a union by driving a wedge between the low and high income members by tempting low income workers to take the offer. That said, the 64 had the 95 HP engine, and there's a sick aftermarket blower.)
It's a fuck-the-faculty offer: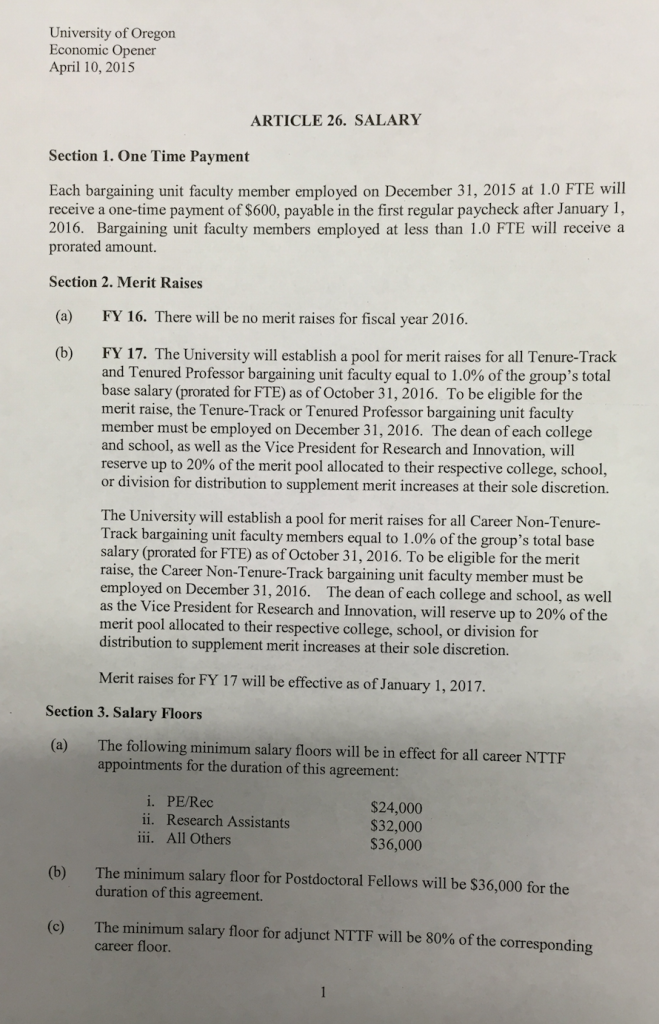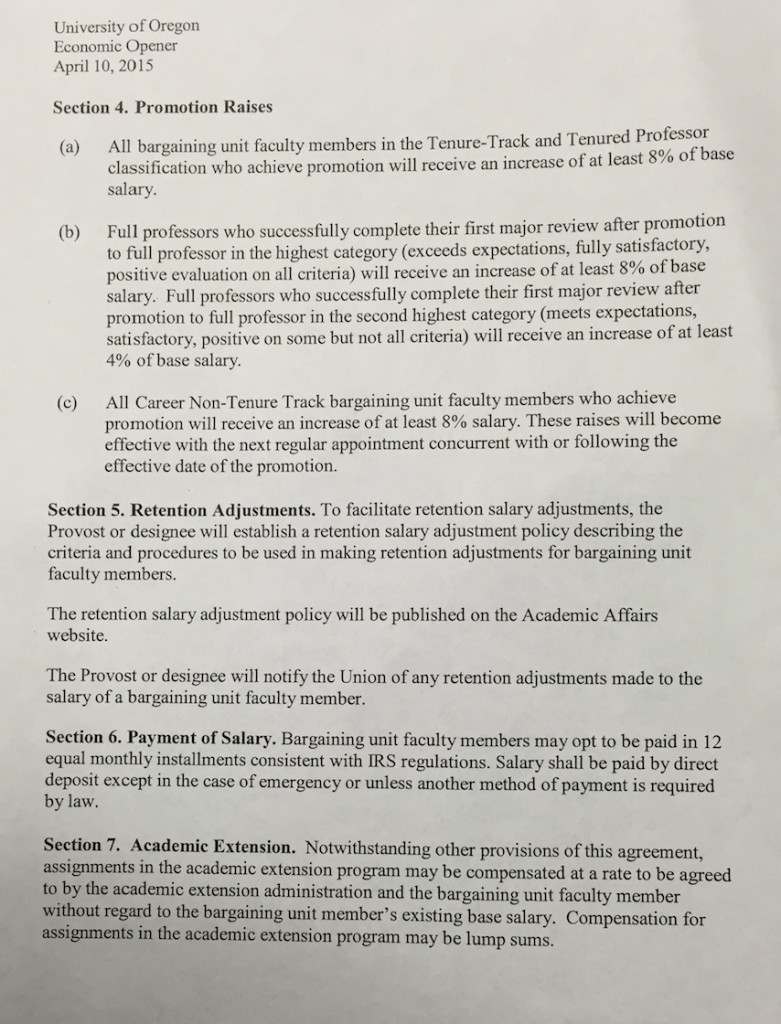 The union team is not taking this well. Lots of tough questions for Bill Brady about why it took 6 weeks to come up with this junk proposal. The crowd is half pissed, half amused at the absurdity of this offer. Murmurs of "strike, strike". Other people are walking out in disgust.
This offer pencils out at about $1M for each year of the contract. Coltrane and Bronet spend $2M a year subsidizing the athlete-only Jaqua Jock Box. UO's priorities look pretty damn clear.