Doesn't sound good about staying in the AAU. Gets asked about how difficult it is to run UO, says not different than other large publics. Here: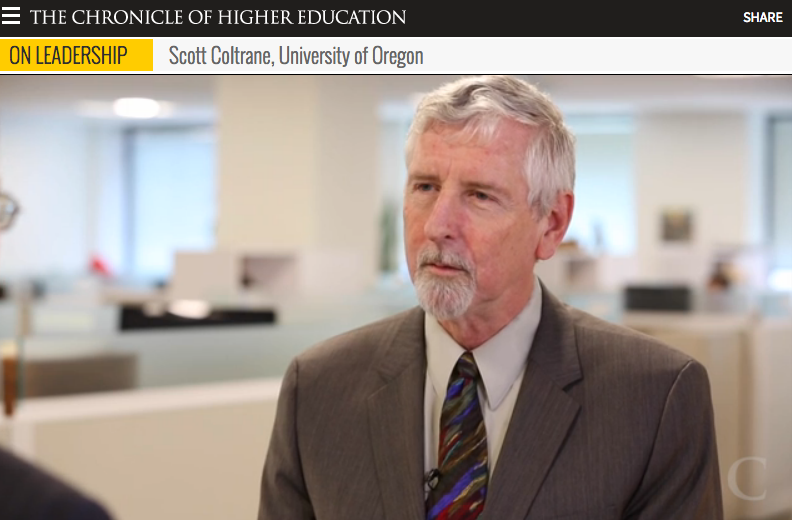 Coltrane's schedule for this week is here: The "meeting with faculty member" is with me, to talk about the Senate motions on athletics and on faculty participation in administrator hiring and review. Why would that be confidential – Coltrane agreed to it in the middle of a Senate meeting.
MONDAY, APRIL 27
New York City, New York
WEDNESDAY, APRIL 29
Return Travel to Eugene
4:00 p.m. — Student Life regular meeting
5:00 p.m., EMU Amphitheater — Men and Allies United: Walk, Talk and Roll to Prevent Sexual Violence
Interim President Coltrane participates in Sexual Assault Awareness Month by speaking during the Men and Allies United rally.
THURSDAY, APRIL 30
8:00 a.m. — Athletics regular meeting
9:00 a.m. — Meeting with faculty member
11:00 a.m. — Board Leadership regular meeting, via conference call
4:00 p.m. — Student Orientation Staff
Interim President Scott Coltrane thanks student orientation staff for their leadership work to welcome the incoming classes. President Coltrane will provide advice for what he hopes each leader will share with the new students coming to the UO.
6:00 p.m., EMU Amphitheater — Take Back the Night
Joining with the campus community, interim President Scott Coltrane will participate in the annual Take Back the Night event as part of Sexual Assault Awareness Month.
FRIDAY, MAY 1
8:30 a.m. — Meeting with acting Provost Frances Bronet
1:00 p.m. — President's Diversity Advisory Community Council
Interim President Scott Coltrane attend the quarterly meeting of the community groupt that provides advice and perspectives related to equity, diversity, and inclusion at the UO.
5:30 p.m. — Parent Leadership Council reception
SATURDAY, MAY 2
11:00 a.m., Autzen Stadium — Spring Football Game