4/20/2015 update: Please see the retractions posted at https://uomatters.com/2015/04/archivists-resign-coltrane-got-sharon-rudnick-to-write-report-on-presidential-archives-release.html
4/15/2015 PM update: I've made a public records request to UO, in an effort to obtain some hard data and get to the bottom of all this back and forth between Mr. Gary and me:
From: Bill Harbaugh <[email protected]>
Subject: PR request, Presidential Archives release documents
Date: April 15, 2015 at 11:09:39 PM PDT
To: Lisa Thornton <[email protected]> Cc: doug park <[email protected]>, Interim President Coltrane <[email protected]>, [email protected]
Dear Ms Thornton –
This is a public records request for
a) all billing invoices from the HLGR and Hershner Hunter law firms to the UO, dated from 1/1/2015 to the present, and
b) any communications between UO President's office or General Counsel employees and outside attorneys or consultants relevant to the preparation of the attached "Records Incident Report", apparently written by HLGR attorney Sharon Rudnick, regarding the UO Presidential Archives release.
I'm ccing Interim GC Doug Park as he should be able to easily provide many of these documents. Otherwise, I ask for a fee waiver on the basis of public interest.
4/15/2015 AM: My apparently inadequate retraction of the original post is here. Since then I've received two additional emails from Mr. Gary, who is representing HLGR and UO lawyers Sharon Rudnick and Randy Geller. I will send and post a response to Mr. Gary's additional demands promptly.
April 1, 2015, full letter here: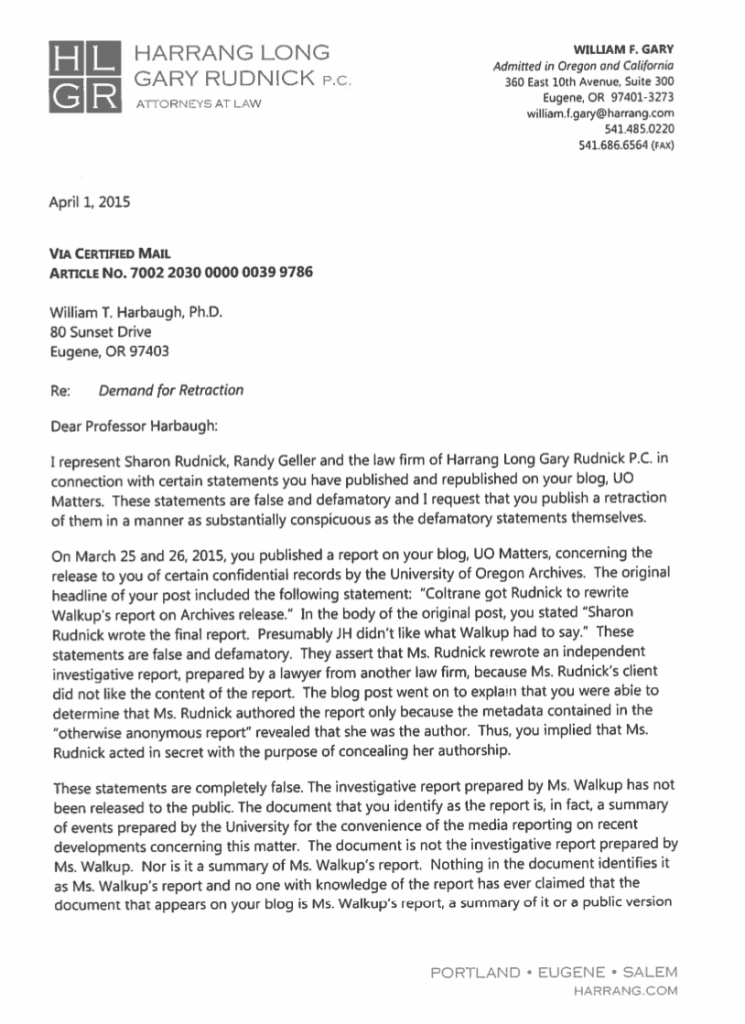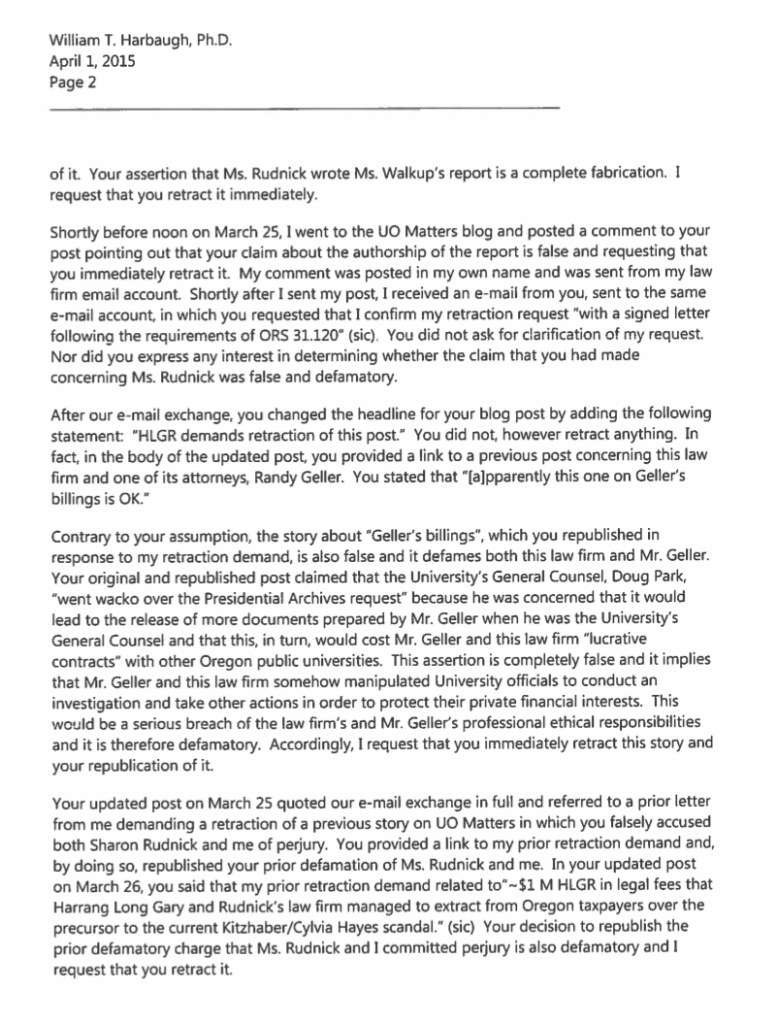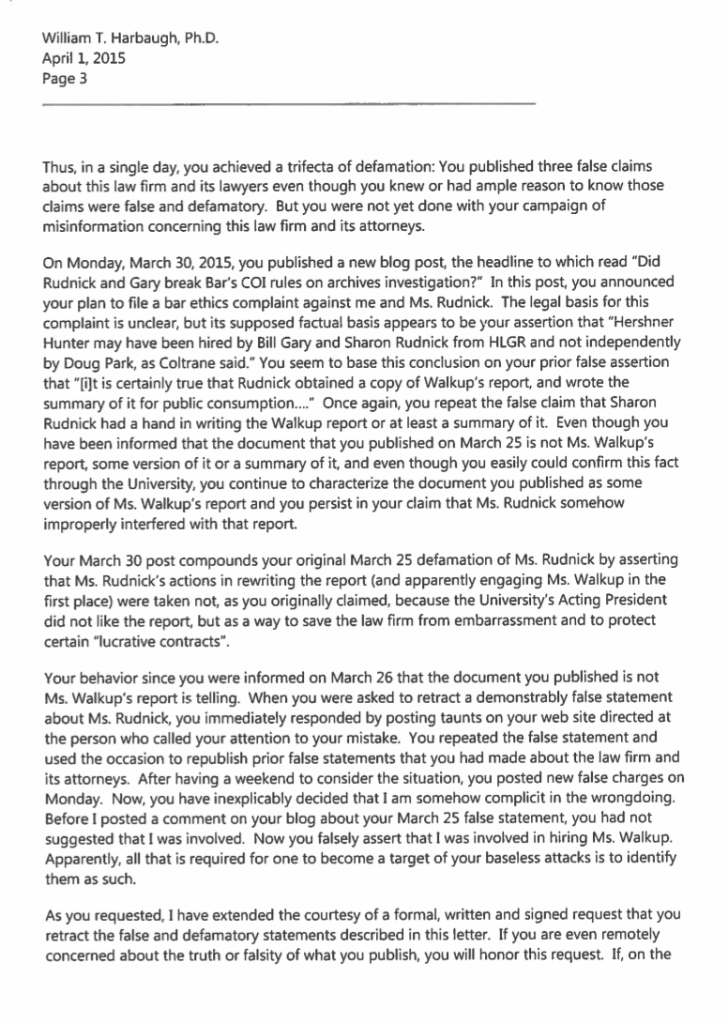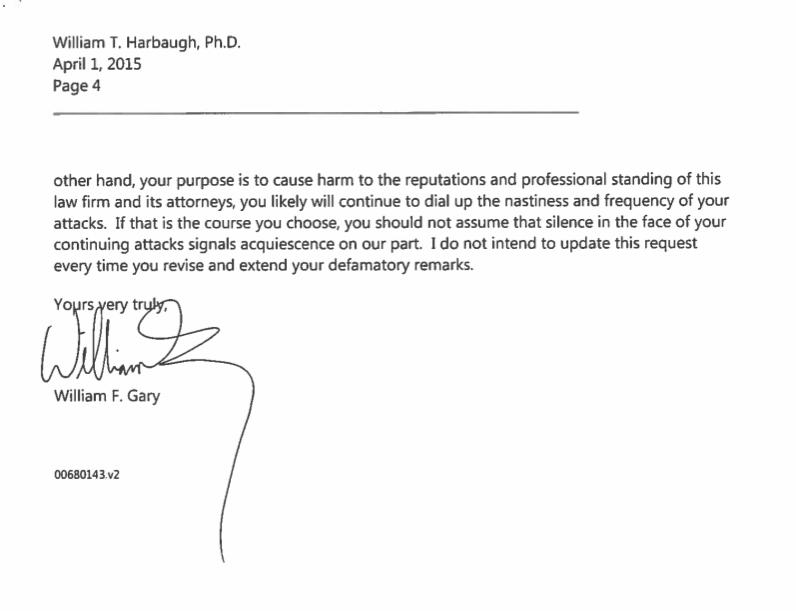 April 10, 2015, full letter here: