The TAed salary agreement is here.
Synopsis: It's a win-win deal for UO President Michael Schill and the UO faculty. I'm no economist, but I think the technical term is Pareto improvement.
All in all a very fun, and rewarding, bargaining process. The administration's team, led by Director of Employee Relations Bill Brady, has been very professional and collegial. As has the union's team, led by UAUO Exec Director Dave Cecil. Everything wraps up with good feelings all around. Brady and UAUO President Michael Dreiling will put out a joint statement tomorrow. Contract ratification vote after fall classes start.
Including promotion raises this deal, which is spread out over 3.5 years, is roughly 3.5% per year. Average raises for continuing faculty at our AAU comparators were 3.4% last year. So we should be able to maintain faculty pay at ~94% of comparators, which the union got us to last round. On top of that there's job security for NTTFs, etc. And none of the anti-academic freedom language that Coltrane's administration had tried to add.
What an improvement over the 1% offer that Coltrane and Moffitt started with back in February. Michael Schill deserves credit for that – as does the union, which had to keep pushing the administration for a surprisingly long time.
President Schill starts office having negotiated a reasonable contract for the faculty, which should certainly help increase the good will he's already accumulated since arriving.
The faculty can point to the 5 years of raises that the union has now negotiated as a precedent, and tell potential new hires that they can expect to be treated well.
The union can point to the reasonable deal, the generally non-adversarial negotiations, and the union's willingness to agree to matters of importance to the administration, and put an end to past claims from Johnson Hall and some trustees that having a faculty union was somehow a bad thing for UO. No more "blame it on the union". I hope.
There are still enough leftover items – like the administration's intransigence on sharing financial information, their insistence on charging the faculty to see faculty records, and their refusal to put anything in the pot for equity – to give the union something to shoot for in the next contract.
Timeline:
11:30 AM Thursday: Union proposal: 8.5% plus $4K in annual one-time payments. 4% ATB, 4.5% merit over 3.5 years. See below for details.
4:20 PM: The admin team takes out all the one-time payments except $300 in mattress money. Offers 2% ATB, 5.5% merit over 3.5 years. 0% equity.
7:44 PM: The union proposes $1500 one-time payment, 3.75% ATB, 4.5% merit. 
10:44 PM: Admin comes up 0.25% to 7.75%. $300 one-time, 3.25% ATB and 4.5% merit. They will not agree to even study external equity problems. 
11:44 PM: Union proposes 8% over 3.5 years. 3.5% ATB, 4.5% merit, $750 one time, and a study of external equity. 
12:14 AM Friday: Administration agrees to the 8%, but only $500 one-time. Union asks for $650, insists on equity study.
12:52 AM: Administration accepts the offer, and agrees to discuss the equity problems.
Deal.
FY 2016: 2% ATB, $650 one-time, pro-rated by FTE
FY 2017: 0.75% ATB, 2.25% merit pool
FY 2018: 0.75% ATB, 2.25% merit pool
Increased NTTF floors and job security. And an agreement to agree to an MOU to explore gender and external equity problems.
I should have got a shot of both bargaining teams together. Oh well, here are the UAUO negotiators: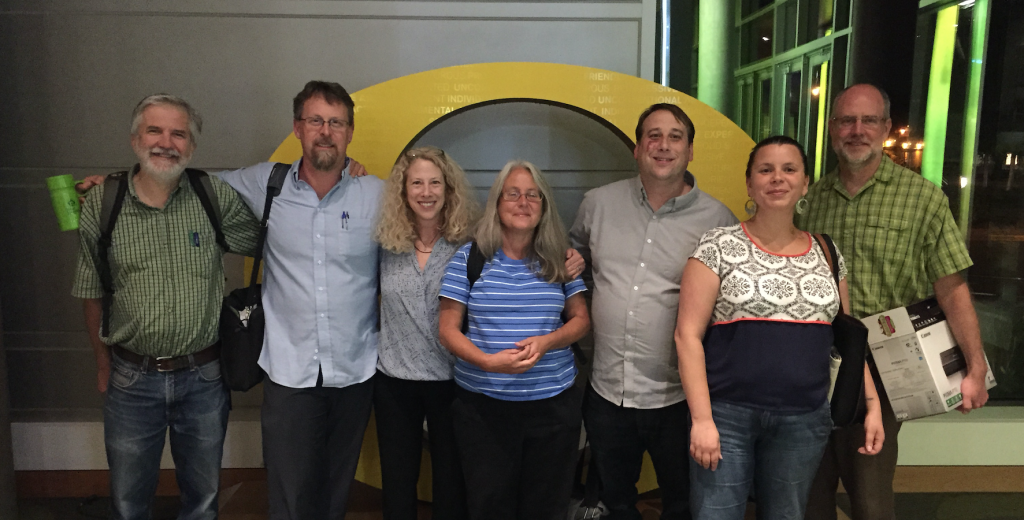 If bargaining goes on as late tonight as expected, that $300 admin proposal may look pretty sweet. Just a few small stains: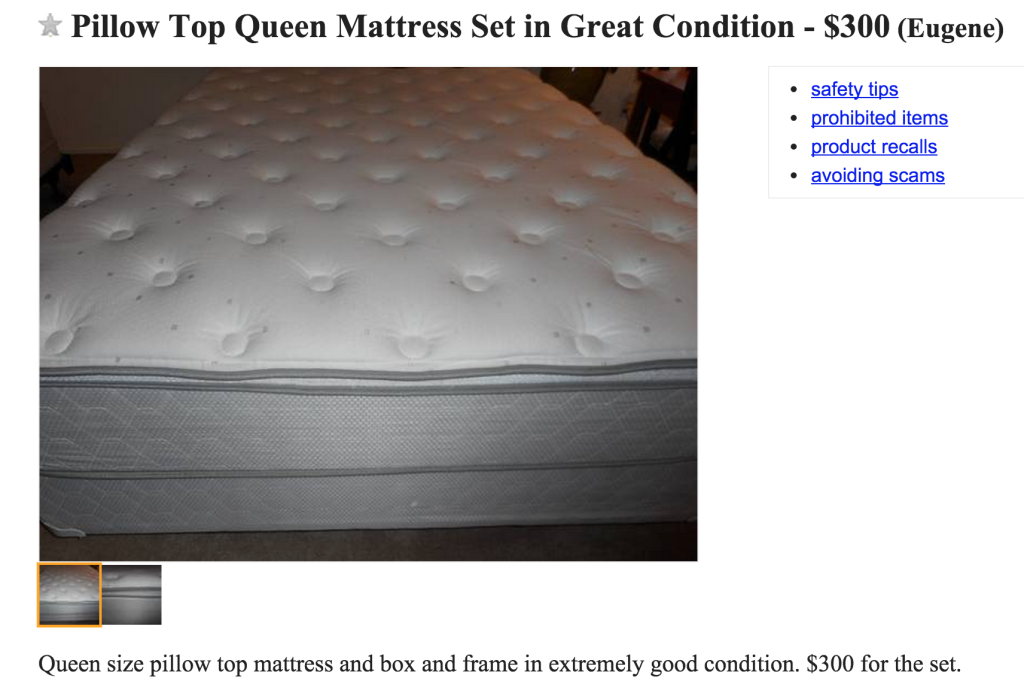 Live-blog: [Disclaimer: My opinion of what people said, thought, should have said, or should have thought. Nothing is a quote unless in quotes.]
10:39 AM update: Slow start, both sides are caucusing.
11:05 AM. Cecil starts: We would look to explore some issues regarding job security and raises. As your $20M branding campaign says, "What the if?"
What if we give you some flexibility on non-renewals for NTTFs, in Article 16? Gives list of ideas. Then what if you do something on money. As is, you've got nothing for equity. UO has obvious equity problems. Do you agree that these problems exist and need to be addressed?
The horizontal axis is the National Research Council's 2010 ranking of UO PhD programs, see below for methodology. The vertical axis is average pay for UO full professors by department as a percentage of average pay at AAU publics for 2014-15. From UO IR, here.
I'm no econometrician, but the slope coefficient looks like zero to me. And lets not talk about the variance. There's probably better data for department rankings but I doubt it changes the conclusion much: whatever system the UO administration is using to set faculty pay, it's not about quality.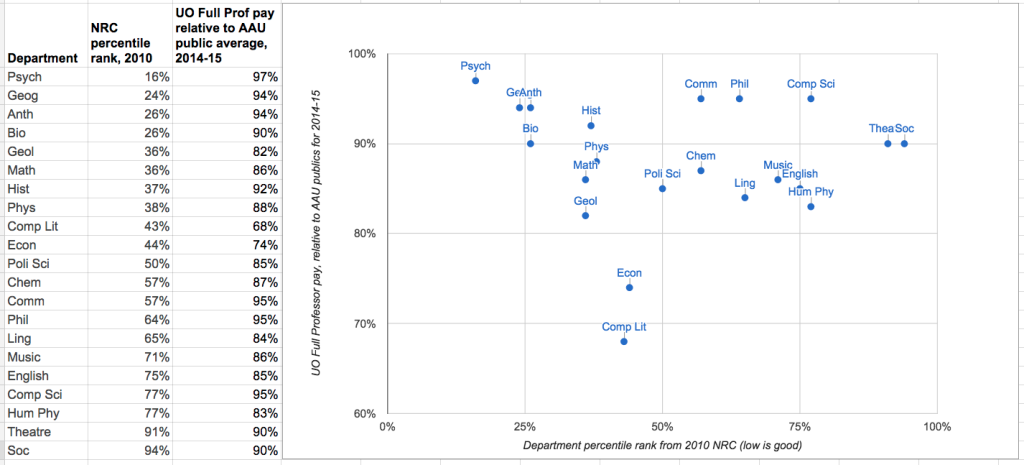 Here is the union's equity language, which the administration repeatedly rejected: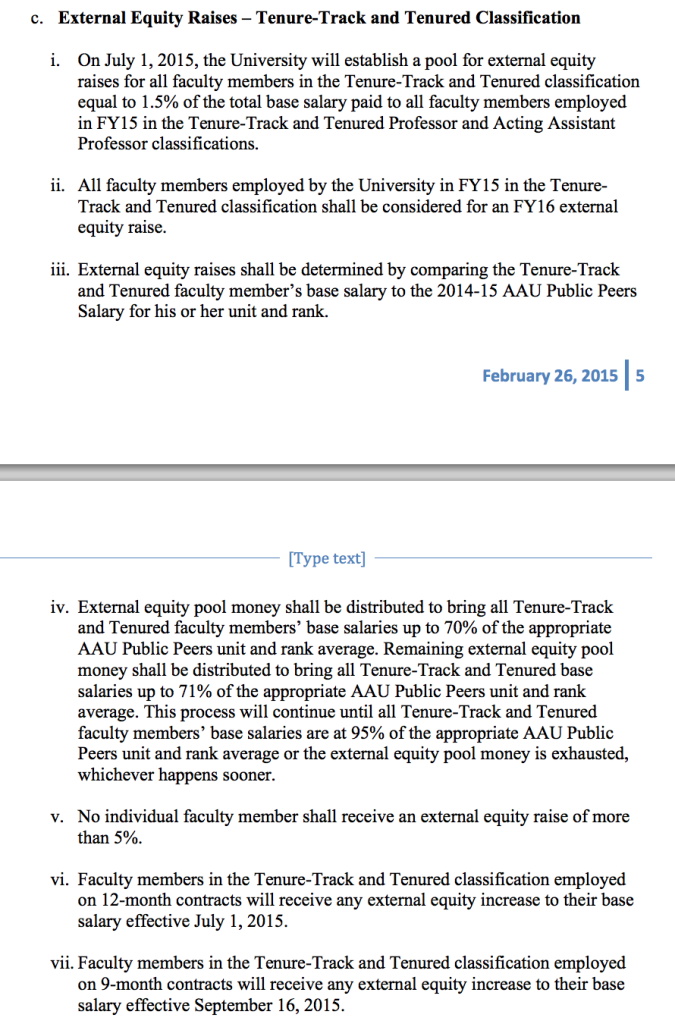 Brady: We agree that they exist, but we don't care enough to address them. We haven't even bothered to look. Yeah, when we look casually we see certain departments that are way behind. There are nuances about how departments stack up in performance. Education looks great, some CAS departments are not. Maybe there's a reason there's an equity issue. When we layer merit and equity it gets very confusing. It's not that we want to ignore equity, it's just that we are ignoring equity. That's were we've been.
Cecil: Could the union have a role in addressing this, given that the administration hasn't done jack?
Brady: We could brainstorm solutions and listen to the union.
Cecil: Yes, but are you willing to take action?
Brady: The UO administration is in total disarray. 3 presidents in 13 months, and too many deans to count.
Cecil: So you are proposing the dean's pool holdbacks even though the deans have no handle on equity? Are you willing to let the union help set the parameters?
Brady: Yes.
Cecil: So you are willing to allocate more money to be allocated to a pool for such a process?
Brady: No, it would limit how much we'd give you for merit and ATB. But we'd love to set up a joint labor-management committee to chat about equity for the next three years.
Cecil: We are not interested in assigning blame about gender inequity, we are interested in addressing it.
Brady: It's a challenge to do good gender / race equity studies. UO does not have even have evidence to show that performance evaluations lead to salary increases.
Cecil: What about the raises being delayed until January – that's 18 months. We want to go back to July, because the AAUP data is collected in October, and we want to game that system, and get the money for the faculty sooner. You guys willing to talk about that?
Brady: No. It's just too complicated for us to process raises until January. We're willing to pay out the nose for one-time bonuses so long as you agree to delay until Jan.
Green: Do one-time moneys get put into AAU data?
Brady: No, only recurring salaries count.
Bullshit. UO throws all kinds of one kind money into what they report to the AAUP. It's not clear if our comparators do this, and how much this inflates UO salary relative to our comparators: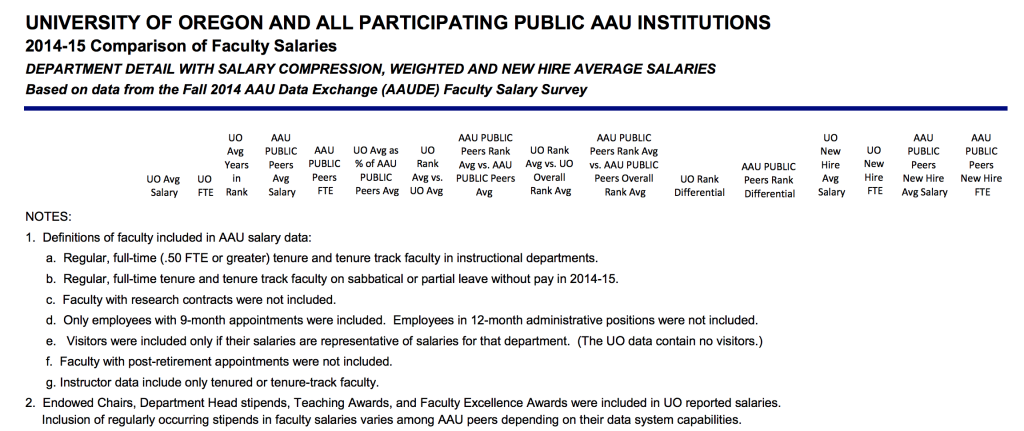 Cecil: OK, give me some clarity on one time money. To be clear, we're not talking about about Tim Gleason's $350 goat money, or Coltrane's $600 Chevy Van money. So what kind of money are you talking?
Brady: Our team hasn't had any talk about how much one-time money.
Cecil: It's one-time money. Should be easy for Jamie Moffitt to say yes. Last time we were told the well was dry – and then she added another ~$30M to her reserves. This time we want a slice off the surplus. How do you think about it?
Brady: Our reserve is low compared to our comparators.
[Bullshit. Brady and Moffitt might think – or at least say – UO reserves are low, but our bond raters are quite happy with them. And trust me their opinion is the one that matters. See Bunsis report.]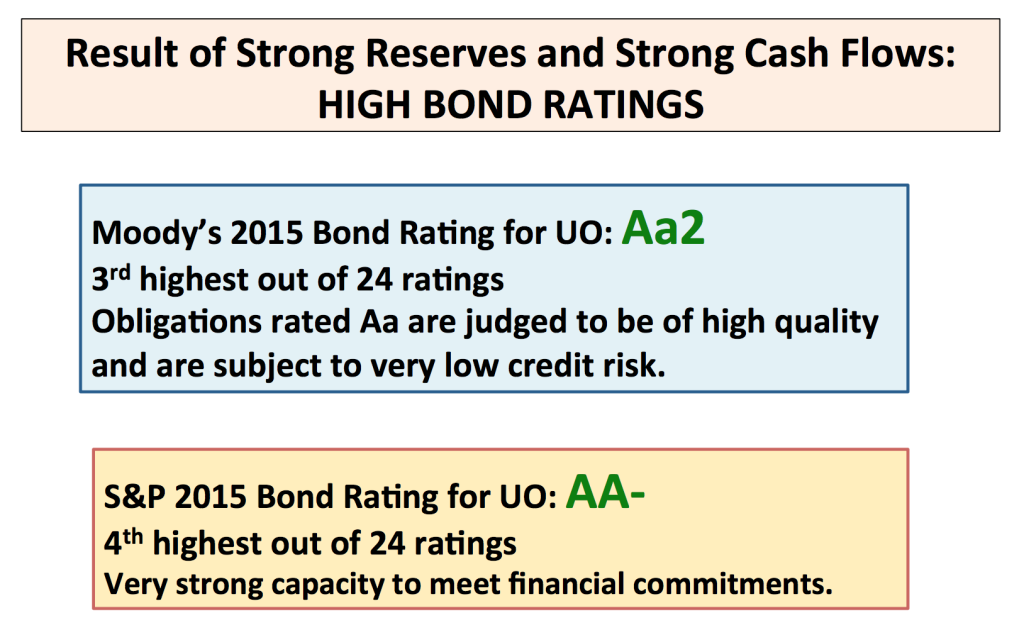 12:00 PM: Break for lunch, back at 1:00. Union will have a proposal. Goal is to try and wrap this up today, if not it will have to wait until September.
1:30 PM: Union's new proposal:
$4000 in annual one-time payments, 4% ATB, 4.5% merit
FY 2016: $2000 one-time, 2% ATB.
FY 2017: $1000 one-time, 1% ATB, 2.25% merit pool
FY 2018: $1000 one-time. 1% ATB, 2.25% merit pool
1% raise for all librarians, for external equity adjustment.
One time payments are in Nov 2015, etc. Raises Jan 1 2016, etc.
Union and administration will meet to talk about UO's equity problems and potential solutions.
Brady: Points out that the first one-time payment is problematic, because it is not scaled by FTE. Teach one class, get the full payment? (The 2017 and 2018 payments are scaled.)
Cecil: Good point.
Brady: We appreciate your willingness to be flexible on the workload policy. We will need flexibility to get to a deal.
Cecil: Good point. We moved, now the ball is in your court.
1:50PM: Brady: It's caucus time.
4:25 PM: The admin team is finally back.
Article 8, personnel files.
Brady: We still want to charge faculty to see what's in their own personnel files.
Article 26, salaries:
Brady: We're going to ignore your counter-proposal from this morning. Only $300 in one-time money. But we'll offer you another 0.5% in ATB in year 1. So this proposal is 7.5% over 3.5 years:
FY16: 1.5% 2% ATB, 0% merit, 0% equity, $300 cash.
FY17: 0% ATB, 2.5% merit, 0% equity.
FY18: 0% ATB, 3% merit, 0% equity.
Provost holds 10% back from merit pools.
Some clawbacks on the union's workload proposal as well.
A 0.5% raise is roughly $500K. Meanwhile UO is paying EWU $450K for the upcoming Sept 5th football beatdown. Full contract here: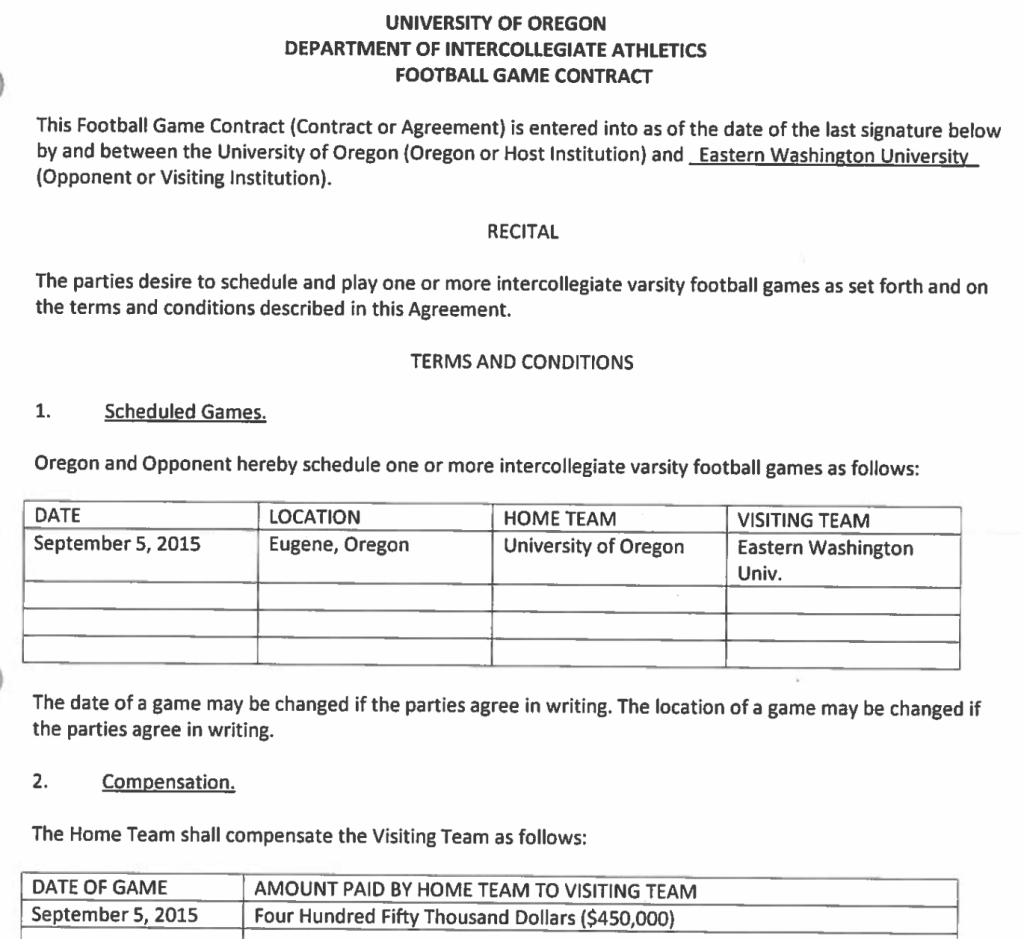 Brady: We've taken out the union's proposal for an equity study. That's not to say we don't want to do one. We just don't want to make that part of the contract in which we refuse to pay you any equity money. Got it?
We agree to the 1% equity increase for librarians. And we'll throw in $300 lump-sum, in year one. That's going to cost UO about $540K, or about the same as the pay raise we just gave our athletic director Rob Mullens. Too bad, professors. But we're still willing to talk about increasing that. We just won't tell you how much.
We'll agree to pay the NIH schedule for post-docs, but we want some lead time to get them to that point.
Green: Didn't you offer us $600 in Chevy Van money already?
Brady: Yup. You should have take it then. The van is gone.
Cecil: So no merit for post-docs, pro-tem faculty. Also no lump-sum. Why?
Brady: They're short-timers.
Mike Strain: 5 years is a short time?
Cecil: About the 10% Dean's pool clawback from merit. Small amount of money. Why not make it an add on, so Deans can actually do something?
Cecil: There's a problem with your math on the salary floors. Brady. Oh, thanks.
5:15 PM: Caucus break. Union will be back in an hour or two with a counter-proposal on the economics.
7:44PM: They're back:
Article 16: Notices of Appointment. Minor changes.
Article 26: Salary:
$1500 one-time payments, 3.75% ATB, 4.5% merit
FY 2016: 2% ATB, $1500 one-time, prorated by FTE
FY 2017: 1% ATB, 2.25% merit pool
FY 2018: 0.75% ATB, 2.25% merit pool
1% raise for all librarians, for external equity adjustment. Floors for 2016 are $39K for NTTFs, PE/Rec $26K, RA's $34.5K,
One time payments and raises are Jan 1 2016, etc, except for promotion raises which are September.
10% out of the merit raises can be spent at the sole discretion of the Deans. They can give it to non BU members, themselves,  spent it on lawyers, donuts, beamers, etc.
Union and administration will write an MOU meet to chat about UO's equity problems and potential solutions.
10:48 PM: They're back. Admin's turn:
Article 16: Minor changes.
Article 26: 
Brady: We've come up 0.25% ATB, so that we can get Klinger to tell reporters that the union doesn't care about merit. Nothing for equity, external or otherwise. So 7.75% total:
FY 2016: 1.75% ATB, $300 one-time, pro-rated by FTE
FY 2017: 0.75% ATB, 2.25% merit pool
FY 2018: 0.75% ATB, 2.25% merit pool
Brady: Sorry, only $300 lump-sum.
Brady: We are willing to agree to agree to an MOU that will address gender and protected classes, but *not* to a study that will look at external equity. WTF? Just a few hours ago Brady was saying we couldn't study gender equity for legal reasons.
11:44 PM: Latest union proposal:
Over 3.5 years. 3.5% ATB, 4.5% merit, $750 one time.
FY 2016: 2% ATB, $750 one-time, pro-rated by FTE
FY 2017: 0.75% ATB, 2.25% merit pool
FY 2018: 0.75% ATB, 2.25% merit pool
And an agreement to agree to an MOU to study external equity.
12:21 PM. Admin team comes back.
Cecil: So, what can you do?
Brady: We'll come up to $500 on the one-time.
[Do the math: Every $100 is $150K for the bargaining unit. $750 is about equivalent to a 1% one-time payment.]
Dreiling: It's 12:30 AM. Make it $750 and we've got a deal. Why don't you give Jamie Moffitt a call?
Brady: We started at 1%, and you've got us up to 8%. We've moved a lot. Yes we've got reserves, but Jamie needs them for the next athletics lawsuit. Or earthquake. Wait, is that a tornado?
Dreiling: Why not end this with a good taste in everyone's mouth?
Green: You wanted a 3 year contract. We agreed. We understand you don't want to pick up the phone and call Moffitt this late, but you're going to have to do it.
Brady: Can I call her and ask for $600?
Cecil: Let's caucus.
12:35 AM: 
Cecil: Any chance Jamie would go for $500 lump-sum, and another 0.25% in ATB?
Brady: I can ask. But first tell me if you'll take $600.
Dreiling: $650.
Brady: Let me make a call.
12:50 AM:
Administration agrees to 8%, $650 one time, and "exploring external equity problems" for TTF and NTTF and gender and protected classes. We've got a deal.
Everyone at the table agrees. Good feelings all around.
8/12/2015: XIX: President Schill offers faculty 25% ATB, 25% retention raises
Diane Dietz has the details in the RG, here.
Seems like a good offer to me, even though the merit and equity raises will be 0%. Frankly, I'm surprised VPFA Jamie Moffitt approved this, knowing how worried she is about her reserves. I hope the union bargaining team will accept it, and I urge the members to vote in favor of the contract.
Oh, wait, sorry. This is the deal that President Schill negotiated with the UO Trustees for *himself*.
His administration's current proposal for the UO faculty is just 1.5% ATB and 4.5% merit, drug out over 3.5 years, and it will leave us well below the average pay for AAU public universities. Hmm.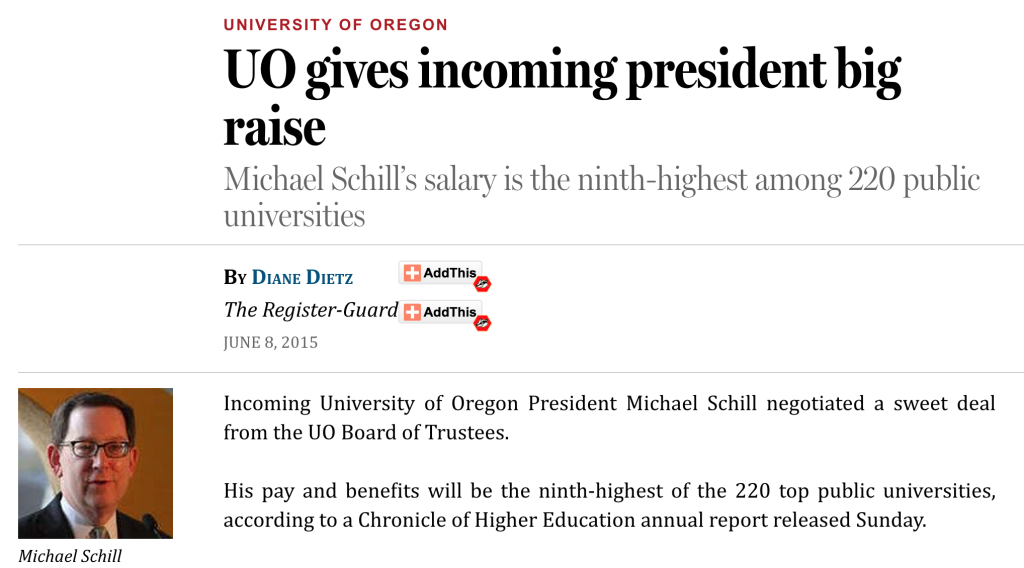 Bargaining XIX: 9AM Thursday, Alumni Center room 403.
Here's the union's update on Wednesday's session XIIX:
Bargaining Update:  Marathon Session #1
We had the first of two marathon sessions today.  Before we recap today's bargaining, we want to remind you that we're having another marathon bargaining session tomorrow (Thursday August 13, 9am-6, 4th floor of Ford Alumni Center).  Please show up at 10am for maximum impact. We had a great crowd today, and we'd love to see another one tomorrow. Presently, there are no additional bargaining sessions planned beyond tomorrow. If we cannot reach agreement on improved security for NTTF and a real salary proposal, we will find a time to resume bargaining in September. Your bargaining team is working hard to get a fair contract before the fall term begins. 
We've seen some compromise today, though there are still some major points of disagreement.  Our main disagreements unsurprisingly revolve around salary and the expectation of continued employment for career NTTF. The union proposal for salary currently stands at 9.75% divided over three years as follows: 
COLA: FY16: 2%, FY17: 1%, FY 18: 1%
Merit: FY17: 2%, FY 18: 2.5%
Equity: FY17: 1.25%
The administration's latest proposal stands at 7% divided over three years:
COLA: FY16: 1.5%, FY17: 1% for pro tem (adjunct) faculty
Merit: FY17: 2.5%, FY18: 3%, with 10% of each pool held back by the Provost's office for discretionary merit distribution.
From their last proposal, this is only an increase of 0.5% for most faculty, though the additional 1% COLA increase for pro tem faculty is new, and something we've been looking for.  
The administration didn't move on salary floors for NTTF, nor did they close the gap between pro tem and career faculty.  Currently, pro tem employees can be paid as little as 80% of their career counterparts.  We find this unacceptable, and while we doubt we will be able to push the administration to parity, we are looking for some movement here.  
When it comes to the expectation of continued employment for NTTF, there are still significant disagreements.  Both the union and the administration have agreed that career faculty can be terminated only due to lack of funds, programmatic changes, replacement of the position by a tenure track position and poor performance.  The point of contention is what exactly entails "poor performance".  The administration wants the ability to terminate career NTTF for merely "meeting expectations" on reviews, whereas the union wants any poor performance to be first documented in a failing review with an opportunity for subsequent improvement.   We'd like "meeting expectations" to be a minimum standard of excellence to encourage the administration to engage in meaningful well-thought out reviews, especially for faculty whose job expectations may be unclear. 
Tomorrow morning we expect to bargain (beginning at 9am) until an acceptable, comprehensive salary proposal is presented and additional job stability for NTTF is achieved. 
Stay tuned to see how this resolves, and come out tomorrow and watch your bargaining team continue to make our case!