11/7/2015: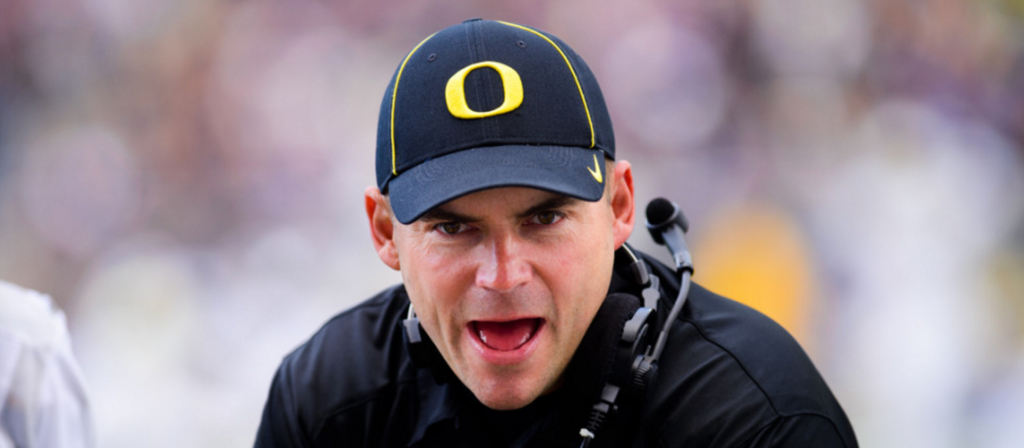 Apparently this win means the Ducks are going to some bowl game, and Helfrich gets a $50K bonus for that. Then we have to pay for all the admins and their families to go along for the junket. Here's Tim Gleason, then Journalism Dean, now Faculty Athletics Representative, at the 2013 Fiesta Bowl student recruiting event:
VP  for Enrollment Roger Thompson videotapes one or two humiliating events like this at every bowl game, so that the administrators can show the IRS there was a business purpose for their family's holiday junket:
4/12/2015: Coach Helfrich's raise totals more than all 1500 UO staff combined
UO has about 1500 staff workers, making an average wage of about $35,000 a year. Their SEIU local 503 is currently bargaining with OUS for a new contract. The OUS offer is an 0.5% COLA, or $175 each per year.
Meanwhile, the UO administration just found the money to give football coach Mark Helfrich a slightly larger raise:
Here's the message from the SEIU local:
Higher Ed Management Proposals Not Unified Across State, Return to the "Big Three," Attack Health Care, Steps, and More
We met for bargaining on Thursday and Friday, April 9th and 10th. This session ended on a very discouraging note. While we were hopeful of an early settlement, it is apparent that we will be digging in for a long and contentious fight for a fair and equitable settlement. (Click here for a full report.)
You may remember that management had proposed bargaining only pay, benefits, and other "financial" issues, this cycle. Our response was that we could agree, if we would have one "unified" economic package that was fair and equitable across all campuses. Management would not commit to this unified approach, and instead gave us two separate proposals, one to cover SOU, and the other covering the other six campuses. Both are the same, at this point – and equally bad, even for a beginning package:  Our steps, health insurance, overtime pay, and much more is proposed to be reduced, and the proposed Cost of Living Increases are tiny, to boot.  (Click here for details of the proposals.)
Our approach is centered on improving workers' rights and benefits with proposals such as: protecting our staff fee privilege by rolling it into the contract; full health care coverage for part time employees; and pushing for University accountability for their administration-to-frontline employee staffing ratios; protecting tuition affordability for students; and ensuring a living wage is earned by all on campus, to name a few. 
Management's approach seems to be centered on a repeat of two years ago when they proposed a series of very drastic takeaways such as gutting our overtime computation, severely restricting our layoff rights, and making it easier to contract out our jobs. Yes, the same "BIG THREE" takeaways they proposed two years ago. (Click here for details.) 
And, they are proposing changes to core finances of our jobs, such as to our health benefits (that would shift costs onto workers over time); to our steps (delaying/freezing them partially, yet again); and seeking to make it easier to contract out our jobs.
This session also included a fantastic membership meeting on Thursday where roughly 50 UO members had lunch with the bargaining team. They heard the update and had the opportunity to ask questions of the Team. We then marched and chanted around the library where the meeting took place. Then, on Friday, we saw selective presentations from members in several different classifications. (Click here for photos).
It is time to fight back! Please join your Local leaders and your Bargaining Delegate in visiting your FADM Vice President to demand a fair contract. A contract that is equitable and fair across all seven campuses. Click here to join in.
Register for our next Higher Ed Lobby Day (April 20). Travel to Salem to meet with your legislators to lobby for adequate funding for Higher Ed as well as their support for our Fair Shot campaign. Click here to register.
Upcoming bargaining sessions
April 23

rd

and 24

th

at SOU

May 7

th

and 8

th

at OSU Cascades in Bend

May 28

th

and 29

th

at EOU

June 7

th

and 8

th

location TBD