The Portland Tribune' story on UO President Mike Schill's comments regarding the Morlok / Stokes retaliation lawsuit against UO is here. Today they've posted more from their Nov 11 interview with Schill, here: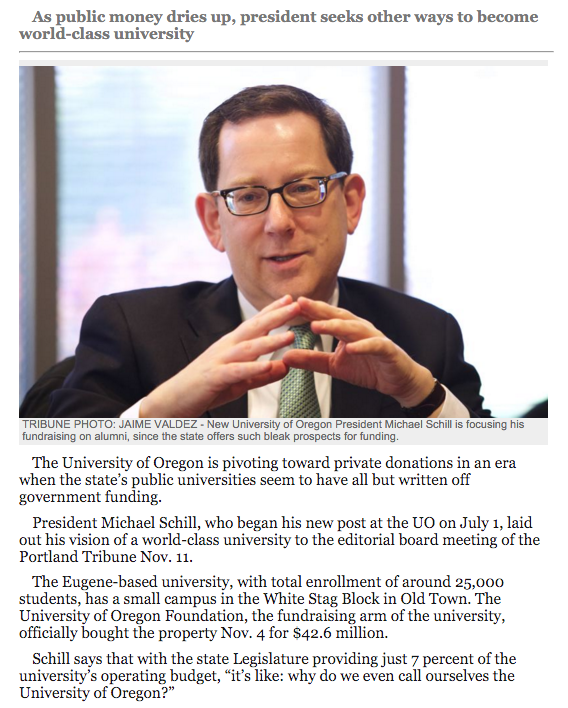 FWIW, I hear the University of Nike domain name is for sale. More from the interview:
PathwayOregon grants
Schill says he hopes to reduce student cost and improve performance with an expansion of a program called PathwayOregon. The program offers free college to Oregon high school graduates who are eligible for federal Pell grant funds. But Schill says these low-income students need more than just money. They need academic advising and clearer paths to graduation. Schill also wants to offer completion grants to students who run out of money before they finish their degree.
"Those kids are the worst off because what ends up happening to them is they get all of the debt and none of the degree," he says.
Schill says that in addition to hiring 80 to 100 more faculty to offer more classes, he wants to hire a "retention czar" and three or four academic advisers to "really focus with a laser beam on getting these folks to succeed." That includes using predictive data analytics to attempt to find students who are at risk of dropping out, so when a student fails a math class or doesn't register for a gateway class, "We're going to send in the advising SWAT team," Schill says. …
Oregon tax structure 'craziness'
Schill says he worries that a fear of elitism is holding Oregonians back.
"In that case, really they hired the wrong president for the University of Oregon," Schill says. "That is Martian to me to hear that we don't care about excellence."
Schill says he is angry that smaller, less expensive universities get more state money per student than the UO does. He also takes aim at Oregon's school funding structure based on property taxes.
"It's actually craziness," he says. "This state is uniquely ill-suited to fund anything that's not mandatory."
Though the Legislature boosted funding to the seven public universities by $30 million in this biennium's budget, the UO president says it's still "horrible."
"I don't mean to sound ungrateful," he says. "We just need to do a lot better this year."
Schill acknowledges that he tends to speak bluntly.
"Obviously, if I get savaged in this next year, I might have some behavior modification," he says.