Update: It seems UO did not give Lego Guy the drawings, since the architect held the copyright. I'm surprised, this sure seems like fair use.
12/7/2015: If you want public records to build a Lego model of Autzen stadium, UO's public records office is there to help: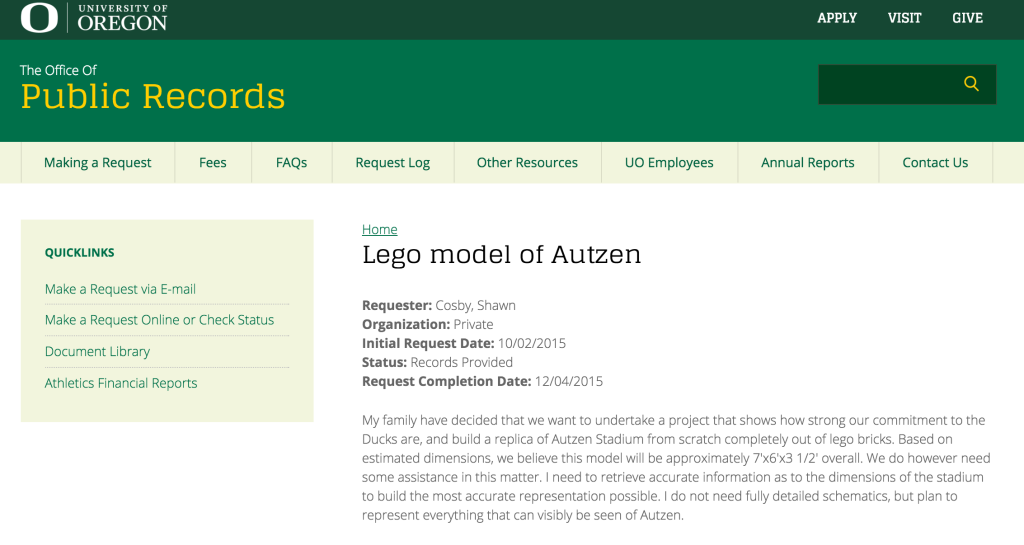 But if you're looking for something that might inform the public on Duck athletic spending, or explain what's going on inside Johnson Hall, you can expect them to provide little but fees and delays. Now why would they want hide documents about UO's insurance?
Subject: Re: PURMIT
Dear Ms Thornton – 
This is a public records request for the meeting materials distributed for PURMIT meetings from 7/1/2014 to the present, and for an email address and other contact information for Ryan Britz.
I ask for a fee waiver on the basis of public interest, as demonstrated by the public funds involved and by statements by UO communications regarding insurance coverage for liability that have been quoted in the press.
Or so much else?