11/29/2016 update: The RG's Ryan Thornburn has the shocking details here.
Or at least I think it was the basketball coach – he's about to drop out of the rankings too. But maybe his buyout is next year.
Meanwhile, Mullens, Altman, Helfrich and the other well-paid Athletic Department employees haven't been giving much to the University's Charitable Fund Drive for state and community charities: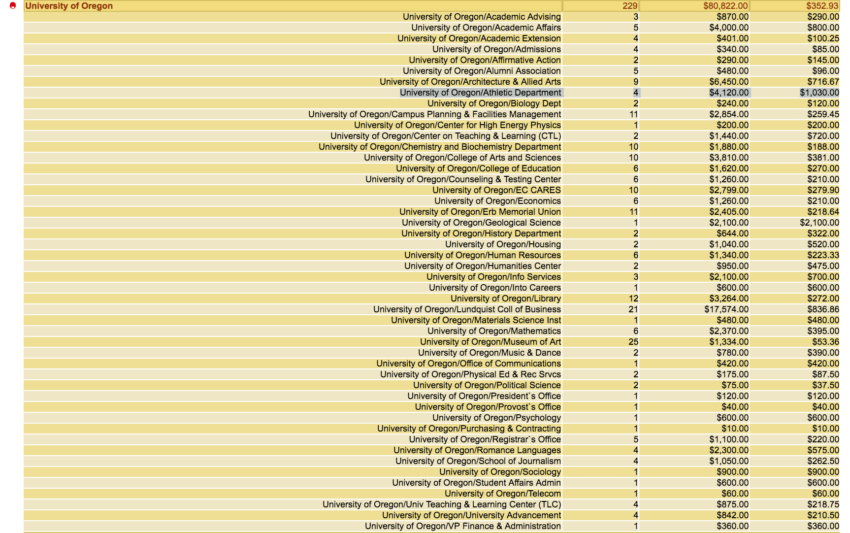 11/28/2016 update: Matt Helfrich wins excellent $9.4M buyout with lousy 34-44 Civil War loss
Latest reports are that Mullens is having a hard time finding a replacement. Time for Kilkenny to fire up his jet. Every day they delay costs UO another $10,000 in pay for Halfrich, plus benefits like the DAC and country club memberships.
11/26/2016: Or at least that's the Thanksgiving weekend rumor from the cousins. The players get nothing of course, this is the NCAA.
10/6/2016: Low enrollment for Professor Helfrich's course in football excellence
Only 27 takers for his $60 Pass/No Pass course on intercollegiate football?
At its Feb 2015 special meeting of the Finance and Audit committee, our Board of Trustees voted to give AD Rob Mullens and Mark Helfrich some fat raises, after the unpaid Marcus Mariota took the Ducks to a second place finish in the football championship series. Well timed. Things have gone downhill ever since.
The Board Secretary kept the purpose of this meeting secret until the last minute, and even left the contracts off the docket of meeting materials. The board approved them with no discussion, after Interim President Scott Coltrane enthusiastically endorsed the raises: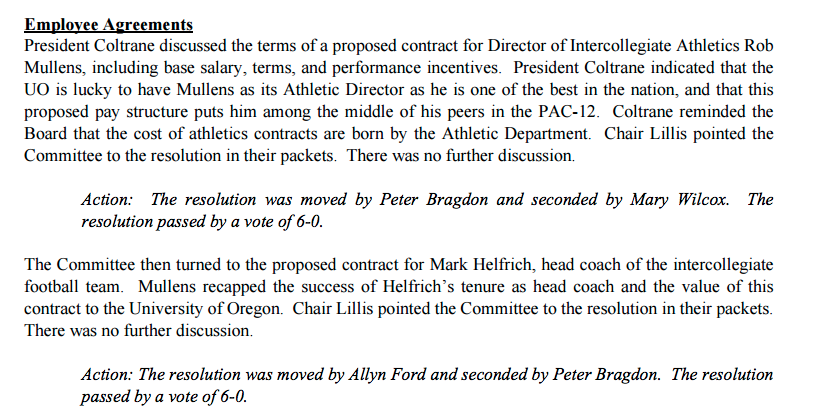 The contracts were made public later. Helfrich. Along with many perks and bonuses the Trustees basically doubled these guys' salaries: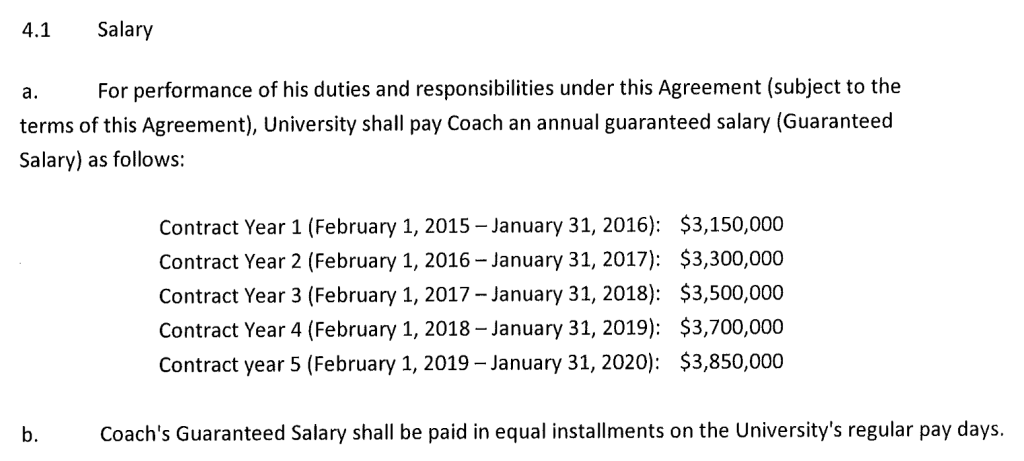 Rob Mullens' porkalicious deal is here.
And while the Chairman of the Board has railed against tenure for faculty, he's a bit more generous with the athletic department. It will now cost about $15M to buy out Helfrich, although there's a 50% discount if he doesn't win at least six games in each of 2 consecutive seasons:

Let's compare coach Helfrich to a real professor. Averaging in and out-of state tuition our students pay about $2K per class. So one 450 student intro class in, say, sociology, brings in about $900K for UO. The professor and grad assistants get paid maybe $50K for their work: