The variance on the prediction that the rate of return on investments over the next 20 years will be 7.2% and not 7.5% is so large that those PERS consultants willing to say 7.2% with a straight face must be very well paid indeed.
As Professor Fearless explains in today's post on his persinfo blog, this reduction in the assumed rate of return means that those of you that are so lucky to be in PERS Tier 1 (not me, I'm an idiot who chose the ORP) will need to work an extra 4 months to offset the resulting loss in benefits, unless you retire before Dec 1 when the change takes effect:
After the meeting, I checked with Matt Larrabee, the principal actuary for Milliman, who confirmed for me that the setback would be 4 months for a typical retiree.  This means that if you delay retirement past December 1, 2017, it will take you 4 additional months of working to recover the benefit you would have received if you retired on December 1.  While the most directly affected members are those who remain eligible to retire under Money Match (less than 13% of all non-retired members), it will have an impact on beneficiary options for Full Formula retirees as well.  The changes to mortality had virtually no impact on the rates, as changes in one element were offset by other changes.  Overall, the totality of the economic assumptions other than the assumed rate itself, had a near zero impact on liabilities for the system.  The impact to employers on the uncollared rates will be approximately 1.9% of payroll, less than it could have been.
Reducing the assumed rate of return on the PERS endowment means that the annuity formula will pay new retirees less each month – hence the need to work longer until you retire. The extra work adds a little to your account balance, but mostly those four months mean you'll be spending less time alive and drawing benefits, so you get more each month. Enjoy.
The reduction in the assumed rate of return also means that the state is predicting that the PERS endowment, which was $74 billion at the end of June, will not be earning as much as it had previously hoped. This means the state will have to increase its contributions to the endowment, if it wants to continue to to attempt to reach the magic 100% fully funded level that the state's bond buyers want – although Oregon' PERS is already far, far better funded than most states. Remember, 70% of all PERS payments from state employers go to increase the endowment, the earnings from which (less fees for the investment companies, etc.) are then used to pay the benefits of retired workers. Only 30% is for current workers.
Regardless of this change, if you are nearing retirement, you really should get a benefits estimate from PERS – your retirement might not be as fat as you'd thought. The Bellotiesque days of retiring at full pay are over. Last year new retirees with 30 years of service got benefits that averaged less than 60% of their final salary. PERS by the numbers: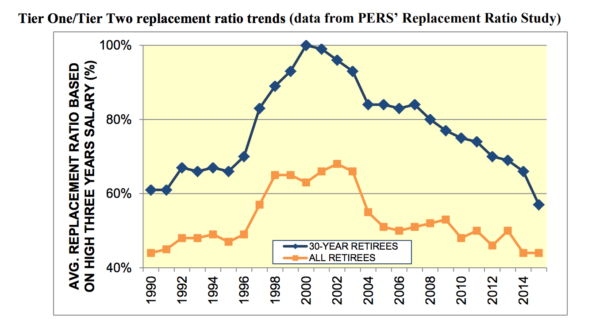 And I'm no economist, but you might ask why the state would want to put *more* money into the PERS endowment now that they believe the rate of return on it is going to fall. Shouldn't this shift in the price ratio mean Oregon should invest *less* in corporations, and more in productivity increasing investments such as education and infrastructure?
Here's how Oregon compares on public debt, followed by how it compares on higher ed funding: