10/17/2017 update:
I'm no law professor, but I think this is the reverse of the preferred sequencing.
Page down for the video of UO spokesperson Tobin Klinger last Friday, declaring that "the demonstration actually violated university policy".  Today the "UO Student Collective" facebook page posts this message from Sandy Weintraub, Director of Student Conduct, calling one of the students into his office to begin the process of an investigation under the student conduct code:


On Oct 15, Senate President Sinclair wrote UO President Schill the following:
Dear President Schill:
I've had a number of conversations around campus with both students and faculty regarding the student protest of the State of the University address.
Here are some reflections:
The statement from Tobin Klinger to the Oregonian  that the protest was in violation of the student conduct code is unhelpful and has irritated many faculty. Faculty see Klinger as an un-academic public relations spokesperson who has little credibility with the students or the faculty. However, he is an official spokesperson, and so we assume he was speaking for the administration. As such his statement could be taken as an abrogation of due process. This removes the veil of faculty oversight of student discipline, and there is simmering resentment that this power was taken from faculty by the Board of Trustees. Any unilateral administrative establishment of discipline on an issue that revolves around speech is a hornets nest that is best left un-kicked. We do understand that it may sometimes be necessary to "read the riot act" to students to notify them (or others) that continued assembly will be dealt with under the student conduct code.
My recommendation would be to have Tobin clarify his remarks and to state publicly that the university has no plans to charge any of the students in the protest with any conduct violation. Were actual conduct charges to be brought, I do not think you would have the support of the majority of the faculty nor students, and I think the Senate would react in a manner which you would find unproductive. A couple senators have already threatened a resolution to be introduced next Wednesday; we have a busy agenda that day and I would prefer to stay on task.
As you know, I have invited [the UO student collective] to come to the Senate for a brief 5-minute presentation followed by a 5-minute question and answer period. [The UO student collective] has not responded yet. In conversation with faculty, more individuals agree that this is the correct course of action for the Senate than agree with you that this is rewarding bad behavior. I will not argue that we are not rewarding bad behavior, because I see your point, but I think more people are moved by the argument that these students have fewer avenues to air their grievances than you or I, and that this was a legitimate protest.
I have been reflecting on my formal invitation of this student group to the next Senate meeting. Had I a do-over, I would take the advice of Frances White and merely indicate to this group that the Senate is a public forum on campus and that any group of students should be able to get on the agenda (with instructions on how to do so). This would allow the students an avenue for a public conversation without officially sanctioning it. I am unwilling to rescind my invitation to the student group, but I will hold onto this lesson for future use.
Thanks for considering my recommendations and for helping find a productive way out of this tricky situation,
Chris Sinclair, Assoc. Prof. Math, Senate President University of Oregon
Meanwhile, on the same day as the protest, the administration updated its website on Time, Place and Manner restrictions on free speech. They are calling these guidelines and procedures, not policies, because they agreed last year not to implement them as a policy, after the Senate raised numerous objections.
Until 2014, the UO Faculty had responsibility for the Student Conduct code. The Board of Trustees took that away from us as part of their Delegation of Authority, helped out by the faculty board member Susan Gary (Law) who failed to notify the faculty about the power-grab.
The new student conduct code even allows the administration to modify the  procedures retroactively, and apply them to existing student discipline cases:
All revisions to Student Conduct Code procedures, including but not limited to jurisdictional revisions, shall apply retroactively to pending Student Conduct complaints, filed on or after September 11, 2014
10/12/2017 update: Student Conduct Judge Tobin Klinger finds protest violated conduct code
Just kidding. Tobin Klinger is UO's chief PR flack, not a Student Conduct Judge. He is not responsible for enforcing the student conduct code, nor has anyone at UO conducted any sort of investigation as to whether or not the student conduct code was violated, or whether any such violation was significant enough to supersede the UO policies on freedom of speech and academic freedom.
So what in the world was Klinger doing, in his official capacity as UO spokesperson, telling an Oregonian reporter 5 minutes after the administration suspended President Schill's speech, that
".. the demonstration actually violated university policy…"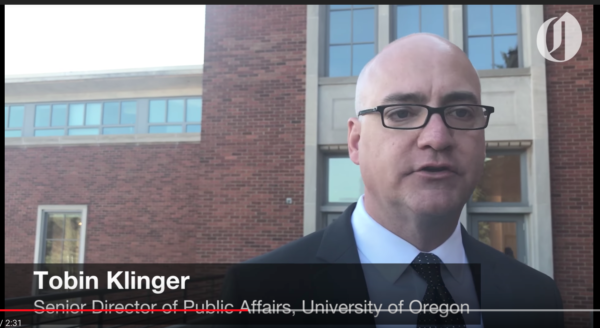 Speaking in my private capacity as a blogger, I think the administration can make a plausible case that it did violate the code (and the Freedom of Inquiry and Speech policy). If that case succeeds they can then discipline the students accordingly.
But that case is going to be harder to make given this official statement from Klinger, which the students can argue is prejudicial.
10/9/2017 update: Small, ineffective, and reflects poorly on the student body
The Oregon Daily Emerald editorial board rarely posts editorials. They have written a good one on Friday's protest:
The small student protest that cancelled University of Oregon President Michael Schill's speech on Friday was disrespectful, ineffective, and reflects poorly on the whole student body.
Approximately 45 students, calling themselves the "UO Student Collective," swarmed the stage right before Schill was scheduled to give his State of the University speech Friday morning, and after several minutes of chanting, an administrator announced that the speech was cancelled. The following day, the students posted a list of demands on Facebook.
Friday's protest painted the UO student body as unwilling to listen to the viewpoints of others. College students around the country have been criticized recently for shutting down the speeches of controversial right-wing figures such as Milo Yiannopoulos and Ben Shapiro.
What happened Friday was worse. Schill wasn't there to spew hate-filled rhetoric – he was a university president doing his job.
The organizers, whose gripes include Schill's "acceptance of fascism and neo-Nazis," "insurmountable increases to student tuition," and "ignorantly happy-go-lucky attitude" wrote in their Facebook group for the event that "radical change requires radical action."
We got the radical action. Still waiting on the radical change.
The organizers failed to suppress anything, as UO released a pre-recorded version of the speech minutes after its cancellation. Instead, the event made headlines for its spectacle and painted the student body as rude, unfocused and angry about … just about everything.
Students who are unhappy with school administration should absolutely protest and make their concerns heard.  The repeated tuition increases are a legitimate gripe, and Schill comes across as tone deaf when he tells students to ask their parents for money or take on more debt. But shouting him off the stage isn't the way to address those concerns.
The Black Student Task Force has shown that respectful protest can effect change on this campus. Not all of their demands have been met, but they got things done by showing a willingness to work with administration rather than drown it out.
For change to happen, there must be dialogue with those in charge of making the changes. Suppressing the speech of others is not how to move forward.
10/9/2017 update: UO Senate VP Harbaugh blames Schill for hurting free-speech (& retraction)
That's the takeaway from this report in "The College Fix", which bills itself as "Original. Student Reported. Your Daily Dose of Right-Minded News and Commentary from Across the Nation":
Faculty Senate leader blames president: He 'hurt free speech'
A few dozen student protesters brought a laundry list of complaints when they blocked University of Oregon President Michael Schill from giving his State of the University speech Friday, but unsurprisingly, it all boiled down to "fascism and neo-Nazis."
The Daily Emerald reports they rushed the stage before Schill could even start, chanted that the white leader was a "CEO" and the public university "a business firm," and won the day when the administration canceled the speech and left …
They get in a few digs at Pres Schill too:
A former law professor whose specialty is property, not the Constitution, Schill later told the paper he wasn't "angry" with the protesters but "sad that they don't understand the value of free speech." He contrasted their shutdown tactics with those of black student protesters two years ago who worked with Schill to raise money for the Black Cultural Center.
The university is planning a series of public lectures on free speech "with the assistance of all the schools and colleges" this year.
Schill has not been a consistent defender of free speech. He justified the university's punishment of a law professor for wearing an allegedly offensive Halloween costume at her own party, a move that earned a public rebuke from the dean of the University of California-Irvine's law school.
MORE: 'Slippery slopes' aren't a thing, so UO can punish costumes
I'm no former-sort-of libertarian economist, but it seems odd for a conservative publication to criticize a professor for specializing in property law, even if only implicitly.
For the record, I did say what the Fix says I did, to an Emerald reporter right after the administration walked out. I and others thought that the administration should have let the protesters talk for a bit longer at which point Schill could have given his speech, which I and several hundred others were there to hear.
But apparently the students had already told the administration they were not going to leave the stage, and assuming that was true I retract my statement. Any bets on whether or not the Daily Fix will report that?
More updates: Michael Tobin and Erin Carey have a good story in the Emerald on reaction to the student protest and Pres Schill's response here. Inside Higher Ed reports about this and recent similar protests here.
10/6/17 updates: Administration shuts down President's speech during student protest
Dylan Darling has a report in the RG, with some interesting quotes from Schill, and from the protestors:
Responding to an online post by Schill, the group offered its own opinions on free speech. "Free speech is the right of individuals and communities to express themselves without repression from the state," according to the group. "The students are not the state nor the repressors. Taking to the stage and using this platform was an act of free speech — not a violation of it."
The RG also posted the full list of the student group's 22 demands. These included demands that the university regulate free speech that these students disagree with, and that President Schill and the faculty say certain things:
4. Establish regulations on hate-speech and neo-Nazi groups that come to campus.
12. Schill, other high ranked leaders and faculty shall explicitly say the names of white supremacy and label white nationalism as hate speech and explicitly condemn it on campus.
I don't blame this on the students, I blame it on the faculty for failing to teach them the importance of logical consistency.
Therese Bottomly has a story in the Oregonian, with 43 rowdy comments so far.
It's a shame we didn't get to hear this speech. Page down for a link to text and video versions. It is full of good news for UO and, ironically, a lot about free speech initiatives. And I want to note that the administration let the students chant and speak – just not forever.
President Schill has sent out a message on this protest, here. A snippet:
The vast majority of our students understand the value of free speech. Indeed, they understand that the reason many of the protesters today are at our institution is because of the courageous speech of others throughout the years. They also understand that the right way to express their views is not to stop others from expressing their views. I am saddened that the protesters have displayed a disdain for one of the core values of our academy, our democracy, and our history.
I come away from today's experience with a new energy and determination to teach all of our students and members of the community the value of free speech and tolerance. In my speech, which I hope you will watch, I announced a year-long series of lectures and panels about the role of free speech and robust debate in the university. Each of our schools and colleges will participate and a wide variety of voices, interests, and views will be represented. It is only through more speech and robust debate that we will heal the differences in our society, not by shouting down those who seek to speak.
The Daily Emerald has a story here.
10/6/2017: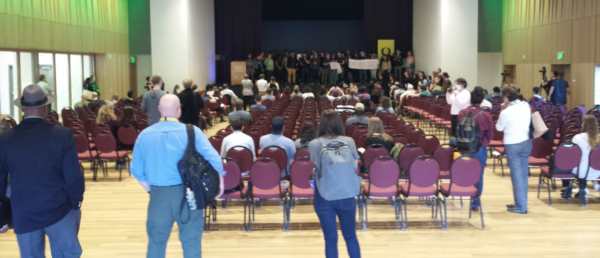 The first I heard about this protest was walking over to the speech, although clearly it was on the administration's radar. Before Schill started speaking a group of students, apparently including some non-UO students who had protested at the HECC meeting on tuition increases, took the stage. The mic was cut off, so they used a bullhorn to protest the theft of indigenous land and the corporatization of higher education. This went on for a few minutes, and then interim VP for Student Life Kevin Marbury told the students and crowd that "this event is suspended".
I didn't hear this clearly, but apparently Marbury also threatened to invoke the student conduct code if the demonstration continued. There was no mention of the UO Policies on Freedom of Inquiry and Free Speech and Academic Freedom. The former notes:
The University supports free speech with vigor, including the right of presenters to offer opinion, the right of the audience to hear what is presented, and the right of protesters to engage with speakers in order to challenge ideas, so long as the protest does not disrupt or stifle the free exchange of ideas. It is the responsibility of speakers, listeners and all members of our community to respect others and to promote a culture of mutual inquiry throughout the University community.
The Student Conduct Code says:
Standards Relative to Respect for Property and for Shared University Resources.  The following conduct violates standards of respect for property and shared University resources:
Engaging in behavior that could reasonably be foreseen to cause disruption of, obstruction of, or interference with the process of instruction, research, administration, student discipline, or any other service or activity provided or sponsored by the University;
The front 12 or so rows of guests (Board members, UO Foundation, etc.) then walked out, eventually followed by most of the faculty, staff, and administrators who constituted the bulk of those sitting in the back.
I was in the back with some administrators, at least one of whom thought that it was a mistake to end the event so quickly, which I agreed with. It was a relatively coherent and totally peaceful protest, and I think it would have been more effective to let the students talk, and then have Schill talk.
Maybe the administration believed that the students would never have stopped, or maybe they just didn't want the board members to listen to a student protest. Lots of reporters. Someone is interviewing Klinger, which should be amusing. As of about 11:20 the demonstration stopped, and as of 11:40 Marbury is still here, talking to students, along with a few others from Student Life. I don't se any other administrators.
I want to hear Pres Schill's speech. There's a recorded version posted here. For the record, we missed out on 19 excellences.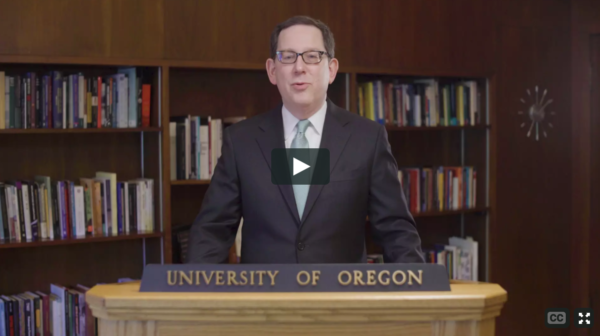 10/6/2017: RG warns UO that we may hear a lot of excellence from Pres Schill today
Saul Hubbard has some excellent news in the RG here.
10/4/2017: How many times will President Schill say "excellence" in Friday speech?
Submit your bets in the comments. The winner gets the respect of their peers, I'm all out of coffee cups. Around the O has your invitation here:
UO President Michael Schill will announce several new initiatives and investments during his state of the university address scheduled for 11 a.m. on Friday, Oct. 6, in the Erb Memorial Union ballroom.
During his talk, the president will also reiterate university priorities, talk about recent accomplishments and provide updates on some of the institution's efforts of the last two years.
Schill invited faculty, staff, students and the greater community to the address in his welcome letter to campus in September. Volunteer members of the advisory boards that assist the UO's schools and colleges also will attend.
The president has held similar all-campus gatherings each fall since joining the university in 2015.
Friday's address also will be livestreamed on the UO Channel and recorded for those who cannot attend in person.