Update: More Bach news in the EW from Bob Keefer, who has uncovered a 2016 firing of a Matthew Halls ally by Director Janelle McCoy, here:
… In an Aug. 11, 2016, email to Doug Blandy, then the UO's senior vice provost for academic affairs, McCoy wrote: "I believe I mentioned that Matthew and I had met before I canceled her contract. He now maintains that I misled him in that discussion and this is a personality difference between me and Linda." The subject line of the email was "Warning — Matthew may be calling."
Since the Halls firing in August, McCoy has referred most media questions to Tobin Klinger, the university's senior spokesman. When EW asked them both for comment on the Ackerman case, Klinger replied, "We wouldn't be able to comment on personnel matters." …
Really Klinger? And yet you comment on personnel matters all the time. Not to mention student matters. And reporters. And Senators. You just don't comment on them competently: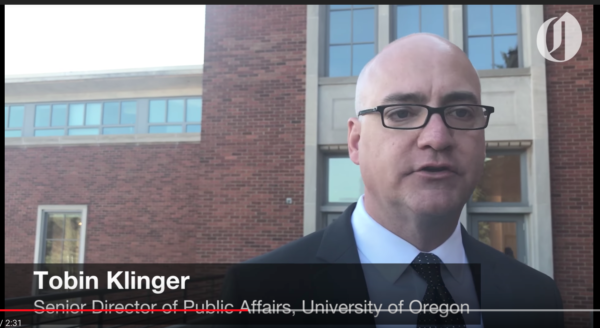 11/21/2017: The British press had a spot of fun mocking Americans' obsession with political correctness over the Oregon Bach Festival's decision to fire british conductor Matthew Halls for a joke about grits. Here's the Spectator from September:
… The conversation involved Mobley complaining that a performance he had recently given in England had a certain 'antebellum' feel to it. Halls apparently apologised on behalf of England and added, in a humorous deep South accent: 'Do you want some grits?' The stupid woman heard this and later asked Mobley if he felt he had been the victim of a racist slight. The astonished singer replied, of course not, it was harmless joke between friends. I am not sure what level on the official SJW Cretin Scale you would need to be to find such a comment racist. Fairly high up, I think. Anyway, learning of his friend's peremptory sacking, Mobley was furious, insisting that Halls had been victimised. Mobley was not invited to give his views of the matter to the university, by the way. But Oregon University [sic] still refuses to say why Halls was sacked, on one occasion suggesting that his removal may or may not have been connected to this ludicrous allegation of racism, and on a later occasion (anonymously) saying it was nothing to do with it. …
But it turns out the British are not immune from PC fever. Here's The Telegraph:
Royal Academy of Music sacks lecturer over student guide that referred to string players as 'pond life' and violinists as 'gypos'
Dr Francesca Carpos was dismissed last week from her post with the prestigious Royal Academy of Music after her note on how to earn a "good reputation" backfired spectacularly.
The note emailed to 800 students last week contained a glossary of terms that included a reference to violinists as "gypos", a derogatory term for gypsies. It also advised students to "be discreet" and that "what's on tour stays on tour".
Dr Carpos, 58, a professional bassoon player, has been left shell-shocked by her sacking and, according to friends, is considering suing the Royal Academy of Music, whose patron is the Queen and whose president is the Duchess of Gloucester and vice president is Sir Elton John, a former pupil.