Our Johnson Hall overlords have been requiring this un-scientific training for all faculty who want to serve on search committees. I did it – not that there was a choice – and I got the follow-up survey today from our Vice Provost of Equity & Inclusion. See email below.
If you got the survey request too, I encourage you to read Psychology Professor Sanjay Srivastava's response before you fill it out. Srivastava is #22 on the list of most cited UO faculty and he knows bullshit when he sees it. Here's his take:
I had to attend a mandatory implicit bias workshop to be on a search committee. They sent me a survey about my experience. Here are some of my answers pic.twitter.com/ZJVPHdnOOC

— Sanjay Srivastava (@hardsci) December 15, 2017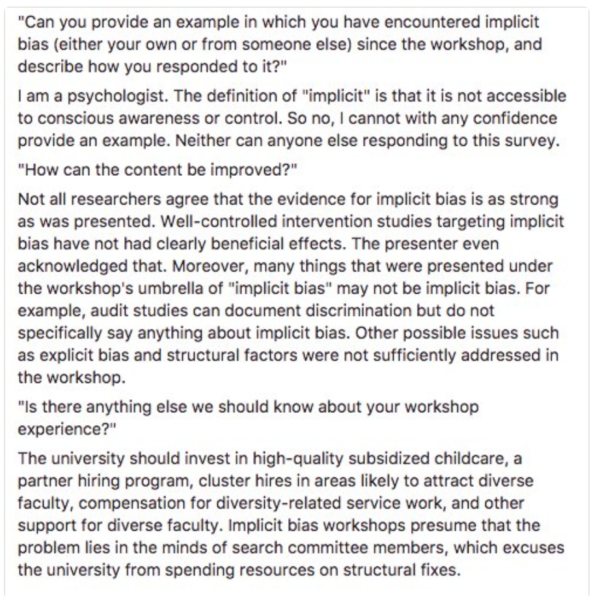 Here's the email from VPEI:
From: The Division of Equity and Inclusion <[email protected]>
Subject: Fall 2017 Understanding Implicit Bias Workshop Feedback
Date: December 14, 2017 at 10:53:51 AM PST
To: William Harbaugh <[email protected]>
Reply-To: The Division of Equity and Inclusion <[email protected]>
Thank you for attending an "Understanding and Addressing Implicit Bias" workshop this fall. You are receiving this message based on our registration records. We hope to capture the opinions of the campus community on this workshop and greatly appreciate your time in answering a few questions at the link below. We anticipate the survey will take 5-10 minutes to complete. Your response by January 12, 2018 is greatly appreciated.
The survey is confidential, responses will be looked at in an aggregate way with no link between response and responder.
The Division of Equity and Inclusion