5/7/2018 update: Because the best response to speech you hate is more speech. The Daily Emerald has the story here. The website for the contest is here:
The University of Oregon Libraries invites UO students to participate in a juried art exhibition that will showcase creative expressions of the culture we aspire to have.
Deadline to submit work: August 10, 2018
The exhibit will take place in Knight Library, October 15, 2018 – March 15, 2019.
This exhibit is part of the continuing dialogue of how we can strive for an inclusive environment while preserving evidence of a past which speaks to the contrary. Art can be a powerful force for empowerment and change.
THEME
For this exhibit, we are seeking original works of art that express an inclusive, respectful culture that counters the world view depicted in the Knight Library murals. We invite participants to contribute works of art that reflect on issues of identity, gender and race equality, age, sexual orientation, ability, social justice, and privilege. …
What a great idea. $1350 in prize money.
12/7/2017: Students want to remove insipid, racist UO Mission Statement from library wall
The Daily Emerald has the story here:

The change.org petition is here. It focuses on the part about "… conservation and betterment … of our racial heritage…", which at the time was the language of eugenics, racist immigration policies, and forced sterilization –  the death camps came soon after. Personally, I'm in favor of leaving the thing up as a warning to our students and the future, but only after giving UO's History and English faculty a crack at it with a ladder and a fat red marker. Here's my attempt: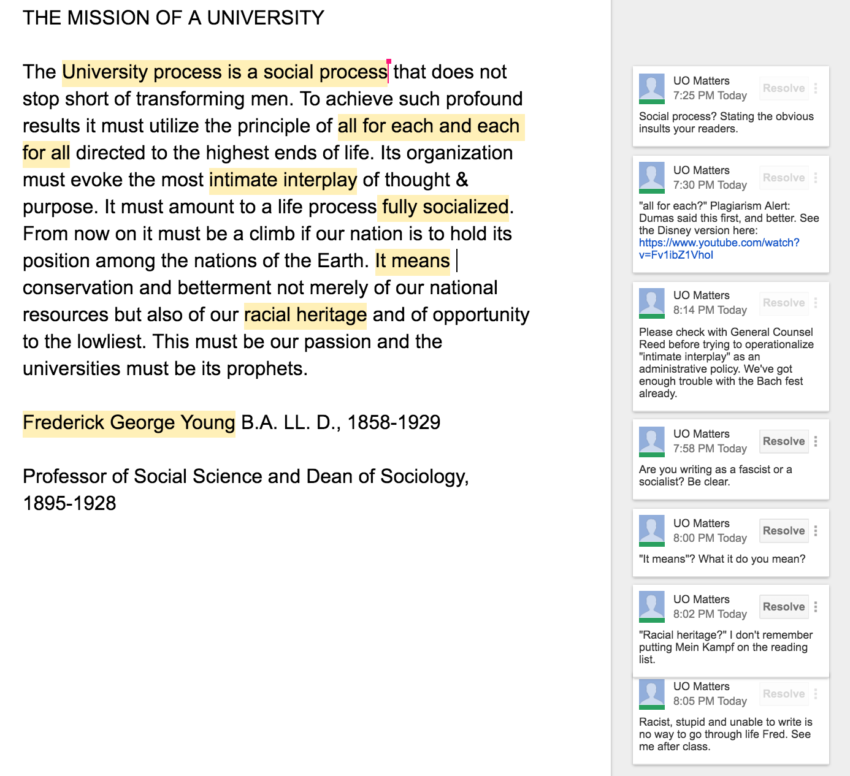 Update: More about the history of Sociology at UO, none of it unkind to Prof Young, here.