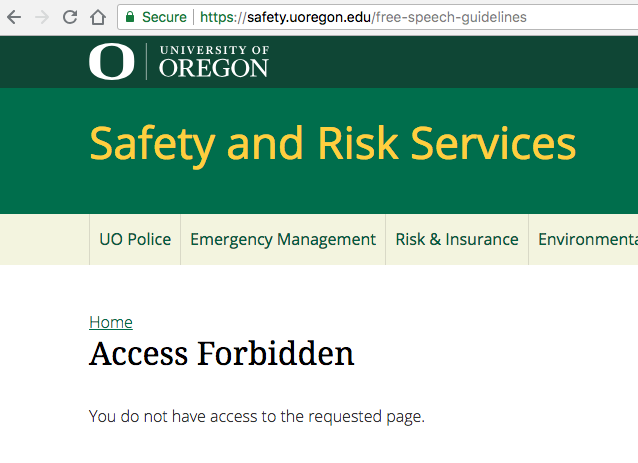 Fortunately we've got the Internet Archive:
Free Speech Guidelines
Rights, rules, responsibilities, and resources
At the University of Oregon, established guidelines protect the right to free speech, while ensuring that opposing views may also be expressed. The basic guideline says that whenever one person's or one group's activities prevent another's sanctioned activity from taking place, rights are being violated. The university has the responsibility and authority to protect those rights. The university strives to balance the right to dissent with the right to be heard, the right to speak one's mind with the right to listen.
Printed Material
Most building walls and campus fixtures, as well as most bulletin boards, are regulated. Building or department operators may determine what content may be approved (i.e., material related to a particular program, or published by university groups for a university audience). Unapproved or unrelated material may be removed.
Material may not contain "true" threats of violence.
Demonstrations
May not interfere with scheduled university activities (such as classes or events)
May not block doors, hallways, stairways, fire exits, fire lanes, or public rights of way including streets, sidewalks, etc.
May not pose a threat to health and safety
May not result in damage, loss, theft or vandalism of property
May not exceed safe occupancy capacity in a room (Oregon Fire Code, Sections 104.1, 107.5, 107.6)
May not interfere with scheduled speakers' presentations or response to questions
Sound
No amplified sound on campus between 8 a.m.-6 p.m.; no amplified sound indoors (megaphones and other sound-amplifying devices are not allowed inside)
Sound amplified by event schedulers is allowed in athletics and entertainment venues
Requests for amplified sound at the EMU Amphitheater must be submitted to Scheduling and Event Services
Please be considerate of classes and other events when demonstrating outdoors
Signs
May not have attached sticks inside buildings (safety hazard)
May not make direct, "true" threats of violence
May be removed if posted or left in an area that does not allow unregulated postings
Graffiti
Any marking, including chalking, left on campus buildings or surfaces (including sidewalks and streets) may be removed, consistent with campus maintenance standards and practices.
Spaces
To enable the free sharing of ideas on campus, the UO has rules and procedures for reserving space or other facilities.
The person or group reserving the facility is entitled to determine how, within university guidelines, that facility is used.
When campus activities conflict with one another, university officials have the authority to request those involved in one activity to stop, move, or change their behavior, so that the other activity can continue.
Violations of the standards above may result in university action to stop the behavior, as well as disciplinary consequences for students or employees, and possible legal action.
Visitors to the University of Oregon campus have the responsibility to obey federal and state laws, as well as University of Oregon rules and policies, and may be cited for trespass or subject to prosecution for any illegal behavior committed on campus. Faculty and staff members and students may face disciplinary sanctions imposed by the university if they ignore these standards of behavior. Students are subject to the requirements of the Student Conduct Code, and members of the faculty and staff are subjects to UO policies governing Proscribed Conduct, as well as the university's policies on progressive discipline.