10/10/2018: Reposted for the historical record.
When you're running down our First Amendment, you're walking on the fightin side of me:
4/6/2016 update: The day Merle Haggard died? Have our administrators no sense of patriotism? Or irony? More on the troubling response from the UO Foundation CIO here.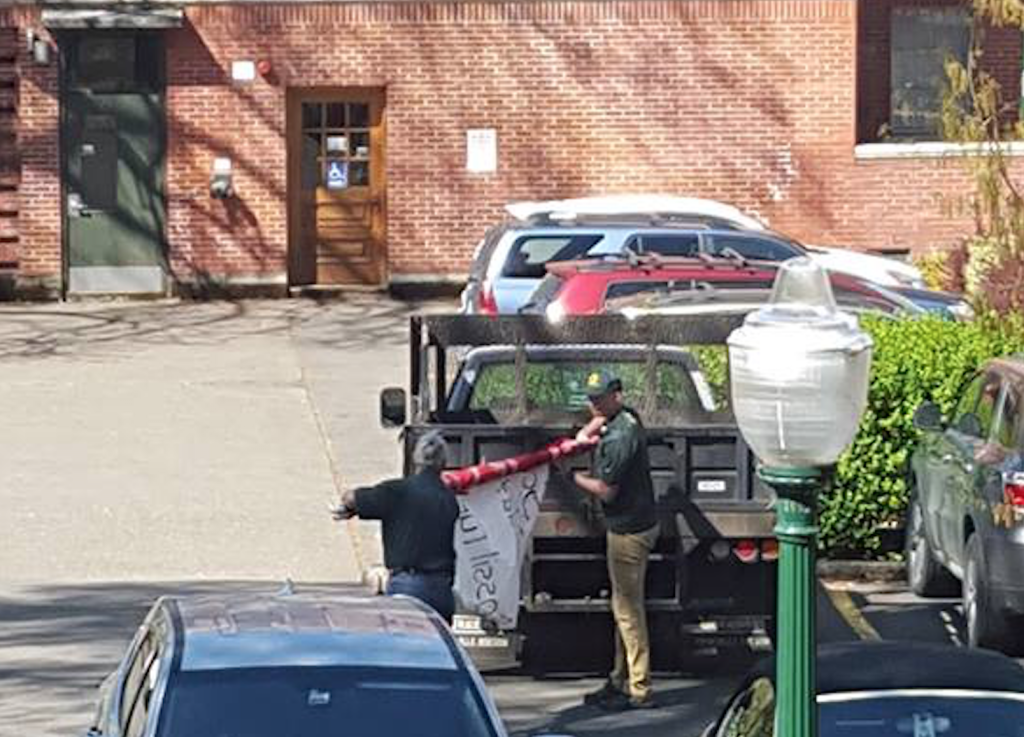 3/29/2016 update: Press Conference on the Johnson Hall steps, Facebook event page here.
Our students have been conducting a quiet CO2 Divestment sit-in the Johnson Hall lobby for months. The administration has banned their banner from the bush outside JH, and now the students are apparently going to reassert their free-speech rights.
Do they have the right to put up the banner? I'm no lawyer, but here's some UO history. Back in 2010, former UO GC Randy Geller wanted to change UO policy to implement "Free Speech Zones", outside of which First Amendment rights would be tightly controlled. This was in reaction to the Pacifica Forum incidents. Geller's policy starts on page 13 here. It's funnier than Animal Farm.
Free speech is indispensable, but:

UO will restrict Free Speech, except inside the Free Speech Zones, and even then you'll need insurance and maybe a reservation: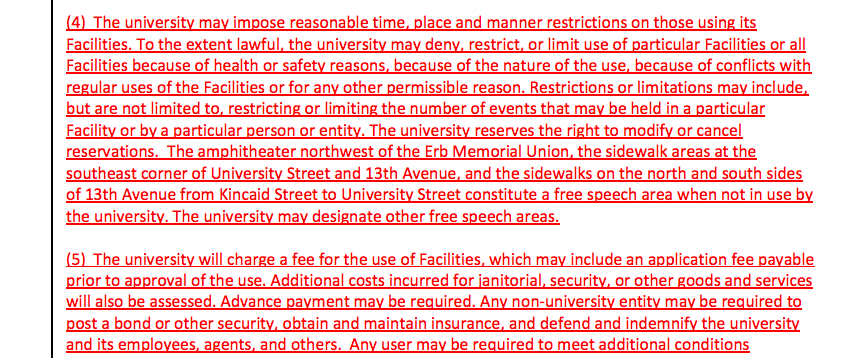 No unapproved banners outside free speech zones – and don't even think about posting the video on the internets:

Oh yeah, no camping or chalk either. Chalk? What's that about?
All of Geller's silly language above was rejected by the UO Senate and it is not UO policy. 
The Facilities Use Policy that was adopted instead is at http://policies.uoregon.edu/policy/by/1/04-facilities/facilities-scheduling. It turned Geller's policy on its ass, by limiting the areas UO can control to buildings and "scheduled outdoor spaces" i.e. the EMU amphitheater. The Senate rejected all of Geller's anti-free speech, anti-banner, and anti-chalk language.
The Facilities Use policy is paired with the powerful Free Speech and Inquiry policy, at http://policies.uoregon.edu/policy/by/1/01-administration-and-governance/freedom-inquiry-and-free-speech:
Free speech is central to the academic mission and is the central tenet of a free and democratic society. The University encourages and supports open, vigorous, and challenging debate across the full spectrum of human issues as they present themselves to this community. Further, as a public institution, the University will sustain a higher and more open standard for freedom of inquiry and free speech than may be expected or preferred in private settings.
How much clearer could this be? It's not like the CO2 Divestment students are doing anything reprehensible, like using chalk.
3/13/2016: UO bans students' fossil fuel divestment banner from a bush?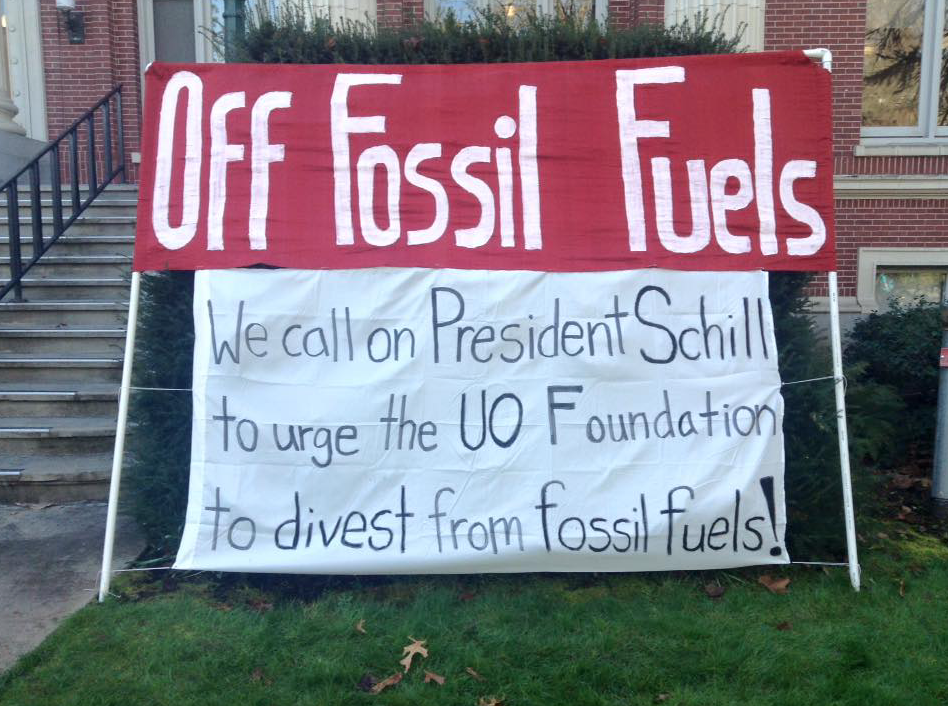 Those administrators who don't read the Oregon Commentator's history of Dave Frohnmayer's mistakes in the 2000 WRC debacle are condemned to make the opposite mistakes:
Signs and banners littered Johnson Hall in the weeks prior to the demonstration. The signs exhorted University President Dave Frohnmayer to sign a letter pledging for the University to join the Worker Rights Consortium (WRC), an independent, non-profit organization which plans to monitor the working conditions in overseas factories.
Erik Jung, a UO biology major and member of the Fossil Fuel Divestment Campaign, sends in the report below regarding the current UO administration's attempt to remove their protest banner from a bush outside the Johnson Hall administration building. An unnamed administrator is claiming that this banner violates an obscure policy prohibiting signs on "structural elements" of a building.
My hope is that UO's General Counsel will soon explain that, given former UO President Lariviere's Free Speech Policy, the UO Senate's hard won Academic Freedom Policy, the US Constitution's First Amendment, the fact that UO happily allows the Duck athletic enterprise to use academic buildings for advertisements, and the fact that the UO Trustees generally come from the sustainable forest products industry rather than the fossil fuel extraction business, the sign is not coming down.
Erik Jung:
Our group of about 20 students in the U of O Fossil Fuel Divestment campaign have been siting-in in Johnson Hall for the past 4 weeks.  We have a banner that says "Off Fossil Fuel" and then calls on president Schill to join students and faculty in supporting divestment by the U of O Foundation. It leans against a bush in the grass outside Johnson during the buildings operating hours. Three days ago we were informed that we can't keep the banner there anymore because it violates university policy, and that campus operations will remove the banner if we bring it back Monday.
The specific rule that they say we are violating is bullet 4 under the posters and fliers section of the EMU's advertising policy: "No signs are permitted on windows, wall, doors, pillars, or other structural elements of the EMU".
When we met with the official enforcing the policy he said that "the EMU" could be extrapolated to mean the rest of the buildings on campus and that "structural elements" could be extrapolated to include the bush that the sign is leaning against. We than asked if we were to attach additional PVC pipes to the sign horizontally so that it stands up on its own in the grass outside Johnson if that would be a violation of the policy. He replied that "The PVC pipes would be considered part of the building's foundation." At this point it became clear to us that he had orders to get rid of the sign and was making up reasons to do so. We had been expecting that the administration would try to find some excuse to get rid of our banner and it seemed like this was it.
I spoke with a former lawyer and current professor Thursday about the university's authority to limit free speech outside of Johnson Hall and he suggested that their grounds for doing so in our case were very shaky. First of all, the banner is not impeding the daily functions of the building and is only present during the operating hours of the building. Secondly, people can avert their eyes if they choose. Thirdly it is outside of an administrative building on a public campus which should have the strongest protections for free speech. When considered with the fact that the policy cited arguably doesn't even apply to our banner we believe that they have no right to remove it.
What makes the attempt to remove our banner seem like an even more insincere attempt by the administration to get rid of speech they don't like is our previous interactions with president Schill regarding his potential support for divestment. In his response to our request he argues that his decision not to publicly condemn the foundations millions of dollars in fossil fuel investments is rooted in his deep commitment to "academic freedom".
He writes: "A university encompasses the viewpoints of many people, all of which need to be protected and most of which need to be accorded respect. This underlies our most fundamental principle-academic freedom. The university, through its president, should focus its speech on matters related to teaching, research, and operation of the university, not on those not central to our core academic purpose, no matter how important those matters are."
So the administration's commitment to freedom of speech ensures that the university president remain neutral on social and political issues, no matter how important those issues are, because publicly opposing fossil fuel investments might alienate certain viewpoints on campus (i.e. climate deniers).
However freedom of speech on campus does not extend so far as to protect the rights of student protestors to lean a sign against a bush during the operating hours of Johnson Hall. In both cases the administration's position has been designed to propagate business as usual for them, and shutdown the voices of students
Whether it's through incorrectly applied EMU advertising policy, or claiming a deep commitment to neutrality and academic freedom the administration tries to find excuses for the dismissal or removal of ideas that challenge their positions.
But if the sign was promoting the Duck athletic enterprise instead of a political protest?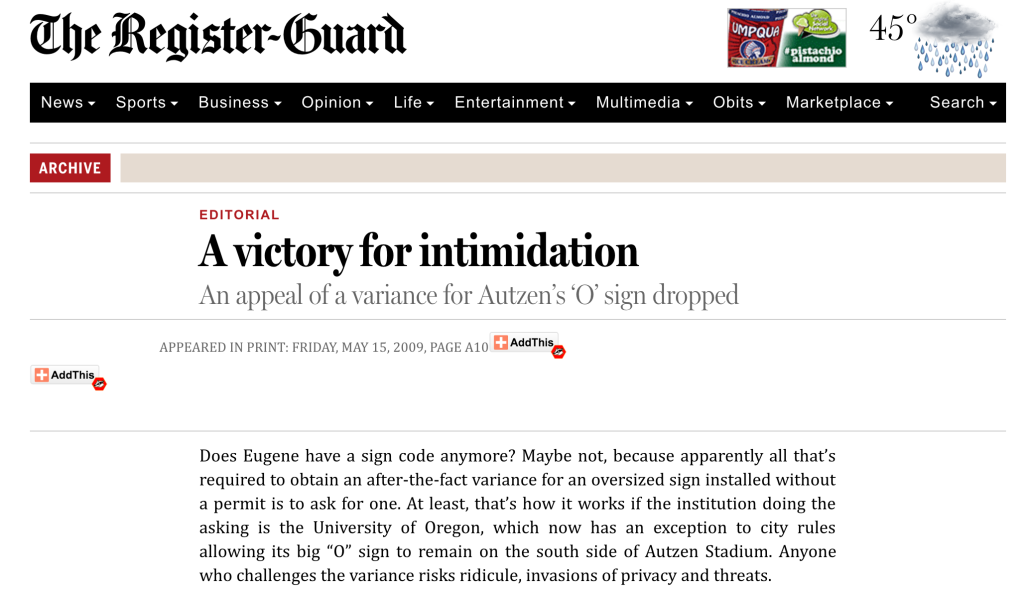 3/31/2016 update: KEZI on CO2 Divestment rally: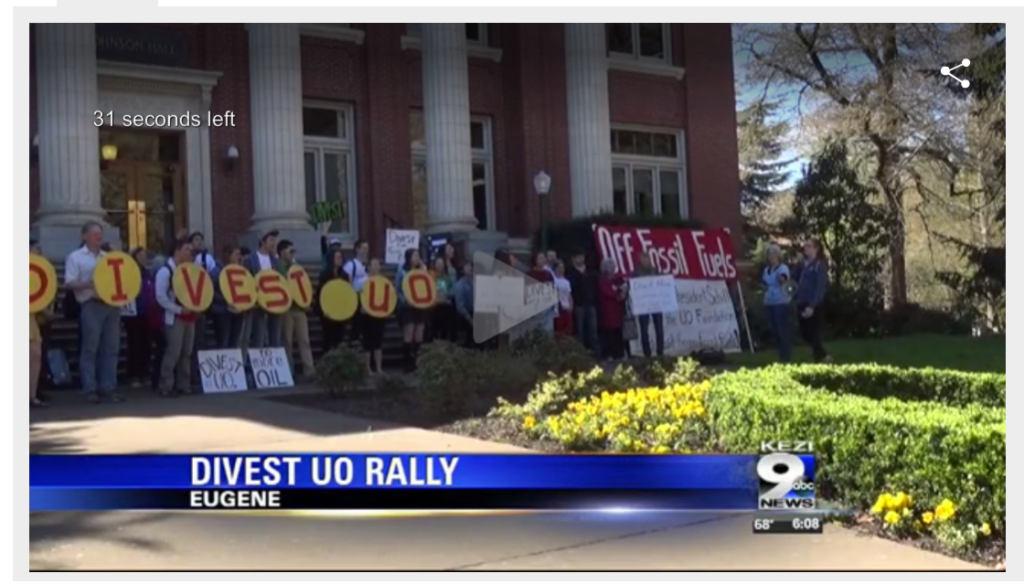 3/30/2016 update: University divests from coal and tar sands.
That would be the University of Edinburgh:
In 2015 the university signalled its intention to use its investments and procurement leverage to support the transition to a low carbon economy. This included selling stocks worth £2.5 million in order to divest from coal and tar sands companies and committing to exploring further means to reduce the carbon footprint of our investments. Unlike others who added conditions and long timescales to similar decisions, we divested within months. There were no unrealistic promises.
Since then, an external review of our investments shows that exposure to fossil fuels in the university's direct investments has halved since 2013, and fallen by almost 90 per cent since 2008. We also maintain an exclusion list based on the well-recognised Fossil Fuel Index for coal and tar sands.
The Scottish investment managers at Adam Smith's university – not exactly a radical group – think that CO2 divestment is the prudent choice.  What's it going to take for the UO Foundation to do the same?