Update: No quid pro quo, move it along people. New France 24 report here, with quotes from what appears to be a confidential court transcript:
Asked what role Nike played, Coe [employed by Nike] said: "I don't know. Very little, I would say."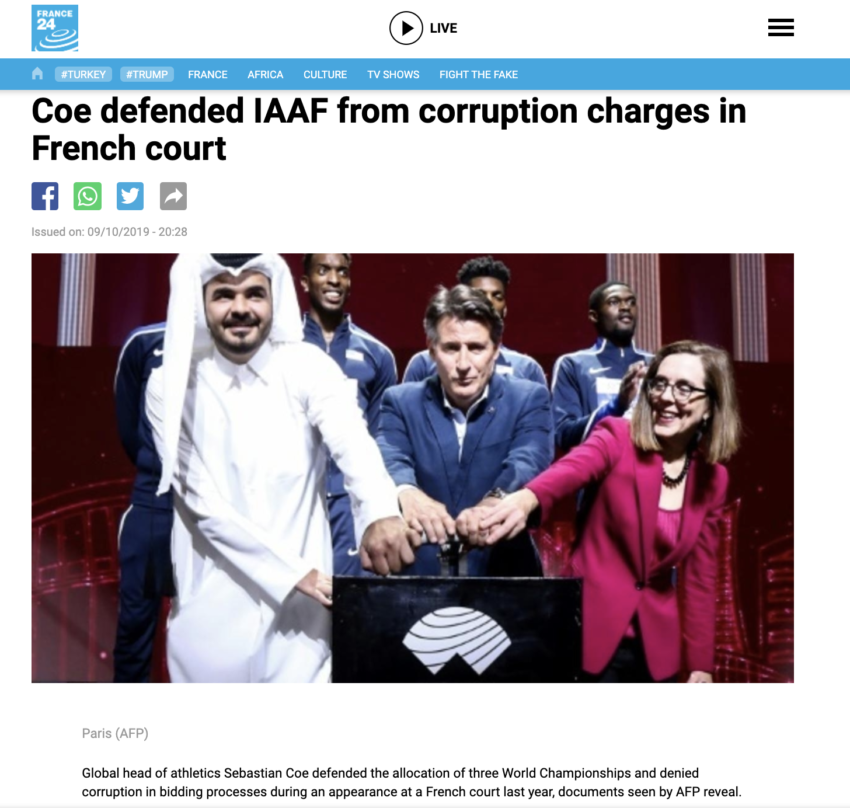 More Coe from the transcript:
He said he had supported the Eugene bid, but insisted he knew nothing of any promises the American bid might have made to the IAAF or Lamine Diack.
Really? Here's video of Paul Weinhold and then Sec of State Kate Brown offering the full faith and credit of the UO Foundation's $1B endowment, and $40M in Oregon funds, here. Coe was at the meeting.
Brown's is term-limited as Governor, wants to be a Senator, and needs more of Phil Knight's money to finance a credible run.
10AM 10/10/2019, at the Student Rec Center. She's still $20M short on the $40M Kitzhaber promised. Apparently this invitation was not widely shared with reporters, so I thought I'd post it:
*** MEDIA ADVISORY ***
Oregon Hosts Kickoff Event for World Athletics Championships — Coming to the U.S. for the First Time Ever in August 2021
Launch event held at the University of Oregon will feature Governor Brown and Track & Field World Champions  from present and past

WHAT
Oregon21, Travel Oregon and the University of Oregon are teaming up to host the kickoff event for the 2021 World Athletics Championships on Oct. 10, 2019, at the Student Recreation Center on the University of Oregon campus. The 18th edition of the World Athletics Championships will come to Oregon Aug. 6-15, 2021. The kickoff will welcome back athletes and representatives from USA Track & Field just returning from this year's championships in Doha, Qatar. Governor Kate Brown will welcome guests along with other regional, national, and international figures in sports, government and tourism who will answer questions about how they are preparing for this massive, unmissable event. Hayward Field at the University of Oregon will host nearly 2,000 participants with more than 200 countries participating.
The World Athletics Championships will be the largest sporting event in the world in 2021, and this is the first time it has taken place in the United States.
WHO
Past and present Track & Field World Champions
Governor Kate Brown, State of Oregon
Mayor Lucy Vinis, Eugene, Ore.
President Michael Schill, University of Oregon
Local area youth track & field athletes
VISUALS/NEWS
Recent Track & Field World Champions donning their medals.
Governor Kate Brown welcoming USATF back to the U.S. following competition in Doha, Qatar
Announcement of location for men's and women's marathons 
WHEN
10 a.m. -11:30 a.m.
Thursday, October 10, 2019
10 a.m.-10:35 a.m.                 Main event
10:35 a.m.-11 a.m.                 Breakout sessions (1:1 interviews available)
11 a.m.                                    Rooftop photo opportunity of Hayward Field
WHERE
University of Oregon Student Recreation Center
1320 E. 15th Avenue
Eugene, OR
MEDIA CONTACTS
Molly Ishkanian
Weinstein PR for Oregon21
Cell: (503) 277-8370
Deborah Pleva
Weinstein PR for Oregon21
Cell: (503) 250-4750