This is good news – so good that I'll forgive Around the O for this puff piece, which omits any mention of costs:
The University of Oregon's entering class for fall 2019 is the most diverse and academically prepared in the history of the university, and there are a record number of them.
"This is the equivalent of winning a national championship for us," said Roger Thompson, vice president for student services and enrollment management. "Conventional wisdom says that universities can't grow without sacrificing some of the qualities we value in our students, but the UO tends not to abide by convention. We broke records across the board at an institution that's been around since 1876. It's truly remarkable."
Preliminary figures indicate the first day of classes brought 4,558 first-year students to campus, beating the previous record by more than 300 students and representing growth of 8.5 percent over last year.
This year marks the ninth in a row that the UO has set a new record for the diversity of its entering class from a race and ethnicity standpoint. The number of first-year students identifying as domestic minorities is 1,573, up from 1,518 in 2018.
The freshman class also established several records for academic achievements:
Highest high school grade point average of 3.65, compared to 3.59 last year and the previous UO record of 3.61.
Highest SAT scores ever recorded at the UO, with an average of 1200, compared to last year's 1191.
Most college credits earned, bringing in 62,209 credits from Advanced Placement, International Baccalaureate or dual credit programs. This represents 54 percent of all first-year students entering with pre-earned credits.
"Everyone on campus shares the credit for this success," Thompson said. "Whether you came to a scholarship dinner, served food at Duck Days, or simply helped a visitor find the EMU, you had a hand in making the UO feel like home for prospective students."
So what is the cost?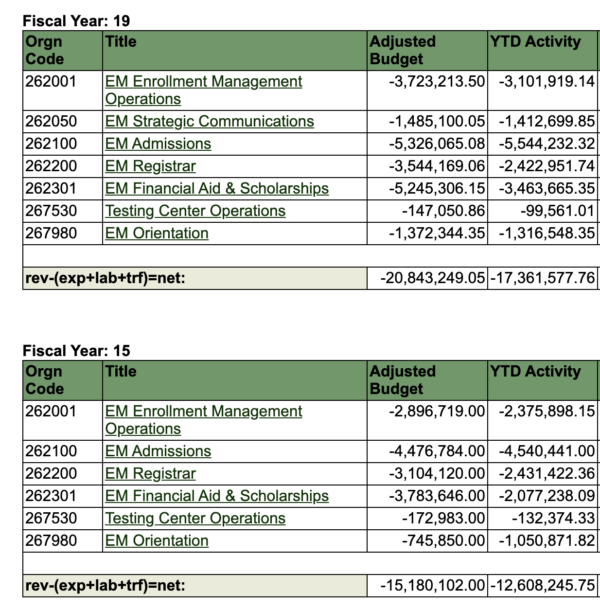 Assuming this is the typical mix of in and out of state students, we're spending $5M more per year to bring in about 300 additional students per year, averaging about $20K each in net tuition, or ~$6M a year gross. Let's call it $1M net, before we spend a dime on teaching them anything.
And this is the first year these investments have paid off. Thompson needs to repeat this performance, without spending any more money. He's got a tough job.