The email invite to a series of dinners on Love, etc.:
From: VP for Equity and Inclusion <[email protected]>
Date: January 17, 2020
Cc: VP for Equity and Inclusion <[email protected]>
Subject: Would you like to have a conversation over dinner?: Response Requested by January 31, 2020
~Message sent on behalf of Vice President Yvette Alex-Assensoh~
Dear [redacted]:
On behalf of the Division of Equity and Inclusion, I am writing to invite you to join me and about 10 other guests at our LACE Dinners, which are one-topic conversations that ignite deep conversation and connection.
LACE Dinners will be held monthly and will focus conversation deeply around the topic of Love in February, Authenticity in March, Courage in April and Empathy in May. Our goal is to convene an intimate group of faculty, staff and students who don't normally work together.
Since very few of us are able to accept all of the good invitations that come our way, we are asking you to kindly complete the Qualtrics by January 31, 2020 so that you can let us know of your availability and preferences.
Based on your feedback, we will be in touch with next steps.
Thank you most sincerely, and best wishes to you for a wonderful and joy-filled New Year,
Yvette.
Her Authentic, Courageous and Empathic website: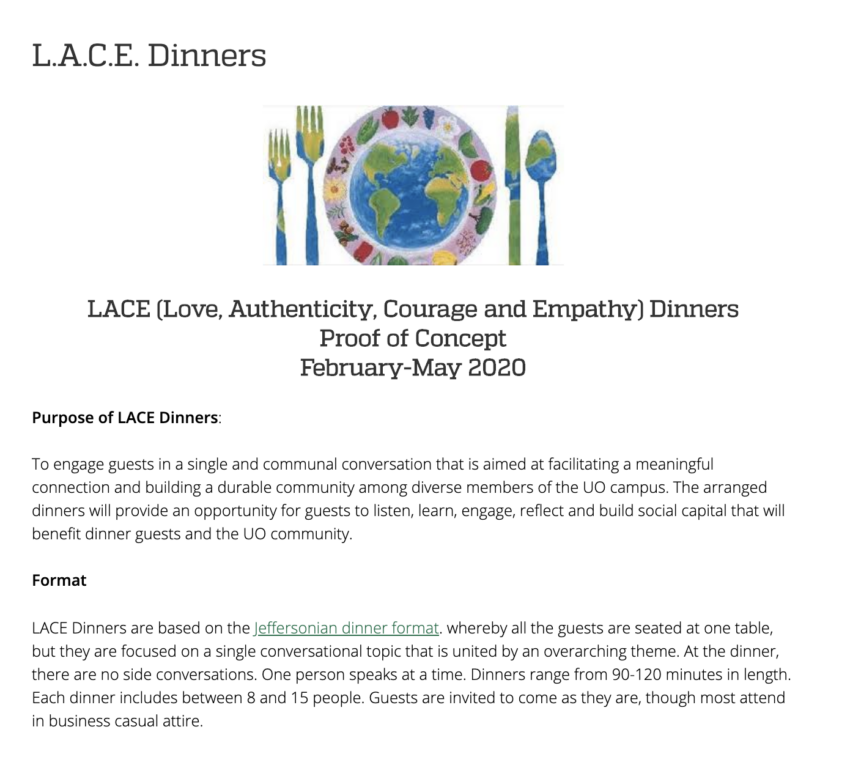 The budget: If redirected, enough to keep ~80 NTTF's employed, teaching, and fed though probably not in the back room at Marche: