MMXX-X live-blog. My continuing series on Budget Buckets is here. If you don't like my blog read the official Union tweets or Facebook page. Usual disclaimer: This is my opinion and interpretation of what the bargainers are saying, thinking, or should be saying or thinking. Nothing is a quote unless in quotes.
Cecil: How about canceling the next 3 weeks of bargaining? Matella: OK, we can talk about on-line remote sessions too.
Cecil, meanwhile, we have:
Article 4: Unit Level policies. Union counterproposal
Cecil: We've backed off the requirement that Deans have to come to a department meeting to explain their changes in department policies, by adding an out if 2/3 of faculty don't want to hear the dean's speech, or if the changes are not substantive. Doesn't need to be a special meeting, just the next regular department meeting.
Rosiek: UO has weak faculty governance, need to improve it by making it easy for faculty to call admins to account.
Article 9, Union Rights: Admin counter
Peter Fehrs from admin side presents: We've struck the fine for getting the union late lists of faculty hires, and added a clause weakening the union's right to know who is in the bargaining unit. Weird.
Cecil: Legislation is pretty clear that employers have to share info on new hires with the union, and share the info with the union. [The administration doesn't want the union to have this on a timely basis, to make it harder for the union to sign up new members, and they're being pretty stubborn arguing that they don't need to keep up to date records.]
Matella: We know we've beeen really bad about doing this in the past. We promise to do better.
Cecil: Your mistakes cost us time fixing them for you, and cost us money paying per-caps. Hence the late fee we propose.
Matella: We don't like the idea of you imposing financial penalties on us. It's a matter of principle. And money.
Cecil: You want us to spend the union's money and time fixing your mistakes, with no consequences for you. Do you think we don't understand incentives? Fehrs: Would you rather we stop collecting dues for you?
Cecil: We just learned that you've been paying someone fall and winter when they weren't even working. Can't you just fix your systems?
Matella: We're all doing a lot of work getting this right. Cecil: Why did it take an act of the legislature to get you to make any fixes?
Art 39: Acceptable Use. Admin "re-issue" based on constructive talks with Leo Howell at last session:
Cecil: We'll take a look at it and get back to you.
Art 31: Tenure Transition, Admin Counter:
These are the administration's proposals on changing the current Tenure Reduction Program to a Tenure Transition Program. Makes it a three year gradual transition. Union proposed a buy-out program – leave the TRP early, get a buy-out payment. Admin accepts this in principal, but is much weaker than the union's. Give the *admin* the right to buy out faculty, and cuts the amount of the buy-out.
Old TRP is now called the Tenure Relinquishment Program. No new enrollment in it after July 1, 2022. Faculty can choose one or the other.
Cecil: Why can't faculty make the call on buy-out, rather than the admins?
Matella: We can't pay you for work you don't do.
Cecil: Faculty are giving up something of value – tenure, you're paying them to give it up. That's a legal contract.
Matella gets confused. This is basic Paper Chase contract stuff.
Matella: I tried to write it so faculty could choose, but so it would sound like admin did.
Cecil: Sure you did. But the language here is not binding.
[I thought the UO pretended that Gottfredson voluntarily left for that $940K, not that he was fired and got it as compensation. Now they're claiming that was illegal?]
Matella: Legal concerns aside, Administration is interested in some way of letting faculty buy out.
Cecil: Thanks, we'll look at this language.
Matella: We don't want to give faculty on TTP or TRP sabbaticals. [Although our board of trustees did right a special sweetheart sabbatical/retirement deal for Law Professor Michael Schill].
Green: Why is the administration intent on devaluing the work that faculty who've spent their entire professional lives here, with pay far below comparators, by being petty in their last years?
Matella: Sorry, not at all my intent. Hope we can work things out.
Epstein: The old TRP gave TTF an incentive to retire, so UO could give jobs to new PhDs. This weakens that incentive. Why?
Matella: Got it.
Lots more back and forth, the union will be back with a counter.
1:35: Cecil calls for a caucus.
more discussion
2:00: Session ends early. 
Prelude from this morning:
I have no idea what will happen. I'll try and live-blog. Presumably Matella will start off by explaining that all the new IMG media contract money will be going for coaches salaries and the new $12M Autzen video screen. UO won't say how much the contract will bring in, our how the money will be shared, but I've got PR requests in. Meanwhile, our Administration is hiding lots of zeros: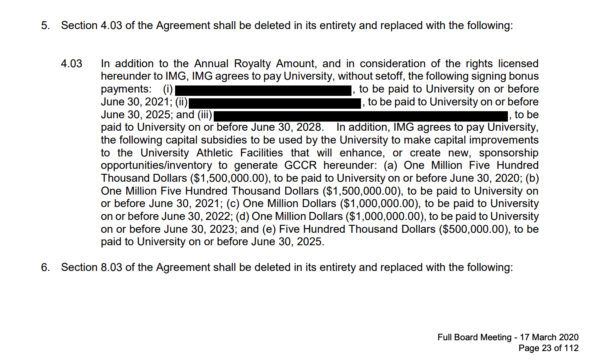 From what I can tell at the moment, after the Duck Dept of Athletics steps on it, the academic side's leftover slice of licensing revenue goes directly to VP Kyle Henley, for "strategic communications":