That would, of course, be the OSU Board. Here at UO, it took a public records request to Board Secretary Angela Wilhelms to get a copy of their self-assessment (they think they're doing a heck of a job) and I've never heard of them having a work plan.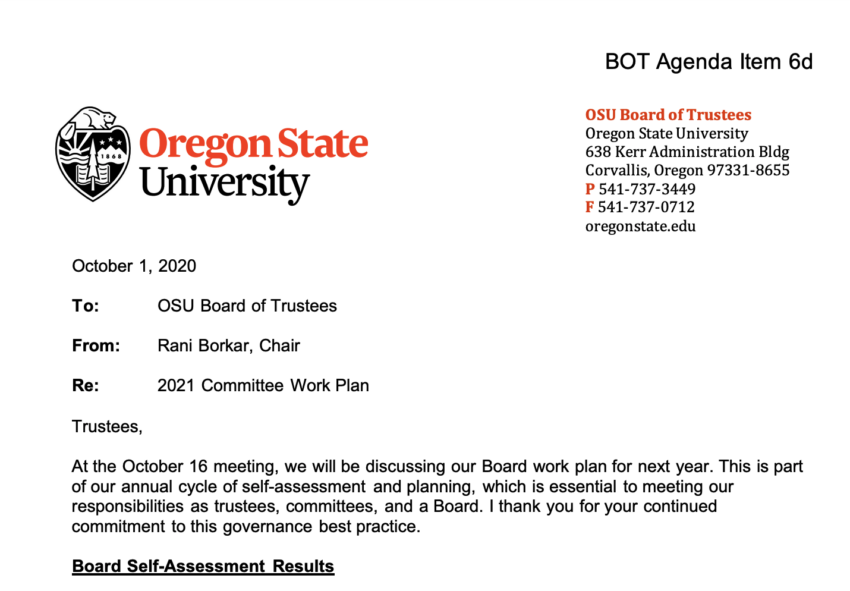 Full document here. So what about the UO Trustees? Let's find out:
From: Bill Harbaugh <wtharbaugh@gmail.com>
Subject: UO Board work plan and emails
Date: October 20, 2020
To: Lisa Thornton <pubrec@uoregon.edu>
Cc: Angela Wilhelms <wilhelms@uoregon.edu>

Dear Ms Thornton:
This is a public records request for
1) An electronic copy of the UO Board of Trustees current and most recent preceding work plans, or other similar documents. Specifically, I'm looking for documents similar to this, for the OSU Board: https://leadership.oregonstate.edu/sites/leadership.oregonstate.edu/files/bot_6d_2021_bot_work_plan.pdf
2) Copies of emails and attachments sent from the Board Secretary's office to the Trustees giving updates on UO and on Board business, from Jan 1 2019 to the present. Specifically, I'm looking for general emails sent to the entire board or to an entire committee(s), not emails to or from individual trustees.
I ask for a fee waiver on the grounds of public interest in the function of the board of a public university.
I'm ccing Board Secretary Angela Wilhelms, as she should have these at hand and be able to provide them without your office's usual fees and delays.
Thanks,
Bill Harbaugh