There's no mystery to why a coach like Dana Altman wants to make sure "his" players are not doing the wrong thing at the wrong time and place.
Any restrictions on their un-paid athletes are acceptable to the coaches, so long as they keep getting their millions in pay and bonuses: From John Wilner in the Mercury:
"SafeZone uses ultra-wideband technology to accurately calculate the proximity between individuals by distance and length of time in order to perform quick and accurate contact tracing when someone is symptomatic or tests positive for COVID-19.

"The contact data is logged in a secure system and can be accessed to contact trace in the event of an infection.

"The SafeTags can also be used to enforce physical distancing regulations by flashing a red warning light when people are within six feet of each other."
12/10/2014: Coach Dana Altman thinks National Anthem is the wrong time to protest racism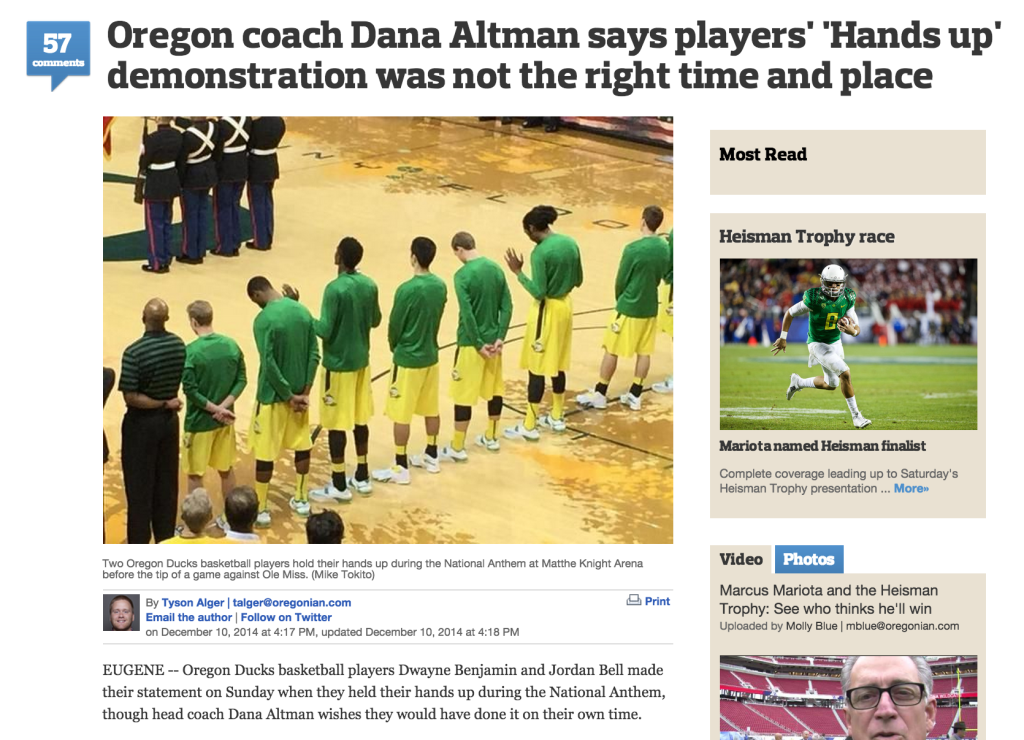 Our fool of a basketball coach thinks he owns those players. They shouldn't protest when he's trying to collect his $2M paycheck, off their free labor.
Fortunately we've still got people who can hear someone sing "O'er the land of the free, and the home of the brave" and actually understand what it means.
Want to ask the players what they think? No. Duck AD Rob Mullens and his PR flack Craig Pintens have a rule about players talking to reporters without permission, and "Benjamin and Bell have not been made available to comment."