2/15/2021 repost of the 2013 Snowpocalypse – a Duck PR scheme gone bad:
Members of the Campus Community:
On Friday, a short video was posted to YouTube depicting an incident in which several individuals inappropriately interfered with two vehicles attempting to drive through a snowball fight on our campus.
The UO Police Department responded to the situation quickly, and in concert with the Office of the Dean of Students and other campus officials began an immediate investigation of the incident. We have identified several of the individuals involved as UO students and are determining appropriate disciplinary actions to be taken in accordance with the university's established policies and protocols. In cases where those involved are student-athletes, additional disciplinary action is being carried out by the Athletics Department.
Over the weekend, the UO Police Department, Dean of Students Paul Shang, and Coach Mark Helfrich spoke with the motorists seen in the video, an emeritus faculty member and a current staff member. Dean Shang issued a public statement on Saturday that read, in part:
"The University of Oregon takes the conduct of its students seriously. Consequences are clear for those whose actions reflect poorly upon the university or violate its standards for student behavior. However, until the facts of the snowball-throwing incident are sorted out, it would be premature to speculate about any potential outcomes in this case."
Dean Shang's full statement, as well as other statements regarding the university's response to this incident, will be posted on the UO Communications website as they become available.
As president, I assure you that the University of Oregon will not stand for behavior that threatens the safety of our campus or violates our code of conduct. This unacceptable incident is not being taken lightly, and we continue to take swift, appropriate action to address the matter.
Regards,
Michael Gottfredson, President
The ODE editorial page on the snowball fight and the administration's reaction to it: Shame and embarrassment. Meanwhile the video has now reached 2M youtube downloads, and more than 400 comments. As President Gottfredson told the faculty Senate on Wednesday, you just can't buy the kind of publicity that the Duck athletics program brings to UO.
The administration has cancelled all 8AM Monday exams. Official panic alert here.
Wondering what to do about conflicts with rescheduled times (which were not posted as of 7:40PM)? UO Policy is that the prof of the larger class has to deal with it – page to bottom here. But that policy is now replaced with this recommendation, from http://alerts.uoregon.edu/: 

"If your rescheduled exam time is in conflict with another exam already scheduled, it is recommended that you attend the exam that was not moved and contact the faculty member of the rescheduled exam and ask to schedule the exam for another time. Faculty members whose exams have been rescheduled have been asked to be flexible when conflicts arise.‬"

Didn't get an email and wondering where and when your exam now is? If your frostbitten gangrenous fingers can still use a trackpad, go to duckweb, faculty menu, class schedule information, select a term, then Fall 2013, then your course, then look at the very bottom for the new time and place.
Update: Julliane Parker has the interview in the ODE with Professor Simmons, who is a total mensch about the entire incident, and does the UO faculty and his profession proud:
"I have confidence that the reaction of the university given what has happened will be proportional," Simmons said. "It will consider these young people and their futures and will also, I hope, suggest to them that they need to rethink behavior like that." …
 "People were cheering when snow was thrown into my car," Simmons said. "I don't think people do that except under some sort of psychological mechanism that comes with people feeling they have permission because other people are doing it, and to act in a way they maybe wouldn't act individually."
Duck football Snowpocalypse. My guess is this all started when some Duck Strategic Communications sub-director flack decided to exploit the snow for PR, by unleashing the football players from their indentured servitude in the new $140M "Hatfield-Downing Football Operations Center" for a few moments of fun. Or was it just coincidence that the cameras were rolling, and it was heavily hyped in the national press?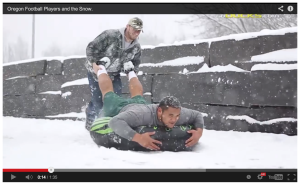 Before long, the Duck athletes were using their twitter feeds – apparently closely monitored by their athletics overseers – to challenge regular UO students to a fun snowball fight. Just the sort of camaraderie that might reestablish some connection between UO athletics and the students who subsidize the salaries of Matt Helfrich and Rob Mullens? I've heard worse PR ideas – like "we are the University of Nike" – but this one went bad even more quickly:
Now UO's Dean of Students Paul Shang, has had to issue an apology:
Paul Shang, University of Oregon dean of students, issued the following statement regarding a Dec. 6 incident on campus:
The University of Oregon Police Department is investigating an incident, captured on video, in which a passing vehicle was the target of snowballs thrown by young people in an area on the UO campus. Police hope to determine the identities of those who were throwing snowballs, whether they are UO students and whether their actions constitute a criminal act.
A criminal act? Sure, though what kid hasn't done worse? The professor seems to handle it exactly right, considering the provocation and intimidation. He gets out of his car, and tries to get them to talk. Presumably so he can explain to them what it means to be a bully and a jerk. And the Oregonian is now reporting it was Art History Professor Sherwin Simmons:
"It was a snowball fight," Simmons, who does not plan to press charges, told Canzano. "The students shouldn't involve people who aren't part of it, but this is not high crimes, not an assault, not even a misdemeanor. No one should be charged. That would be nuts."
UO email alert, December 2013:
Crews are working diligently to reopen campus for regular operations on Monday morning; please check the UO Alerts blog for updates.
Due to extreme cold conditions forecast for the next 24 to 48 hours, students and others are urged to dress appropriately and limit their exposure to the cold. Frost bite can occur in less than 30 minutes, and hypothermia can lead to disorientation and death.
But show up for that Monday 8AM final! Update: Don't show up – the administration has cancelled all 8AM Monday exams. Official panic alert here.
As French resistance fighter and mountaineer Maurice Herzog wrote on his return from the first ascent of Annapurna in June 1950, where he lost his fingers and toes to frostbite, "There are other Annapurnas in the lives of men":