Full report here.
UO's student government has already voted to repurpose the current fee for student housing assistance etc. They've also refused to accept President Schill's proposal to retroactively charge the students $1M for games that never happened.
UO's Tuition Fee and Advisory Board – normally a rubber-stamp group for the administration – has now held two meetings on this. They also refused to support Schill's plan.
It's now up to President Schill to either recommend that Chuck Lillis's Board of Trustees raise in-state tuition by 4.5%, and non-resident 3.0%, or let the Ducks siphon off part of that potential increase to the academic budget for a mandatory fee to help pay for the recent and future increases in salaries for AD Rob Mullens etc.
So Pres Schill and our Board of Trustees have a simple choice: Spend the 3.0% and 4.5% Tuition and Fee increases for UO's academic purposes, or give part of them to the Ducks: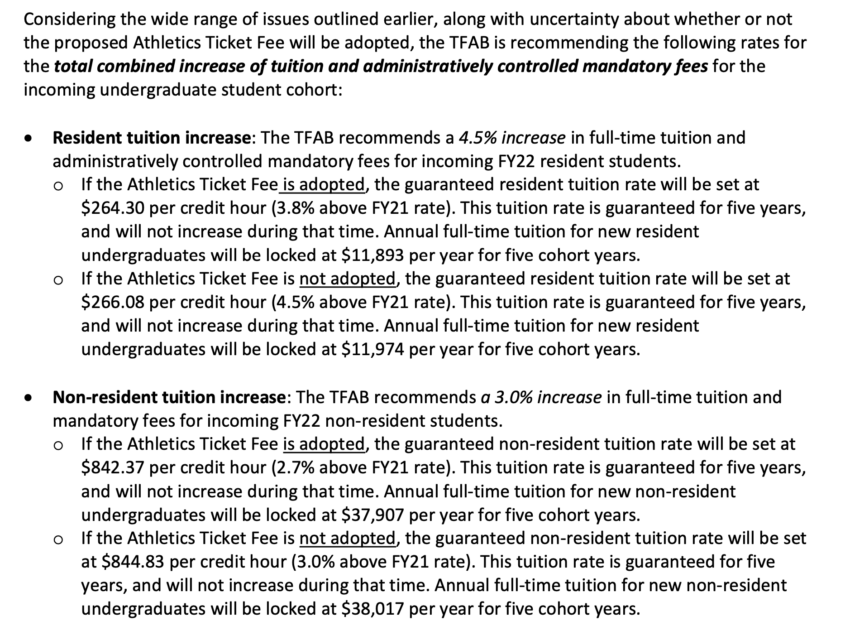 The full TFAB report includes a caricature of the actual discussions, which ignores the many well-thought out arguments from UO students and others against the fee for athletics but highlights the comments of one Duck fan – who as faculty, won't have to pay the fee: