4/24/2021 update:
When I first wrote about this earlier this month a reader emailed me wondering if UO had notified the investors holding the Knight Arena bonds that UO VPFA Jamie Moffitt had loaned out the reserve fund. It turns out that she hadn't even told the Oregon State Treasurer. So I did.
Today I got the email below from the Oregon Treasury Dept. They had a talk with UO's finance people, Mullens had to pay the money back with interest, and Treasury is going to keep an eye on UO's auditor, who seems to have missed this impropriety and who knows how many other ones:
On Apr 24, 2021, at 11:53 AM, … @ost.state.or.us> wrote:

Mr. Harbaugh,

We appreciate your bringing the issue related to the Arena Reserve Fund to our attention.  We likewise alerted University Finance staff to the requirements associated with the use of the Arena Reserve Funds and specifically that amounts credited to the Arena Reserve are to be used only to pay Arena Bond debt service.  Treasury staff met with University Finance and Athletics staff this week to review Arena Reserve Fund conditions and constraints. We have confirmed that moneys have been transferred back to the Arena Reserve Fund, including applicable interest earnings, to bring the Fund in alignment with the Bond issuance requirements.  University staff have assured us that they are taking necessary steps and putting processes in place, including working with the University internal auditor, to ensure that such a mistake does not occur in the future. Treasury staff will also institute a periodic certification process to validate that the Arena Reserve Fund is being maintained in accordance with the 2008 General Obligation Bond requirements.

Again, we do appreciate your bringing this matter to our attention. Please contact me if you have any questions.

Best regards, …
4/07/2021: Ducks raid Knight Arena Bond Reserve Fund for coaches pay:
Back in 2007 or so when the state agreed to let UO sell $235M in bonds for the Knight Arena – ultimately guaranteed by future UO tuition revenue and the full faith and credit of the university – they insisted the athletic department set aside $1 of every ticket over $8 for an emergency reserve fund in case ticket revenue and Uncle Phil's Legacy Fund couldn't cover the deficit. The prediction was that this would build to $7M by 2019, but ticket sales have been slow and it is actually only $5.8M.
Now President Schill has let our VPFA lend it all to Duck Athletics at 0% interest, so they can keep paying the coaches: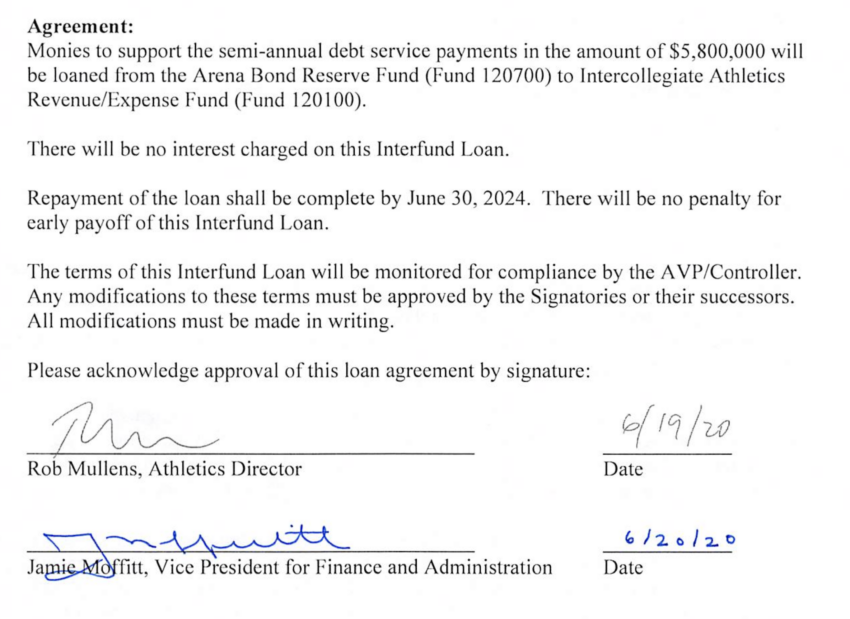 Full agreement here.
The money is of course fungible, and will allow the Ducks to keep paying the bloated salaries of their coaches, despite the language in their contracts making clear that UO does not have to raid the rest of the budget for them. E.g.: