6/26/2014:The letter from a fellow of the American Psychological Association is here: The second part of the story by Camilla Mortensen is here. Meanwhile the Lane County DA's decision on the NYT appeal of Dave Hubin's redactions is due early next week.
6/12/2014: Eugene Weekly publishes story on Duck athletics and sexual assault
Just in time to be distributed to the Trustees at their meetings today and tomorrow, and to the parents visiting for Monday's commencement: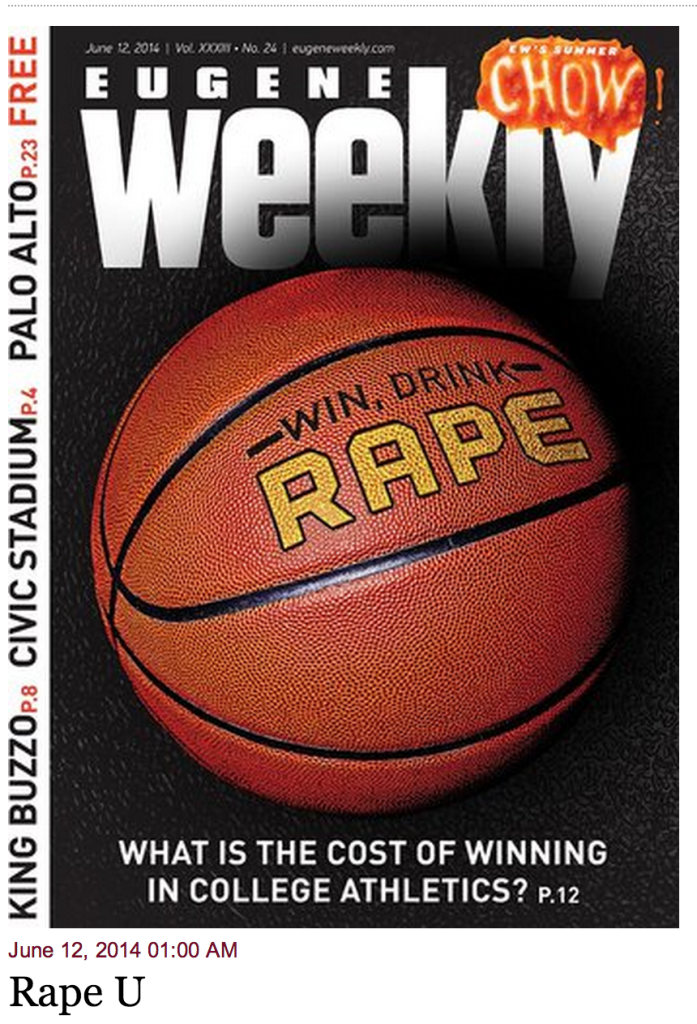 The report from Camilla Mortenson has a lot of history, including this from a student who reported an alleged rape involving a football player in 2001, and has now gone public with how UO responded:
After she reported the incident to the UO, Goodman says she received a 7 am phone call from former Ducks football coach Mike Bellotti questioning the accuracy of her recollection of that night. "I said, 'I know you have a daughter and you wouldn't grill her the same way.'" EW has contacted ESPN for a response from the former coach.
Given that President Gottfredson and AD Rob Mullens clearly hoped to cover up the March 8-9 allegations as well, it makes you wonder how many other similar assaults have been reported to the UO administration, and kept from the press and public to protect the Duck athletic program's brand.
6/6/2014 update: UO removes all mention of Gottfredson from Commencement website
Old version below. New official UO website here. Gottfredson is off the website. Also the "Duck Walk" will now bypass Johnson Hall, the scene of many recent protests against Gottfredson's handling of the March 8-9 basketball rape allegations.
Presumably they are printing the glossy programs now, didn't want to have to go through them pasting a little "Interim President Coltrane" sticker over each mention of "President Gottfredson". Not to mention having to deal with the pictures. Here's Gottfredson's 2013 speech:
5/24/2013: Help Mike G write his commencement speech – just in case:

UO Commencement is June 16. One of the highlights will be the traditional "Duck Walk" from Johnson Hall to the Knight Basketball Arena. Assuming he is still employed, this year's Duck Walk will again be led by Mike Gottfredson. He'll be followed by the UO Trustees, fresh from their June 12-13 meeting, and then Gottfredson's administration, in full regalia. Last will come our students. From the official 2014 Commencement website:
Duck Walk Parade/Procession
Students and faculty will gather for line up in front of Johnson Hall at 8:15am in regalia. Starting promptly at 8:45am our walk will start down 13th Avenue to Matthew Knight Arena. As graduates enter the arena, you will be greeted by staff, family and friends who will cheer you on as you are seated for the celebration. Graduates who participate in the Duck Walk and University Graduation Celebration will receive a commemorative gift. The ceremony will begin directly after the Duck Walk. What makes Duck Walk more than just an academic parade is that students are dressed in regalia and asked to carry signs, decorate their mortar board cap, or wear symbolic family or organizational pieces.
Ah yes, students with signs. What a great idea. I've seen that recently: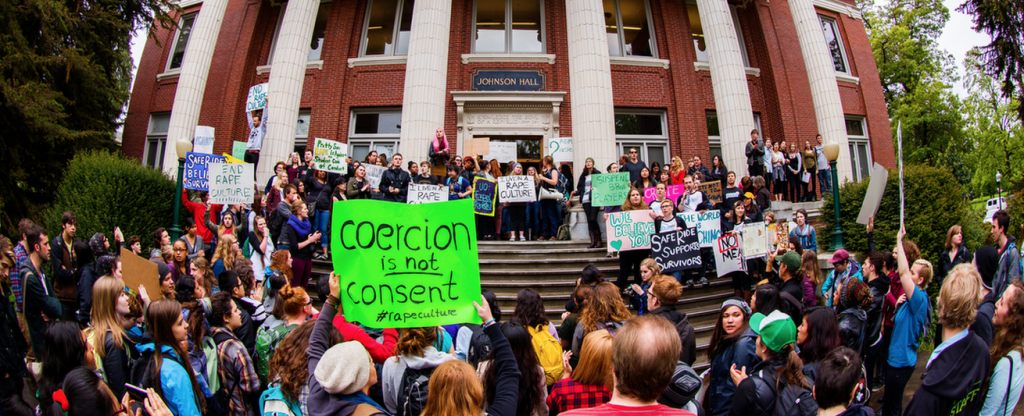 Probably some chants too. Then once they get to Knight Arena, it will be time for President Gottfredson's speech to the celebrating students – and their assembled parents. Talk about awkward.
This may well be the worst event in the long history of what our famously confused president thinks is Oregon's land-grant university. We need to all come together, and help Mike G write that speech, just in case our Trustees haven't engineered his resignation by June 16.
The comments are open, please have at it.