Ted Sickinger's amazing 2011 story on how the people of Oregon came to be paying former Duck coach Mike Bellotti $500K a year in pension benefits is here. In essence, Bellotti PERS payout is based on all the money he got in bonuses and Nike deals, even though the state never withheld anything for PERS. This on top of the buyout deal he got after former UO GC Melinda Grier neglected to get a written contract for him, and then assistant GC Doug Park helped keep that from reporters.
As Sickinger's story explains, a good chunk of state PERS costs go to fund past deals like these – not to accumulate reserves for the retirement of current workers. And the UO administration bargaining team will soon use these costs to argue that they can't afford raises for the faculty and staff.
Bellotti was one of the big losers from the 2013 reforms, which cut COLA increases from 2% a year on the full pension payment to 1.25% on the first $60K plus only 0.15% for amounts over that. So he's a big winner from the recent Oregon Supreme Court ruling that restored the 2% rate. Regular retirees will benefit a little – but people like Bellotti with big PERS checks are the big winners.
The Gain columns are per year – e.g. Bellotti's payout for 2015 will be $109,147  higher after this court decision, a more typical state worker will get $6,290 more.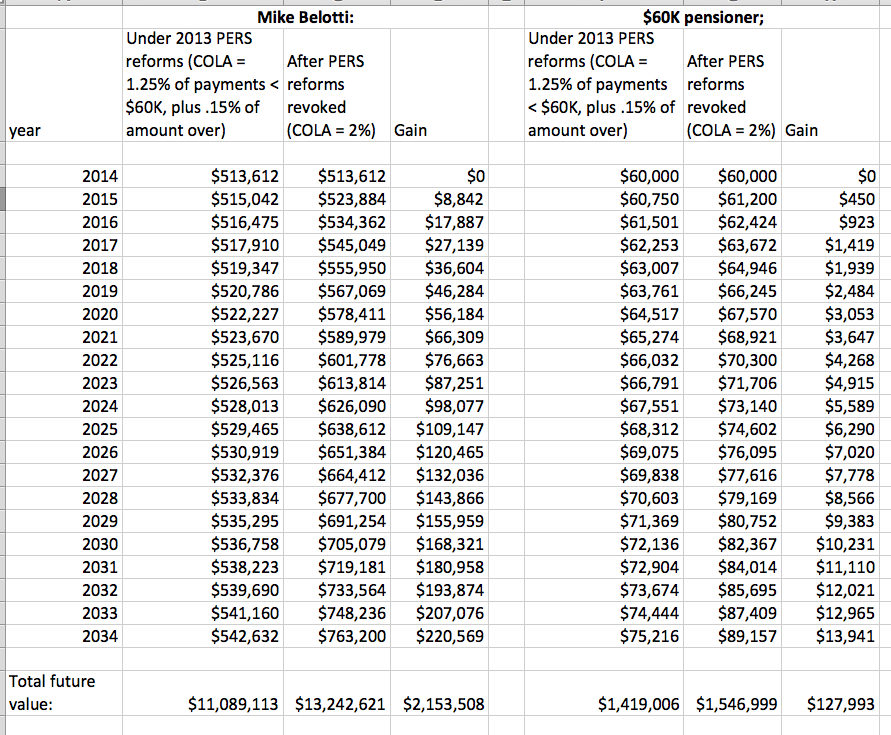 Note: Everything is in future values – i.e. not discounted back to reflect the time value of money. These calculations are back of the envelope and don't consider all the twists in the law, including some retroactive payments that PERS will now have to make, e.g. for 2014.