7/29/2014:
Johnson Hall sure is hard on lawyers. In 2010 President Lariviere fired GC Melinda Grier for hiding public records about Mike Bellotti's contract, then appointed her assistant Randy Geller after what mounted to a failed search for a replacement. (It appears Gottfredson has rehired Grier on the side though). In 2013 Assistant GC Paul Kaufmann left without explanation, half way through his initial one year contract. Earlier this year Randy Geller "retired" in the midst of the scandal over Gottfredson's handling of the March8-9 basketball rape allegations.
And now the word is that Assistant GC John F. Salmon III left at the end of June, about 6 months after being hired. Again, no explanation.
Given that UO's Legal Services Policy (if it's ever signed by Gottfredson) gives these people the responsibility to defend UO and faculty and staff against accusations of misfeasance etc, and help Gottfredson stonewall the release of public records, you'd think that we could at least get a list of the current GC office's attorneys and their qualifications. Nope. Their website is still "under construction" and has been since that embarrassing "General Counsel Emerita" episode in 2012: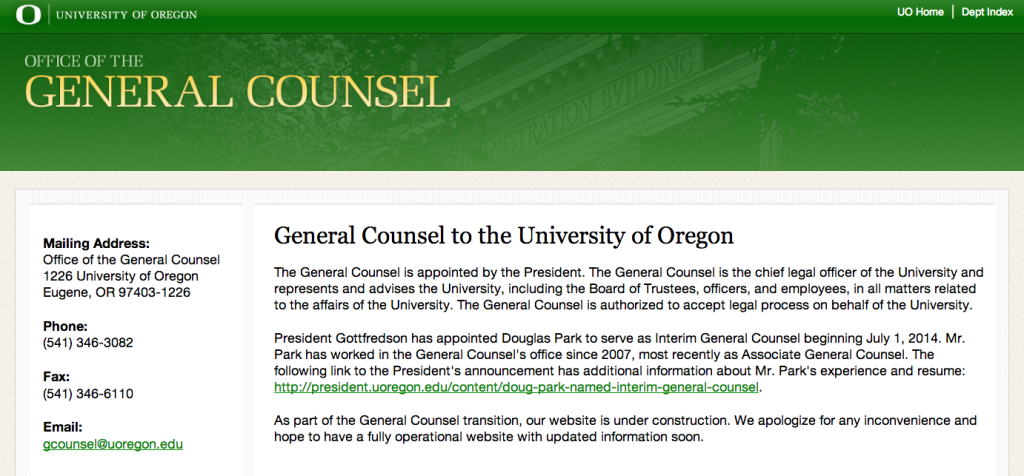 7/31/2012: Geller defames judge, appoints Grier as UO's General Counsel Emeritus, attacks Senate Pres and IAC
In response to demands from Senate President Kyr and others including Frank Stahl, Nathan Tublitz and John Bonine, UO General Counsel Randy Geller announced yesterday he's rescheduling his random drug testing hearing.
But it's a sham, he's picked another date when school is out of session. And he completely ignores the faculty / administrative agreement calling for UO policies like this to go through the Senate. That "policy on policies" agreement with Lariviere had been the Senate's major accomplishment for 2011-2012. Now Geller thinks it isn't worth a mention.
Geller also claims Senate President Rob Kyr and the IAC Chair made false and offensive comments about the university's rulemaking process. Apparently that process's feelings have been hurt, so Randy asks Kyr et al to apologize to it, and to some especially sensitive senior administrators:
Dear Rob and Brian:
I received your email of July 24, 2012, requesting a delay in the public hearing scheduled for August 23rd, 2012. The hearing will be rescheduled for September 13, 2012. Written comments will be accepted until noon on September 14, 2012. We will similarly postpone the date the rule will be filed with the Secretary of State and become final. The rule will be filed on September 21, 2012.
Your allegations about the University's rulemaking processes are offensive and false , as are the comments made publicly by members of the Intercollegiate Athletics Committee. I ask that you apologize in writing to President Berdahl, Rob Mullens, and me. I also ask that you censure the members of the IAC who have published offensive and defamatory comments.
Randolph Geller
General Counsel
University of Oregon
I like that "in writing" part. Maybe Geller wants Kyr to stand in front of the whole class and use the blackboard, like in third grade? Geller sent this out yesterday. Berdahl's last few days look to be as crazy as his first. Adult supervision supposedly returns Aug 1, but Gottfredson still hasn't signed his contract. and Gottfredson apparently signed his contract last night.
8/27/2012 9:00 AM: Geller defames judge:
Sorry, long story. Back in 2010 UO's General Counsel Melinda Grier got in big trouble for ignoring multiple public records requests and failing to get a written contract for her friend, Athletic Director Mike Bellotti:

It was a big scandal and a humiliation for new UO President Lariviere, especially when he then had to pay Bellotti millions, after firing him for what was reportedly lax financial management of the athletic department.
So Lariviere fired Grier too, and got the Oregon DOJ to look into what had happened. Their investigation took 381+ hours, cost UO $44,086.60, and concluded that Grier (and/or her office, a bit ambiguous) had provided "deficient legal representation" to UO.
Lariviere then tried to hire an outside replacement for Grier, but after 6 months with no luck he gave up and just promoted her associate GC, Randy Geller. (Randy's letter and resume are here. It was supposed to be a public search, but he wouldn't release these until I petitioned the AG's office under the public records law. His bit of intransigence cost UO another ~$1,000 in DOJ billing time.) Grier's assistant GC Doug Park became the associate. And then eventually of course Lariviere got fired too, to be replaced by Berdahl and now by a permanent President, Mike Gottfredson.
And during the transition to Gottfredson a few weeks ago, Geller sent out a string of odd emails. One accused the UO Senate President and others of defaming him. Another, sent to the Senate STC, with President Gottfredson cced, included this:
The "investigation" of Melinda by DOJ was a hack job. Unfortunately, she was the first of several victims of the former Attorney General. His incompetence eventually led to his decision not to run for a second term and then to resign before the end of his term. If you google "John Kroger" I am sure you will find the Oregonian and Willamette Week articles.
There's no doubt that Kroger, who has gone on to become president of Reed College, had his issues. But the Grier investigation was led by longtime Associate Attorney General David Leith, now a Marion County Circuit Court Judge. The other investigator was Keith Dubanevich, now Oregon Associate AG. Accusing a sitting judge and an associate AG of a "hack job" is competent professional behavior for UO's chief lawyer? Maybe Geller's just mad because the DOJ is fighting his efforts to get them to pay Frohnmayer's law firm $864,000.
Meanwhile, who was it that broke the story on the Grier firing? Jeff Manning, at the time an investigative reporter for the Oregonian. And now the spokesperson for the AG John Kroger's replacement, Ellen Rosenblum. And what happened to Melinda Grier? She's been working as a consultant in an office she shares with a law firm that's tried to persuade Randy Geller to hire them to do legal work for UO.
And – I'm not making this up – a few days ago Geller declared that she is now UO's "General Counsel Emeritus" (sic):


Screen shot above, page here. We'll see how long it stays up.
10:15 AM update: Grier's now off Randy's website. That was quick. The html from Friday is here. A commenter notes that this would break UO's new policy for faculty emeritus status, which Geller and Berdahl signed off on in May. No word on his apology to Judge Leith and AAG Dubanevich yet.
12:15 PM update: Steve Duin of the Oregonian gets Geller to speak. Well worth reading. Must have been a fun party.
4:20 PM update: Geller apologizes to Kroger.
If he's apologized for his equally unprofessional accusations against UO Senate Pres Kyr and IAC members, I guess I wasn't on the list. From all indications UO's new random duck drug testing policy will go forward without UO Senate review.


And this, via UO spokesperson Phil Weiler:
Statement regarding DOJ inquiry/General Counsel website
I have communicated directly with the president of Reed College and former
Oregon Attorney General John Kroger expressing my regret for the ill-advised
email I sent several weeks ago. My comments were unacceptable and I have
apologized to the former Attorney General and his staff.
I also recognize that it was inappropriate to use my office's website to
recognize the former General Counsel for her years of service.
Randolph Geller
General Counsel
I've acquired quite a collection of other "un-lawyerly" messages from Randy over the years.