This just in. Has $360K a year (plus $775 a month for her car) Acting Provost Frances Bronet decided to ignore the advice of her $300 an hour HLGR lawyers Jeff Matthews and Sharon Rudnick (and Randy Geller and Dave Frohnmayer?) and sweeten the GTFF deal?
Apparently not. This "flex-time" is something virtually every department already gives as a matter of course:
Colleagues and students,
I'd like to update you on the latest status of negotiations with the Graduate Teaching Fellows Federation. The University of Oregon has announced that it has expanded an already robust offer to include guaranteed flex time, officially recognized in the contract.
Under this new contract provision, it is guaranteed that all GTFs who need to take up to two weeks off due to a family or major medical situation will be able to flex their hours in order to do so. They also will have the ability to work with their departments and the Graduate School to explore whether more extensive schedule changes can be accommodated over the life of their contract. During the period that GTFs are exercising flex time, they will still receive full salaries, tuition and fee waivers, and health insurance coverage for their entire family.
Complete details are available here.
This new flex time proposal is an important complement to an already substantial package. This package also includes:
A nine percent pay increase, over two years, on minimum graduate student salaries. This is the largest negotiated pay increase since 2006;
Full tuition waivers;
Significantly reduced fees (a GTF pays only $61 per term); and
Full family health, vision, and dental coverage with the university paying 95 percent of the premium. This is by far the best healthcare package for graduate student teachers in Oregon and across comparable AAU institutions.
We respect the right of GTFs to conduct a legal strike and hope to reach a fair and equitable agreement quickly. For complete details of the current offer, please visit http://provost.uoregon.edu/gtff-negotiation.
This is a critical time for the University of Oregon. We recognize that there are thousands of undergraduate students who are looking to the university to finalize grades so they can graduate, secure financial aid, or solidify their registration for winter term. As this offer demonstrates, we do not want our ongoing negotiations to negatively impact anyone, especially our students. We are working on contingency plans designed to ensure that there is as little negative impact as possible.
Sincerely,
Frances Bronet
Acting Senior Vice President and Provost
11/16/2014 update: VPAA Doug Blandy blames deans, department heads, and faculty for secret strike plan to degrade academics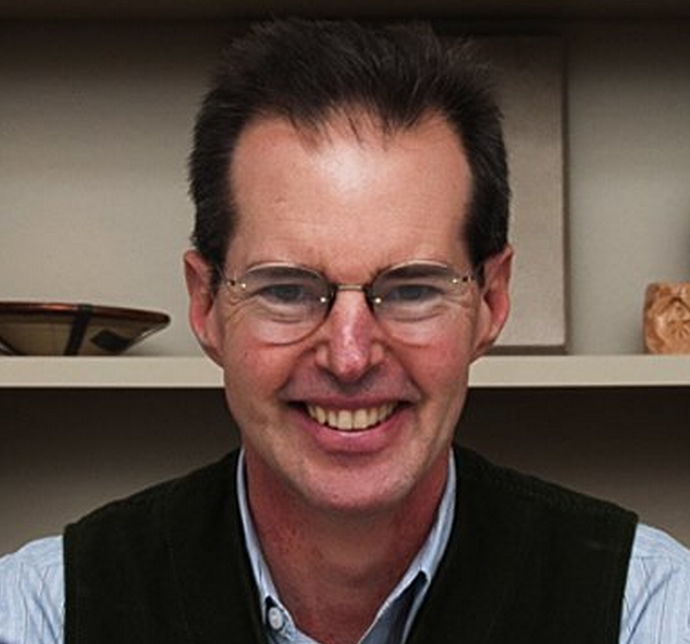 VPAA Doug Blandy (above) is now trying to blame deans, department heads and the faculty for the UO administration's secret plan to dilute and degrade academic standards in case of a strike. Scott Greenstone has the story in the Daily Emerald. Blandy's quote is classic admin-speak:
The [Senate legislation, here, top of new business for Wed the 19th] claims that these measures would weaken academic standards that the faculty have a duty to uphold. It asks that the administration work "openly, publicly and transparently with the UO faculty" in finding a solution that would keep academic standards.
Doug Blandy, senior vice provost of Academic Affairs at UO, released this response:
"The Academic Continuity Plan is the result of dozens of conversations with department heads, associate deans and deans, so it is informed by the faculty. We appreciate the interest in being involved to serve our students as best as possible at a critical time of the term if a strike occurs. University leaders look forward to participating in the discussion at the upcoming meeting."
Despite Blandy's claims, the UO Senate was never notified about the ACP, and most faculty were "informed" about it only because it was leaked to me last week, and I then posted it on this blog, and the Senate then got it and posted it here: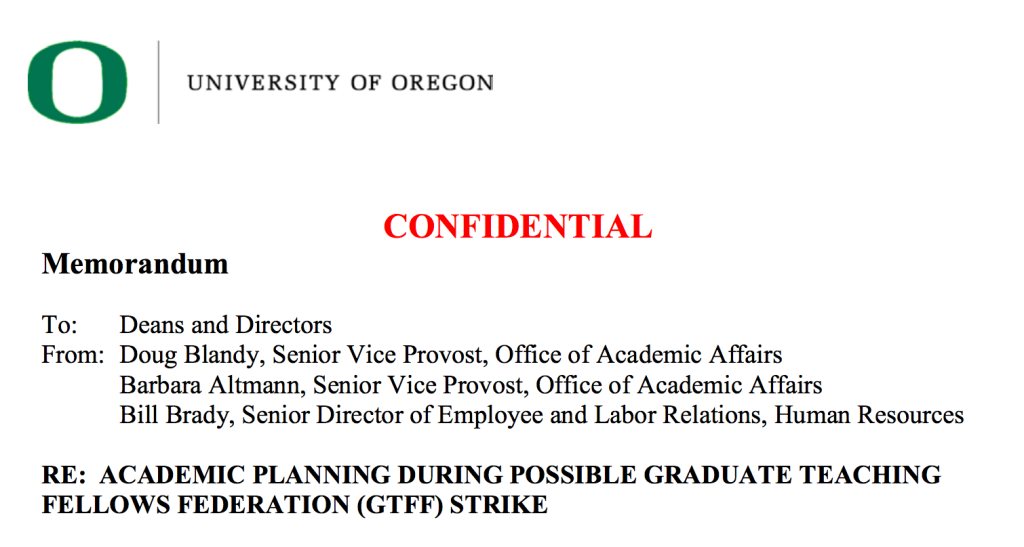 As soon as the Senate found out what Blandy and Altmann were up to, they reacted with a motion of opposition, and with the approval of the Senate Executive Committee, this is now bullet point #2 on new business, for the 11/19 Senate meeting:
Motion (Legislation): Opposition to Efforts by Academic Affairs to Dilute and Degrade Academic Standards in the Event of a Graduate Teaching Fellows Strike; Monique Balbuena (Senator, Clark Honors College); Jane Cramer (Senator, Political Science); John Davidson (Senator, Political Science); Diane Dugaw (Senator, English); Deborah Olson (Senator, Education); Gina Psaki (Senator, Romance Languages); Gordon Sayre (Senator, English)
Once again the UO administration is trying to subvert the faculty's role in academic governance with secret meetings and hidden documents. Once again, the only way to get them to discuss these matters with the faculty is to get leaked documents, or spend hundreds of dollars and wait weeks for Dave Hubin's office to sell heavily redacted public records, and then go to the Senate with legislation. (And many thanks to the anonymous leaker, who sped this process up considerably. Please keep them coming).
Perhaps unsurprisingly, VPAA Doug Blandy is well known for weakening his own department's academic standards with the Arts and Administration 250-252 "twofer" courses that have brought in millions in student credit hour cash, saved the GPA of many a marginal UO student, and launched Blandy into an administrative career that has boosted his own pay from $78K to $180K. A typical grade distribution?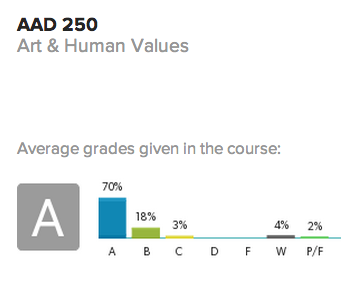 11/14/2014: Blandy and Altmann post new strike plan, with pay rates for scabs
Johnson Hall has gone to the mattresses, into the bunker, and off the deep end. The Senate will presumably repudiate this latest nonsense on Wednesday, along with the administration's previous "confidential" strike plan, and their efforts to scare off our international grad students. Email and docs below.
In a nutshell, they propose to pay the faculty 0.4 FTE per week per course to cover courses being taught by striking grad students. I'm no economist, but the average UO tenure-track professor gets paid about $2500 a week (for the 9 months they get paid), and 0.4 of that is $1000.
UO pays the GTFs about $400 a week. The extra $600, multiplied by many hundreds of courses, has to come from somewhere. Is the administration going to add it to the next undergraduate tuition increase, or are they going to subtract it from next year's faculty merit raise pool?
Yes, I know that knuckling under to the GTFF's outrageous demands for 5% raises and 2 weeks of sick pay (comparators UNC and UCSB give 6) will cost money too. But it will also help UO get more and better grad students (and UO grad enrollment is down 10% over the past 10 years). In contrast this silly strike plan is just deadweight loss. Unless you're a $300 an hour HLGR lawyer.
November 14, 2014
Colleagues,
The university remains committed to the collective bargaining process with the Graduate Teaching Fellows Federation. While we have yet to reach an agreement, we remain hopeful that we can do so and that a work stoppage will be avoided. At the same time, the university would be remiss if it did not prepare for the possibility of a work stoppage.
If you are interested, the university's current proposal is available here<http://provost.uoregon.edu/gtff-negotiation>.
The purpose of this memo, however, is not to discuss negotiations, offers, or mediation. It is about finding ways to meet the needs of our thousands of undergraduate students and causing as little disruption as possible to their academic experience.
The coping strategies, attached, are meant to ensure that all students receive a final grade so as not to jeopardize their fall term graduation, winter term registration, or financial aid.
We appreciate your understanding during this challenging time and ask that you share this planning guide with your office/budget managers and faculty who will be assisting in academic continuity plans.
Sincerely,
Barbara Altmann, Senior Vice Provost for Academic Affairs
Doug Blandy, Senior Vice Provost for Academic Affairs
The full strike plan is here. Some extracts: